One of the things that the women splurge the most on is the bags. They are in love with the stylish and quirky bags and can never have enough of them. The crochet ladies can crochet themselves with a lot of fun and functional bags to save a lot of time and money. Today we are with these 13 top DIY crochet bags free patterns for you to visit, adore and then make some of them. The crochet bags are quite fancier and funky than the other bags and they are surely going to rock your bag collection with amazing colors and patterns.
This round-up of the crochet bags have a lot of bag variety for you to choose from. There lovely causal bags, handy tote bags, and a few crochet pouches so that you can crochet up any bag that you are in need of. These crochet bags make the perfect style statement for your summer outdoor fun either to a picnic, a hang out with friends or a vacation to the beach. All these bags have summer-inspired color schemes with bright and bold yarn hues with blue and white being the dominants. Also, you can use these crochet bags patterns to create some valuable gifts for the beloved ladies around.
1.Summer Crochet Bag:
Make your summer super stylish and fun with this cute summer crochet bag. The bag has been made out of the multiple granny squares. Yes just crochet up a bunch of the crochet granny squares and then put them together to create this lovely bag with fringes. Choose your favorite colors of the yarn for a custom crochet bag.
Free Pattern littlebuttondiaries
2.Crochet Bag Pattern Easy Summer Tote:
Tote bags are so much fun to carry while you need to travel or go to work with a bunch of your accessories with you. This crochet tote bag with contrasting yarn hues, a lovely round base, and a pretty pattern can easily win your hearts. Go with your favorite yarn hues for a custom and personalize possession.
Free Pattern petalstopicots
3.Summer Day Bag Free Crochet Pattern: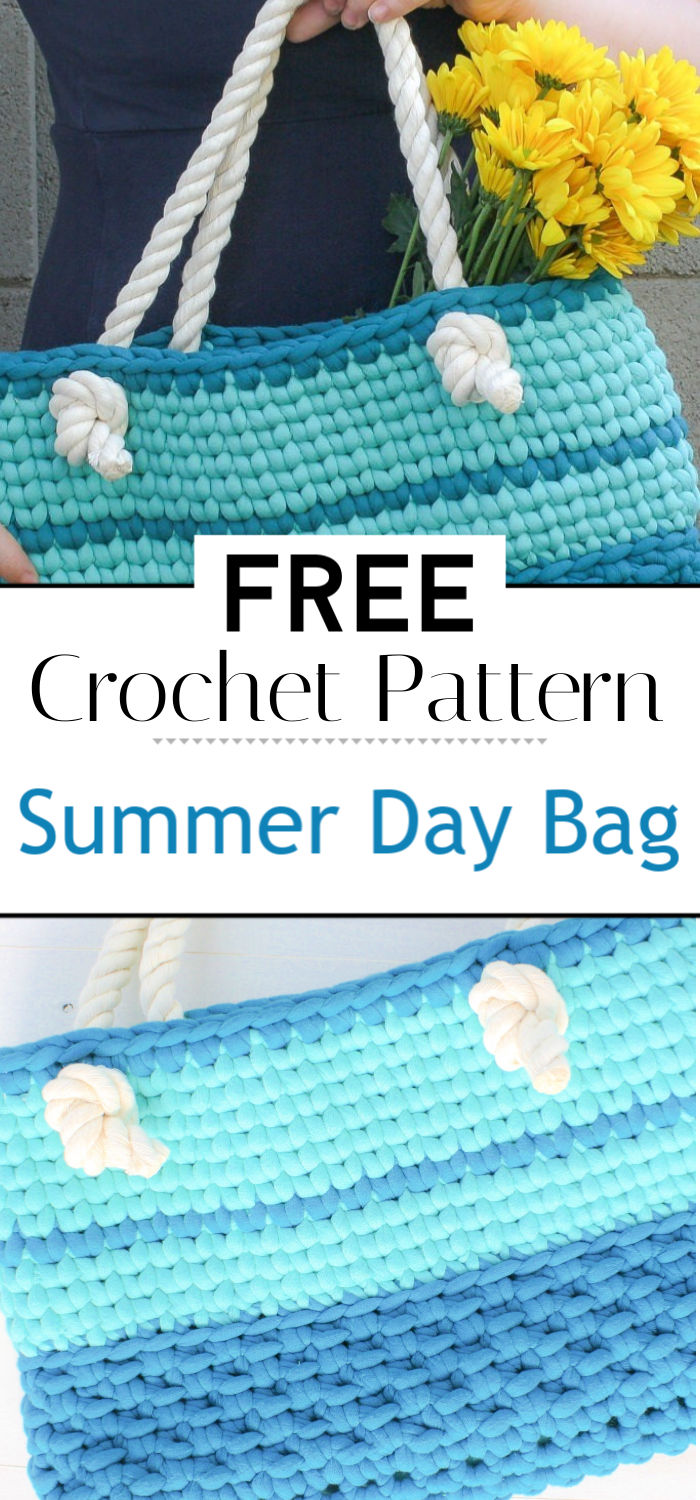 Here is this perfect summer day bag with the exquisite yarn hues of blue and white which makes the bag perfect for the summer. Using 22 rows of the crochet stitch you can easily and quickly stitch up this lovely bag. You can either use this summer day bag or it can house all your yarn skeins on a table or counter.
Free Pattern windingroadcrochet
4.Boho Tassel Crochet Bag Free Pattern:
Teen girls love the boho and chic kind of stuff and that is why they are going to fall in love with this boho tassel crochet bag. The cute little doily patterned bag a lot of long tassels at the bottom and at the flip which adds to the beauty and style of this boho bag.
Free Pattern persialou
5.Easy Crochet Pouch:
You can crochet up yourself this lovely and utterly useful cute little pouch to hold your lip pencils and colors. Being made out of the yarn you can wash and reuse it for a longer time to put in the bag and carry your lip balms and lipsticks anywhere. It can make a really pretty gift idea too.
Free Pattern skiptomylou
6.How To Add Leather Handles To A Crochet Or Knit Bag:
This gorgeous black and white bag with a stripy design and the leather handles look absolutely stunning. The use of leather handles to the bag has added some chic and boho fashion to this lovely crochet bag. You can make this bag a perfect gift for your mother or the best friend.
Free Pattern makeanddocrew
7.Crochet Farmer's Market Bag Pattern:
This crochet bag seems to come from a store for being so elegant and chic in the design. The intricate lacey kind of the bag pattern adds oodles of charm to the bag. You can easily crochet up this bag to carry it for your shopping of the groceries and the vegetables.
Free Pattern justbcrafty
8.DIY Crochet Net Bags:
You can crochet up these lovely DIY net bags to bring some super stylish and fun organization in the spaces. These net bags are going to be quite easy to crochet with your hands and thus no hassle and mess. You can use them on your hooks and racks to carry your other essentials.
Free Pattern fallfordiy
9.How To Finger Crochet Free Market Tote Bag Pattern:
Make your market visits stylish and fun with this finger crochet free market tote bag. The gorgeous yarn hues of white and green have blended well to make this tote bag look more interesting. The best thing is you need to hand crochet it and thus make the most out of your free time too.
Free Pattern makeanddocrew
10.Crochet Mochila Bag Free Crochet Pattern:
Mochila bags are the traditional bags of the Columbian community and we love them for their pretty shape and design. Now you can crochet up this delightful mochila bag with a lovely design to carry it for your next beach trips. The use of bold and bright yarn hues has added to the beauty of this bag.
Free Pattern ouicrochet
11.African Flower Purse:
This gorgeous African flower purse is really beautiful and can be made in a really fun and simple way at home. The hexagonal crochet motifs seem to be crocheted together to shape up this lovely bag with leather handles. This pretty bag would make an amazing gift for your mom, aunt or best friend.
Free Pattern craftpassion
12.Island Breeze Bag A Free Crochet Pattern:
This island breeze bag is as fancy and stylish as its name and seems to come from a high fashion brand for its exquisite and elegant design. The bag is made out of the fabric strips in the darker blue yarn to remind you of the sea. You can quickly work up this lovely bag and bring in use for your beach trips.
Free Pattern thepurpleponcho
13.Tunisan Entrelac Tote Bag:
Make your summers colorful and cute with this Tunisian Entrelac tote bag. The gorgeous and vibrant yarn hues of the bag and the cute little Tunisian square pattern make this simple bag look just so stunning and beautiful. You can choose your favorite yarn hues to make the bag and get the custom look.
Free Pattern hookingcrazy.blogspot