The general notion about the sweaters is that they are boring and old fashioned. But the comfort and warmth they provide is so irresistible. If the comfort of the sweaters is combined with some style and fashion then nothing can beat them. These 12 free crochet sweater patterns for women have the most interesting and stunning designs to light up your mood. These gorgeous crochet sweater patterns are super easy and fun to get your hands on and bring some pretty sweaters to the wardrobe. Nothing can be as much of a great feeling than beating the cold and chilly days in style and fashion.
All of these crochet sweater patterns have something so much fun and fantastic about their design or pattern. Along with some thick textured and heavy cabled sweaters for the summers, we have some really fun bunch of the breezy summer sweaters and cardigans. So you are going to come across some really colorful and lightweight sweaters to pair up with your jeans. Cool and stylish cardigans to wrap you up for a balmy summer evening. There is so much more to explore just get your hands on the details just click on the links attached to know them all.
1. Top Down Crochet Sweater Free Pattern:
Here is this gorgeous crochet sweater to make and bring so much color and brightness to your wardrobe. The lovely crochet sweater is made out of the yellow, pink, purple and the red yarn hues to look so fantastic and great. The pattern is breezy and so much comfortable for the summers too.
Free Pattern makeanddocrew
2. Peplum Crochet Sweater Free Pattern:
Bring some crochet fashion to your daily wear with this lovely peplum sweater pattern. The lovely light blue yarn and the design of the peplum really make this lovely sweater a girly favorite pattern. You can make this lovely peplum crochet sweater in any of the yarn hues and pair it up with jeans.
Free Pattern forthefrills
3. Pattern The Granite Cardigan:
Make your wardrobe complete with this lovely granite cardigan. The pretty white cardigan is quite simple and elegant in design. The cardigan is worked up in three panels so that you can easily work it up at home. Also, the cardigan has pockets to keep your hands inside and make them feel all warm.
Free Pattern allaboutami
4. The Hedonist's Housecoat Free Crochet Housecoat Pattern:
Even if you are at home you can feel all warm and cozy with this Hedonist's housecoat. The long coat has been worked up with only one stitch. It has a neutral yarn color to suit all your dresses. The pockets make it really more fun and comfy as you can keep your hands in them. Grab the free pattern here!
Free Pattern hearthookhome
5. Stone Harbor Crochet Tunic:
Even when the spring arrives there is a chill in the air and this stone harbor crochet tunic can be your favorite thing to wear. The breezy pattern of the stone harbor crochet tunic is going to make it summer-friendly too. This lovely tunic has been done in the green yarn hues but you can do it in any of your favorite colors too.
Free Pattern croydencrochet
6. Mesh Stitch Sweater Crochet Pattern:
Free Pattern simplycollectiblecrochet
7. Simple Crochet Sweater Pattern:
Summers need to add lightweight dresses in the closet and this mesh stitch sweater can really do that for you. The lightweight and soft yarn sweater is just perfect for the summers and the mesh pattern makes it more breathable. You can do this sweater crochet pattern in any of your favorite colors.
Free Pattern hookedonhomemadehappiness
8. Crochet Heirloom Cabled Sweater: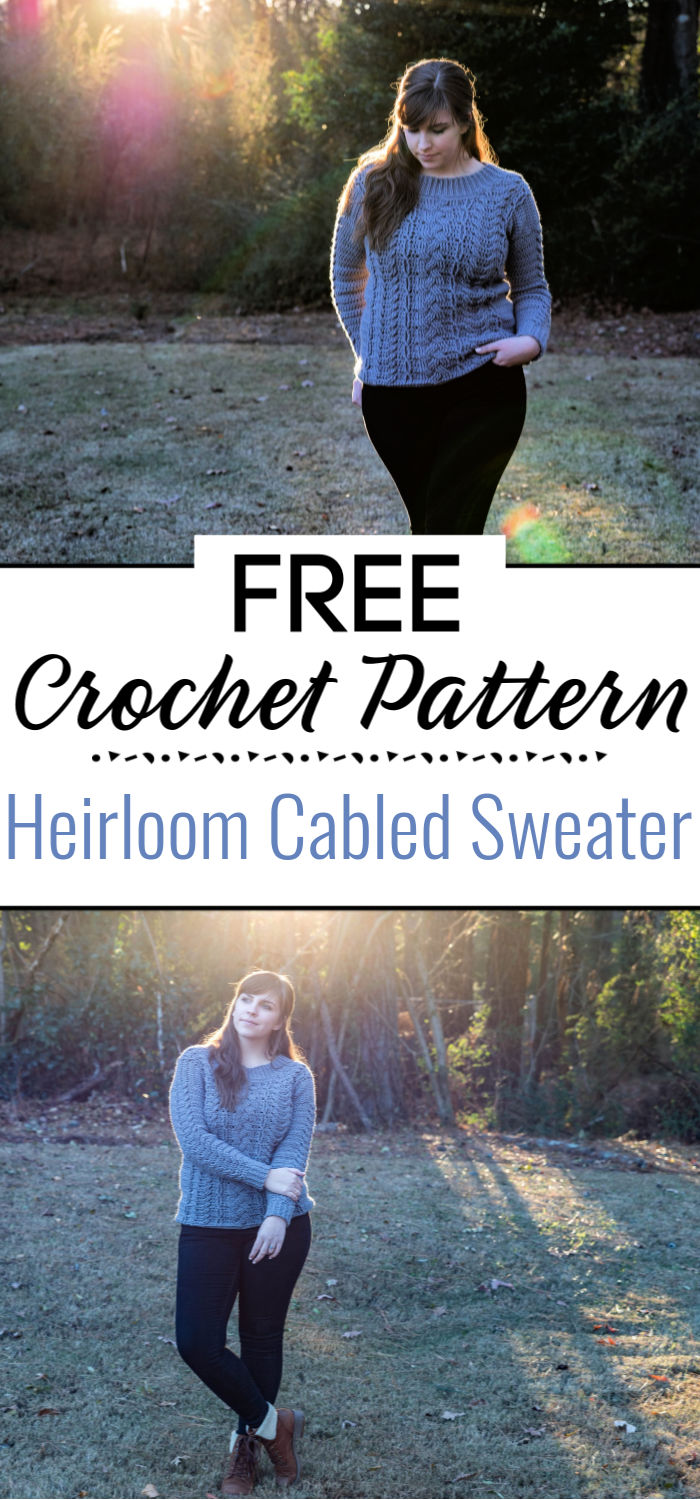 This gorgeous crochet heirloom cabled sweater is the best thing to come across on the internet today. The thick textured heirloom cabled sweater looks so rich in style and seems to come from the wardrobe of a celebrity. The front rows of the cable stitch really add to the beauty and style of this cabled sweater.
Free Pattern sewrella
9. The Acacia Cropped Sweater Free Crochet Pattern:
The crop top lovers are going to fall in huge love with this lovely Acacia cropped sweater free crochet pattern. The lovely sweater is going to look so fashionable and stylish with both of your jeans and skirts. Make it in the neutral sizes so that you can pair it up with any of your favorite things.
Free Pattern hookedontillylife
10. Lightweight Cropped Crochet Sweater Free Pattern:
You can make the most out of your crocheting skills by crocheting yourself some super stylish and cute things just like this lightweight cropped crochet sweater. The V neck and the breezy pattern really makes it a style statement piece for your summer wardrobe. It is going to look great with your jeans.
Free Pattern makeanddocrew
11. Baja Blanket Sweater Crochet Pattern: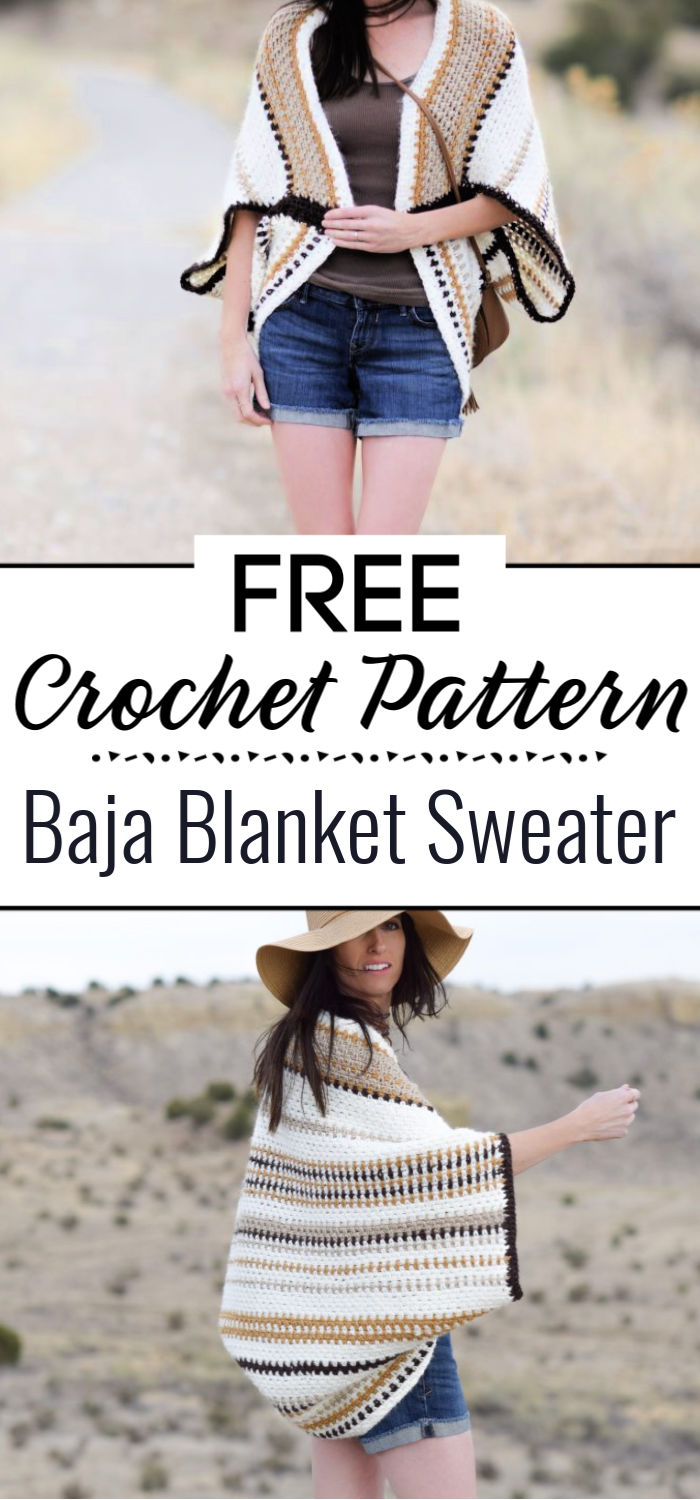 The boho fashion lovers are going to fall in love with this lovely baja blanket sweater. The pretty sweater has a gorgeous combination of the neutral yarn hues with yellow and black. Also, the design of the sweater is like that of a stylish cardigan. The tassels are adding more charm to the pattern. Details here!
Free Pattern mamainastitch
12. The Waffle Cardigan Crochet Pattern:
Either you love waffle or not, you are surely going to love this waffle cardigan to be a part of your cold days. The pretty cardigan has a bright orange yarn color and the lovely waffle stitch. Also it got pockets to look more useful and fun. You can enjoy this cardigan on cooler summer mornings and evenings.
Free Pattern casalecrafts