Babies need extra dose of care and attention when the weather is cold. These sensitive little beings feel the utmost warmth and comfort in the handmade crochet clothes for them. So here we have brought to you these 10 crochet baby longings or pants with free patterns to make the chilly days super cozy and warm for them. The upper body can be warmed up with multiple layers but we cannot do so with the legs as the babies can get agitated. So these crochet longings are the best solution to keep those tiny legs cozy and toasted. So get your hands on the crochet patterns as they are free to grab on.
There is going to be a big curved smile on your face while going through the crochet patterns below as these tiny crochet longings are so adorable to stare only. There are variety of ways you can funk up these cute little and simple crochet pants for your little ones. Either you can add contrasting strips, add suspenders or go more crazy by creating a monster face at the butt cheeks of the pants. Use soft yarn for these baby pants so that the babies are super happy wearing their mommy made crochet pants. You can also pair up the pants with matching shirts, booties and hats for a complete set to use as gifts.
1. Crochet Longies Pattern: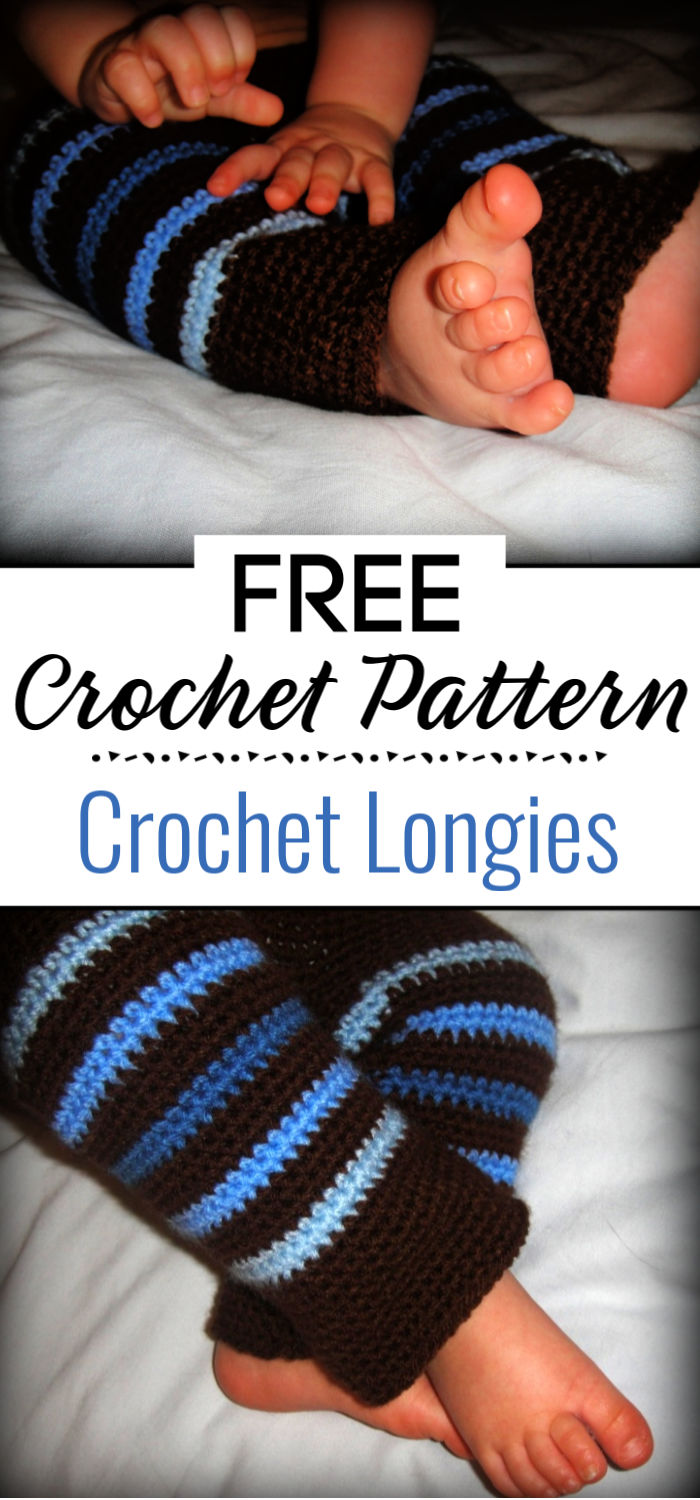 Make these gorgeous crochet longies for your little one and he will so comfortable in these. The lovely dark brown longies have cute blue lines to make the design look super cute and adorable. You can make this pair of longies for the kids of age 0 to 36 months to get the perfect size.
Free Pattern lookatwhatimade
2. Monster Bum Baby Longies:
This gorgeous pair of the monster bum baby longies are the best things to crochet up for your little ones. Using colorful yarn you can create this lovely pair of the longies with a monster design at the bum place. The eyes and the fangs of the monsters have been knitted directly to the longies. You can customize the size and colors.
Free Pattern remilyknits
3. Barbie Basic Leggings Free Crochet Pattern: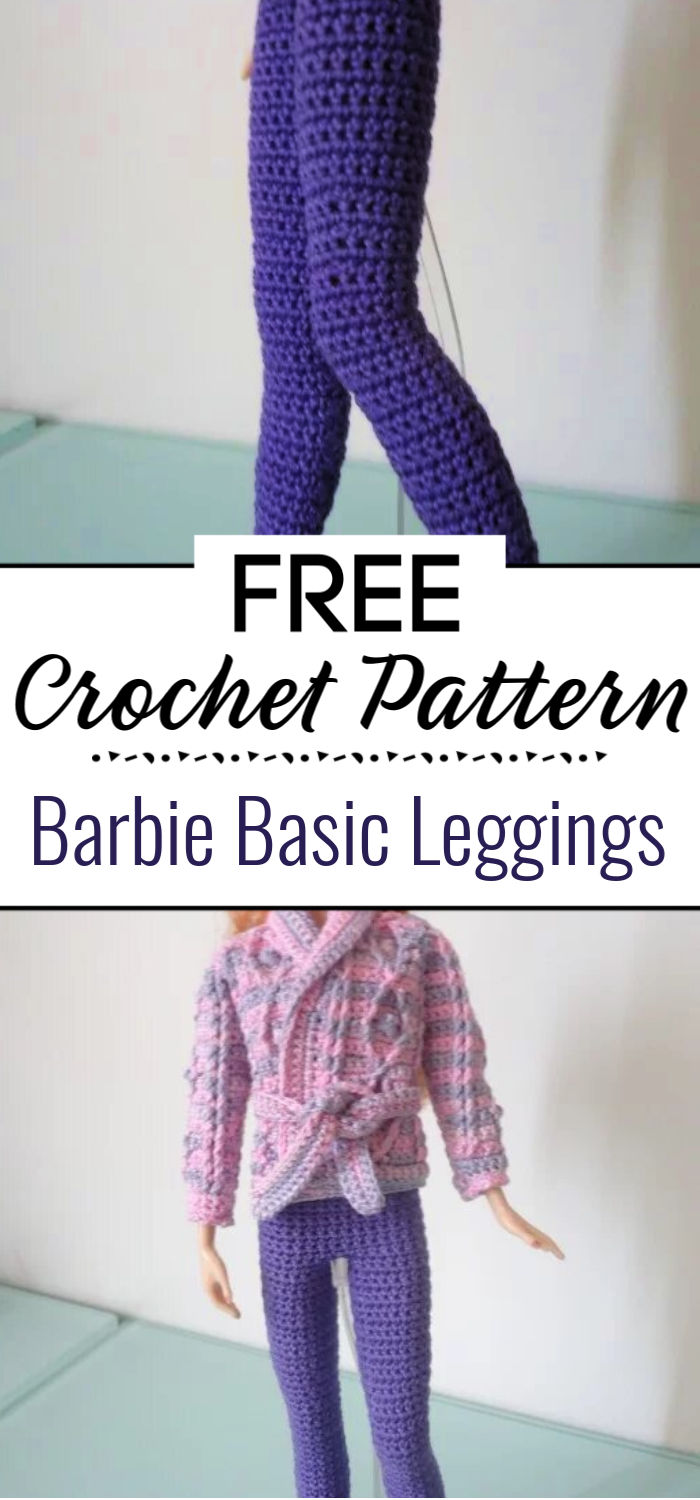 One of the most satisfying things is to create crochet clothes for the dolls and now you can make these adorable Barbie basic leggings. The skinny pants in blue have turned out to be just super cute and awesome. You can make these leggings match with a crocheted Barbie top and your girls would love it.
Free Pattern feltmagnet
4. Mammy Made Crochet Longies Small:
We all have crochet longies for our babies and now you can customize them for a better fitting. Here is this mammy made crochet longies which have a wider gusset and the tighter legs to be perfectly fit on your little ones. The size of these longies is perfect for the babies who are anywhere between 0-6 months.
Free Pattern mammymade.blogspot
5. Crochet Tutorial Baby Boy Knickers with Suspenders: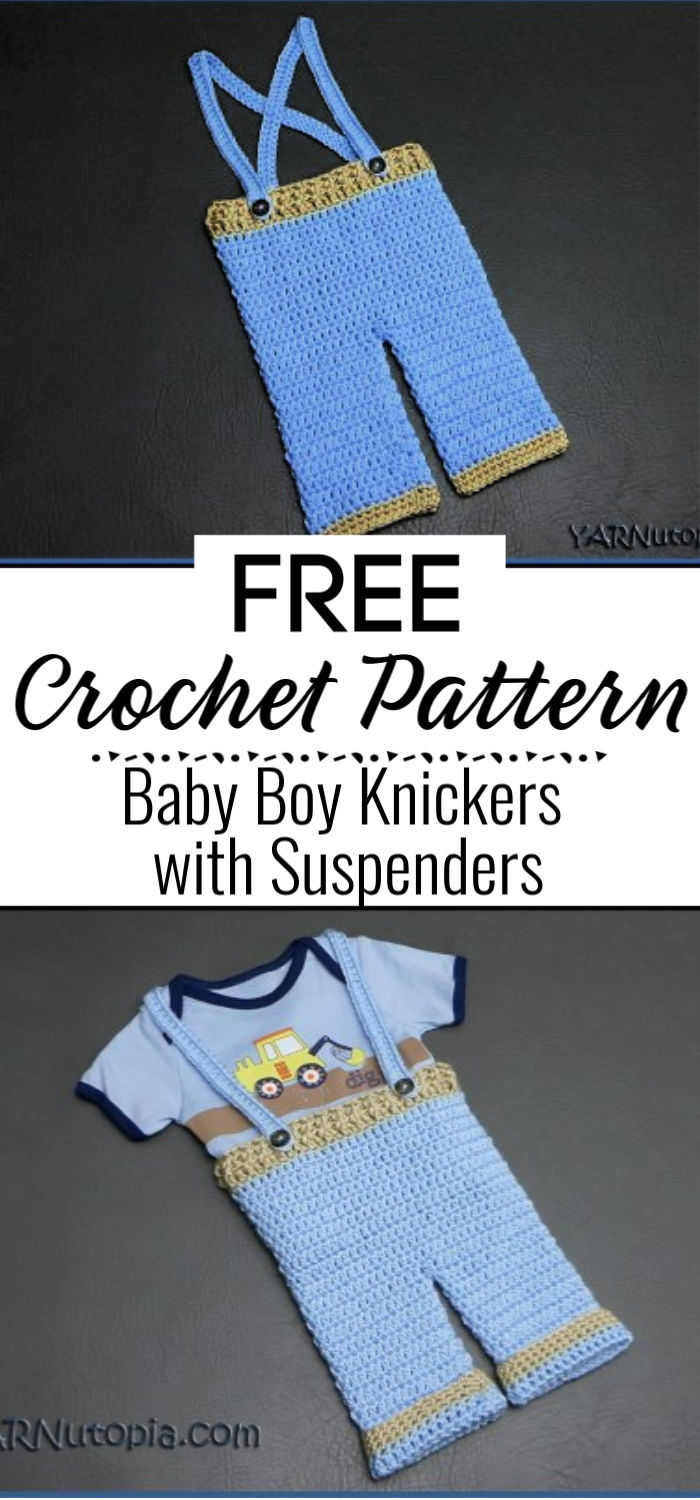 Make a stylish wardrobe for your little baby boy and adding these lovely crochet knickers with suspenders would be a great idea. The gorgeous and neatly crocheted blue knickers have suspenders and you can pair it up with a casual matching shirt or a matching crochet hood and boots. This would make a really cool baby shower gift idea.
Free Pattern yarnutopia
6. Treble Crocheted Baby Pants:
We have crochet baby pants at home to cover the babies when they are wearing nappies. Now you can crochet up a pair of baby pants on your own and this treble crochet baby pants are just perfect. They look so modern and chic in the design and you can make them both for the baby boys and girls of 0- 6 months.
Free Pattern tugboatyarning
7. Crochet Baby Longies: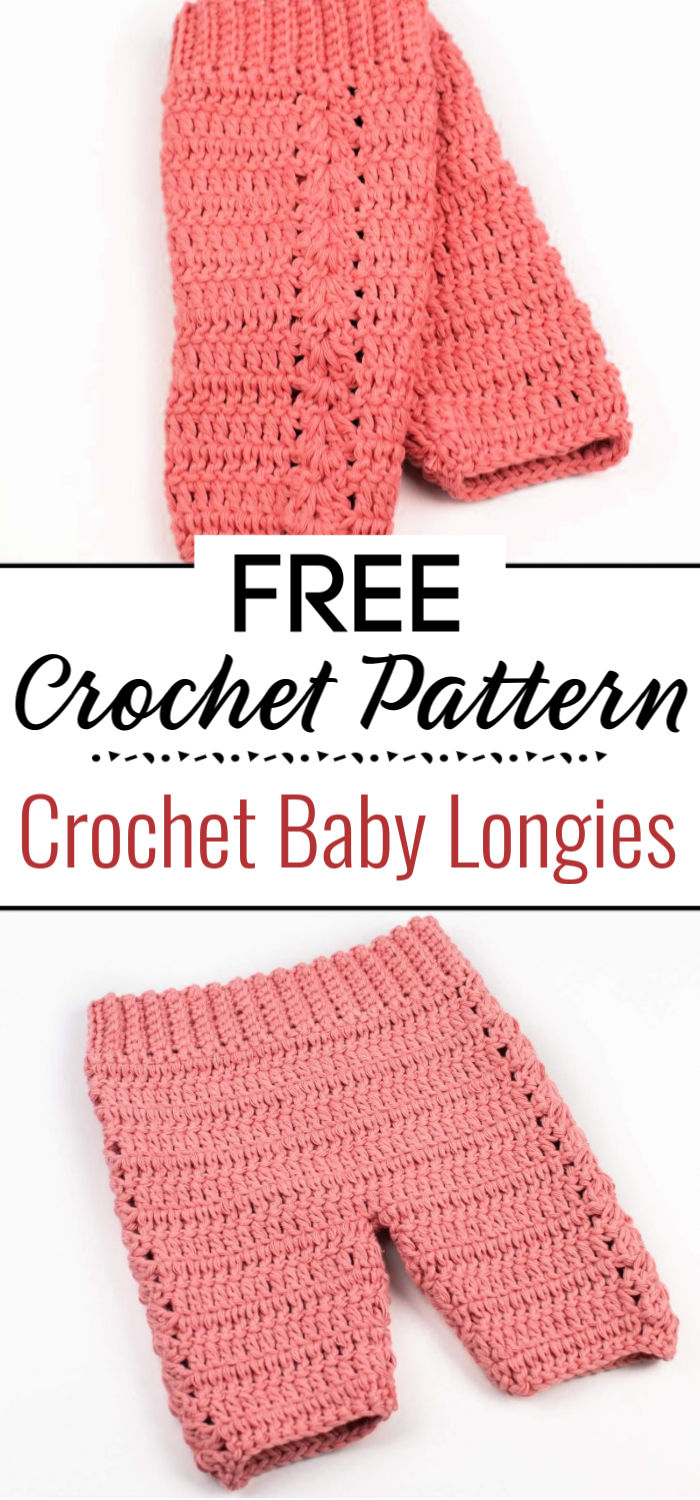 Make your baby's soft skin feel more comfortable with the crochet baby longies as they are crocheted with the anti allergic yarn. The longies are made out of the merino wool and that is these longies have the perfect texture. There is a lovely stitch design at the sides of both legs which really adds to the beauty of these longies.
Free Pattern crobypatterns
8. Lil Pants Free Pattern:
Here is another cute and fun pattern for the little pants and that too coming totally free. You can make these adorable and tight fit crochet pants for your baby boys and girls alike. Just change the color scheme per the gender of your baby. Also you can customize the size per your baby's age.
Free Pattern mammathatmakes.blogspot
9. Toddler Pants:
Your toddlers are going to feel super comfy and warm during colder nights with these lovely crochet pants on. The delightful colors of the yarn and the pretty car appliqués on the pants have really made them look so pretty and cool. Your boys are really going to love these sleeping pants so do make one of their size
Free Pattern themagicofcrafting
10. Crochet Baby Pants Trousers Free Pattern:
Now your little ones can also enjoy having their personal pair of the homey pants to relax and sleep in. This crochet baby pants pattern is just so easy and fun to work on with double yarn hues. The switching of the yarns has really made the pants look beautiful with the lining design.  The size and color can be customized.
Free Pattern handmadebybea