There are many of the small items that play quite big functional roles in our routines and pouches are one of them. When your bag is a mess with everything being randomly loaded inside it, pouches become the clutter cleaner for your bags. Yes, you can get a pouch to separately store your makeup, change and even the pair of sunglasses. And now you do not even to buy a pouch as you can instantly make one at home with some crochet yarn and hooks. So do check out these 16 crochet zipper pouch patterns to get some small but totally functional yarn organizers.
The best thing about these 16 crochet zipper pouches is that they are super easy and quick to crochet yourself at home. With only one yarn color and the single stitch, you can easily work up any of these lovely zipper pouches. The zipper makes these pouches really easy and fun to use. Not only cute small storage for your bag but these pouches can be a great organizer for your sewing items, stationery and beads and more. Also, you can customize the size depending on your needs while working up these gorgeous and stunning crochet zipper pouch patterns. These zipper pouches make the best gifts for your boys and girls and even the favorite ladies. So do the patterns checked via provided links to all.
1. Beginner Friendly Crochet Zip Pouch Tutorial:
Here is a lovely pattern for the crochet zip pouch that even the beginners can do. It would take only an hour or little more to make this pretty blue crochet pouch with a lovely white zip. You can use to organize anything from makeup and stationery to your sewing items and another knick-knack
Free Pattern melaniekham
2. Easy Crochet Zipper Pouch Free Crochet Pattern: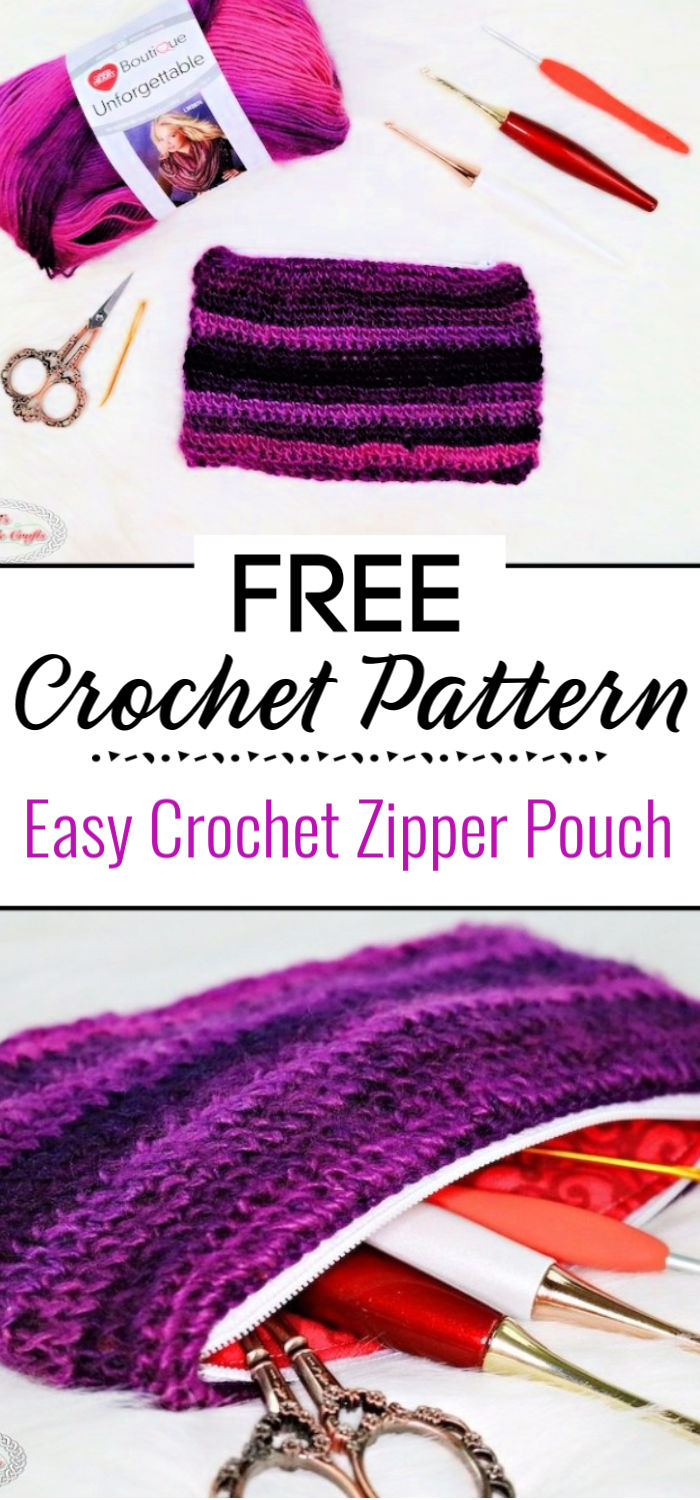 Crocheting this zipper pouch is super easy and you can do it in just a few minutes. The cute and colorful zipper pouch can help you to organize your crochet hooks and other supplies like these. You can also make one to use as a gift for another crochet lady around you and that too with your favorite yarn hues.
Free Pattern nickishomemadecrafts
3. Zipper Pouch Free Crochet Pattern:
Make the most out of your free evenings by doing some quick and easy projects just like this zipper pouch. The gorgeous bright-hued yarn pouches are crocheted with corner to corner crochet stitch pattern. You can make a bunch of them and use them as the lovely handmade gifts for your lovely ladies.
Free Pattern windingroadcrochet
4. Free Crochet Pattern and Tutorial for Zippered Pouches: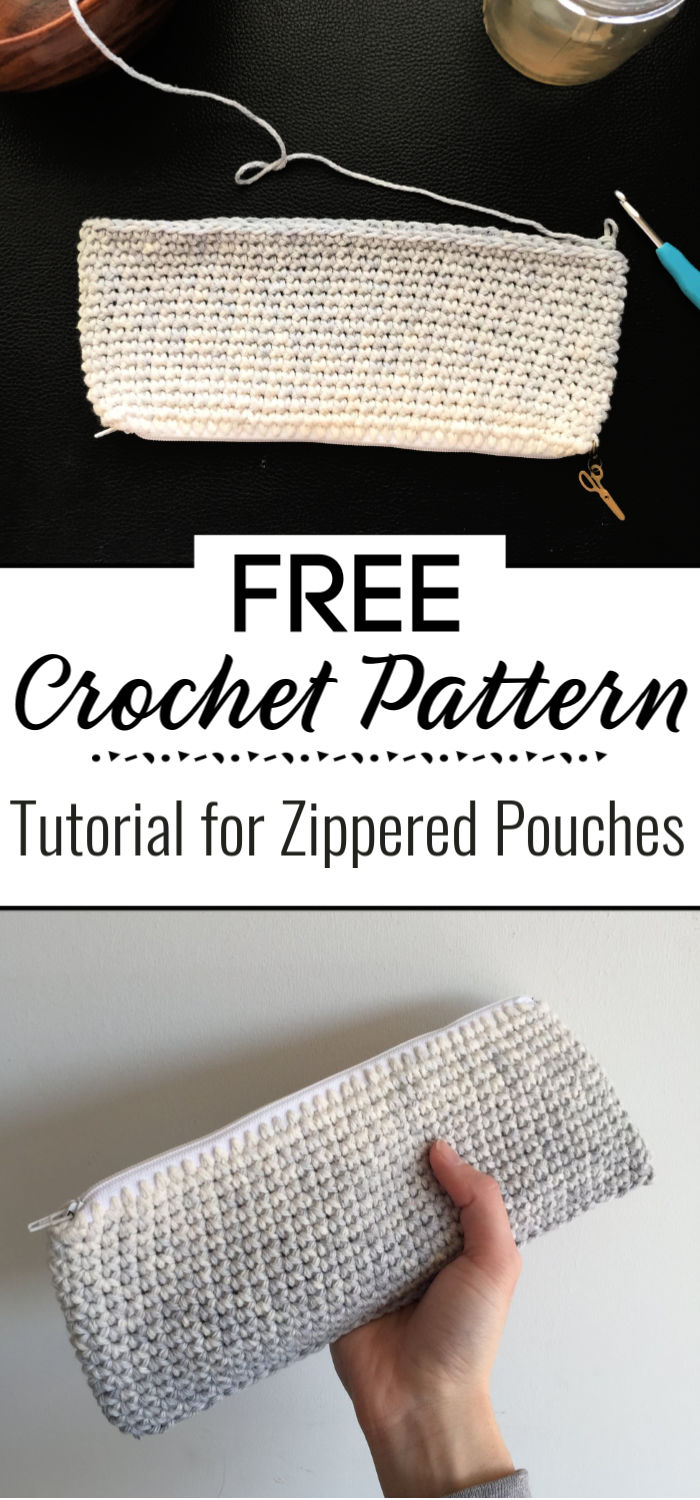 A zipper pouch can solve a lot of organizing problems for our teeny tiny items like pencils, glasses, and makeup. So go grab this free crochet pattern of lovely and amazing zippered pouches. You can make a big one and a smaller one to use per your needs of the storage. These pouches would make quite useful gifts too.
Free Pattern megmadewithlove
5. Crochet Zipper Pouch:
You are undone with your pouch collection if you do not have this crochet zipper pouch. The cute little zipper pouch resembles a mini basket in the pattern. It has a red yarn round base and a grey top section. The fabric lining inside the pouch makes it more durable. You can carry it in your purse to hold change.
Free Pattern allaboutami
6. The Arlo Zipper Pouch Free Crochet Pattern:
If you need a pouch to hold your accessories in a bag then this Arlo zipper pouch is the best thing to crochet up this week. The lovely white pouch is crocheted up with a white bulky yarn to get that perfect texture. It's a simple and one stitch crochet pattern so you can quickly do it in just an evening.
Free Pattern hookedontillylife
7. Crochet Zipper Pouch using the Moss Stitch Free Pattern:
The ombre appeal of this crochet zipper pouch is going to make you fall for its elegant beauty. The pouch has been crocheted up with a moss stitch which adds to the cuteness and simplicity of this pattern. You can choose another group of the ombre hues to create your favorite moss pouch.
Free Pattern nedandmimi
8. Crochet Zipper Pouch Pattern:
The crocheted pouches are more intimating and charming than the fabric ones. So here is a simple and fun crochet zipper pouch pattern for you to work on. Using only one yarn color and one stitch you can easily work up this adorable crochet zipper pouch to organize any of your small possessions.
Free Pattern flaxandtwine
9. Treble Crochet Zip Pouch Tutorial:
The beauty of this pouch lies the pattern of it that is called the treble and you can make it on a relaxed weekend evening. The white color of the crochet yarn and that lovely treble pattern really makes this zip pouch looks super interesting and cute. You can use it as a perfect back to school gift too.
Free Pattern deliacreates
10. Cactus Zipper Pouch:
You are going to lose your heart to this adorable cactus zipper pouch for being absolutely gorgeous and adorable. The white yarn base of the pouch has lovely green cactus all over the pouch pattern. Kids are really going to fall in love with these adorable zipper pouches so do make them this pouch.
Free Pattern stuffstephmakes
11. Chevron Zipper Pouch:
This chevron zipper pouch looks really awesome with its chevron design and the totally unconventional color scheme. The contrasting hues of the orange and the grey yarn really add to the beauty and charm of this chevron zipper pouch. You can make these for your kids to let them hold their colors and pencils in.
Free Pattern whistleandivy
12. Moss Stitch Zipper Pouch Free Crochet Pattern My Hobby is Crochet:
These moss stitch zipper pouches look so delightful to the eyes with the vibrancy of the yarn colors that the patterns have used. The blue pouch with the yellow and the pink with yellow have really come out to be so much pleasant. These lovely and a little big moss stitch zipper pouches are going to make an adorable gift.
Free Pattern myhobbyiscrochet
13. Fabric & Crochet Zipper Bag:
Here is a lovely double-layered crochet fabric zipper bag to use as the mini staple storage in your bag. The black fabric made pouch has the thick in texture crocheted cover in pink to look just so exquisite and cool. You can try your favorite yarn hues to get the custom zipper bags and pouches.
Free Pattern fairfieldworld
14. Herringbone Zipper Pouch Crochet Pattern:
Free Pattern onceuponacheerio
If you need a small crochet project then make this lovely herringbone zipper pouch to make something productive in the least of the time. There are two stunning things about this pouch. One is the black and white yarn hues and the other is the herringbone pattern and design. Do make one this weekend.
15. Rainbow Happy Fun Pouch:
Summer is so undone without a rainbow craft and this time you can work up this lovely rainbow happy fun pouch for yourself. So grab the rainbow-hued yarn and crochet up this simple and cute pouch. To make the pouch look more beautiful and fun you can add some flower appliqués to it too.
Free Pattern mooglyblog
16. Crochet Zipper Pouch Pattern:
This is probably the cutes and the most colorful crochet zipper pouch pattern for you all to work on. The pretty round shape, gorgeously bright and bold hues of green, red and yellow have really made this pouch look stunning. Those colorful beads on the zip handle are adding more charm and funk to it.
Free Pattern luzpatterns