One of the comfiest clothing for the summer is our favorite shorts. A tee-shirt and a pair of shorts keep us all sorted for casual summer days. Have you ever thought to crochet a pair of shorts for yourself? If not then you would start thinking to have one as we have brought to you these 7 free shorts crochet patterns. Crocheting has made these causal summer shorts look so pretty and fun. Not only they cool catchy and cool but are highly comfy and fun to wear with your favorite tops and tanks too.
You need to the lightest weight and soft yarn to crochet up these summer shorts so that they make you feel convenient for the hot summer days. Most of these crochet shorts are crocheted out of the cotton yarn so you are going to feel being on the clouds with these shorts on. These gorgeous crochet shorts with intricate lacey patterns and details become the best and the sexiest beach covers for you. So rock your summers by crocheting up your favorite pair of the crochet shorts from this list. Also, you can crochet some tiny shorts for your little girl's dolls so that the dolls have the pretty summer dress ups too.
1. Easy Crochet Shorts:
It's time to take the comfort and style of your shorts to another level with this lovely and easy crochet shorts pattern. These skin hued crochet shorts are crocheted with a single stitch pattern so even the beginners can get their hands dirty with it. Also, you can wear it with any of your tee and the top.
Free Pattern: hookedonhomemadehappiness
2. Free Crochet Shorts Pattern: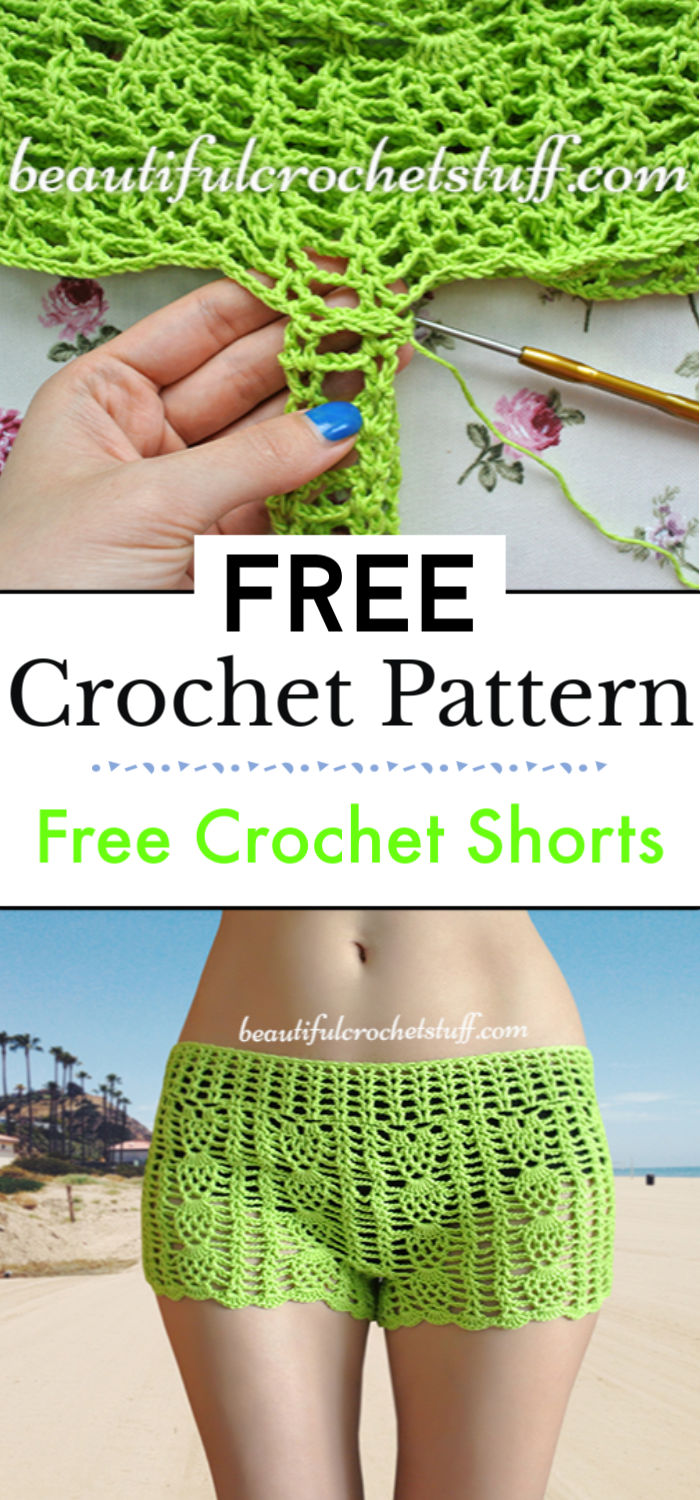 Here is how you can look more sexy and gorgeous on the beach with this free crochet shorts pattern. So get your hands on this gorgeous pair of the green shorts that you can wear over your bikini underwear. You can pick up any of the colors and make this pattern in a really simple and quick manner.
Free Pattern:  beautifulcrochetstuff
3. Comfy Cotton Shorts Free Crochet Pattern:
Make yourself feel with the comfiest this summer with this comfy pair of cotton shorts. The white pair of cotton shorts have two cute pockets attached which make it look more cute and fun. You can crochet up this pair of shorts to wear in the house with your comfy tees and tops.
Free Pattern: 365crochet
4. Baby Shorts Free Crochet Pattern:
The shorts are cute and the babies look cutest with the shorts. So here is this simple pair of the shorts that the babies can feel super comfy in. The soft and subtle yarn of the grey and the single stitched pattern makes this crochet pattern super easy to be grabbed by even the beginners.
Free Pattern: hookedontillylife
5. Crochet Shorts Beach Cover Up:
Now you can crochet up your beach essentials just like this super hot and chic crochet shorts beach cover-up. The gorgeous white beach cover-up with the white lace pattern has turned out to be super attractive. You can make this beach cover in just a few minutes and that too in any size and color.
Free Pattern: furlscrochet
6. Barbie Short Shorts Free Crochet Pattern:
Girls love to dress up their barbies so now you can make them a lovely crochet dress. If the summers are going on then you can make them these adorable little shorts with a funky crochet top to look so pretty in. The girls would fall in love with this cute gift for their doll.
Free Pattern: feltmagnet.
7. Jean Shorts for 16″ Disney Rapunzel Free Crochet Pattern:
Make the most out of your crochet left out yarn pieces and making the cute and tiny doll dresses is the best project. Now you can make this lovely pair of jeans short for the Barbie or the rapunzel of your little girl's. They are so going to love this pretty new dress of their favorite doll.
Free Pattern: onceuponayarn.wordpress