If you are a person who loves to take a walk outside even in the cold weather then you need a cowl. Yes, a cowl is the most convenient head and neck warmer and also keeps the ears toasty. Unlike the scarves which only cover the neck or can be extended to ears, these crochet cowls are the best wraps for your upper shoulder body. So here we have brought to you these 10 warm hooded scarves and cowls to knit and work up with your crochet hooks. These hooded scarves and cowls are the best things to welcome in your wardrobe as they are not only warm but highly gorgeous and stylish too.
You are going to find all varieties of the hooded scarves in this round up and love them so much. From totally plain and simple hoods to some fancy hooded scarves like the Cheshire cat hood and the walking through the wild hoods, you have so much to explore. Also there are modernly styled crochet hooded scarves with buttons that you can make both for the big girls and the girls in your lap too. There is a red Robin Hood pattern for the red Robin Hood lovers and that too with cables to look so cute and fun. Check out each pattern with details through the links attached.
1. The Hooded Simon A Knitting Pattern:
This gorgeous hooded Simon is the best thing to have in your wardrobe and compete the cold of the fall. The hood has a pointy cone and the nicely designed knitted edges to look so nice and elegant on you. You can try this pattern to make a hooded Simon for yourself and for your little ones too.
Free Pattern stitchmesoftly.blogspot
2. Crochet Tutorial Cheshire Cat Hoodie:
This gorgeous crochet Cheshire cat hoodie has been made to compliment a Halloween costume but you can use it on casual days too. The pretty grey and blue yarn hues really make this Cheshire cat hoodie a fun winter option to cover yourself from head to neck. The little girls and the teen are really going to love this hoodie.
Free Pattern yarnutopia
3. Coraline in Minden Cozy Oversized Free Cowl Wrap Pattern:
Here is a cowl which is big in size and would not only cover your head and shoulders but the half of your back too. The double yarn hues really add to the beauty of the crochet cowl in green and blue. Also the pattern is quite breezy so you can use this cowl wrap in the summer too.
Free Pattern simplycollectiblecrochet
4. Hills and Valleys Cowl Hood Free Pattern: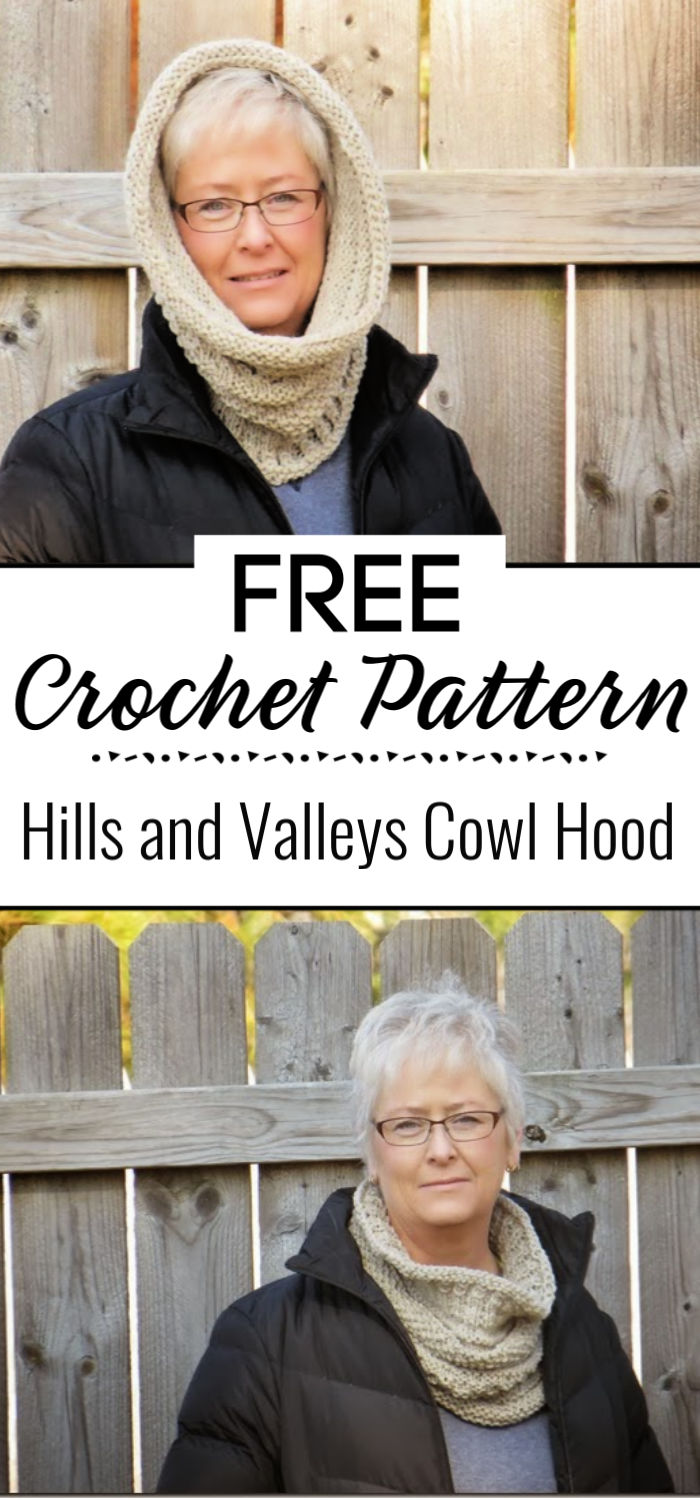 Cowls are quite convenient to use as you do not need to set them again and again. Here is this hills and valleys cowl hood to make. This cowl is going to keep your head, neck and the ears all warm and toasty. You can use any of the yarn hues to shape up this cowl but that neutral brown color makes it perfect for every dress.
Free Pattern knittingdragonflies.blogspot
5. Hooded Crochet Cowl With Lion Brand Thick & Quick Yarn Scarfie:
Hooded cowls are the best as they single handedly cover your head, ears and the neck to keep them warm during the cold. There two cowl with the same pattern and design, one for the mama and other for the baby girl. Lion brand thick and quick scarfie has been used to shape up both of these mother daughter cowls.
Free Pattern repeatcrafterme
6. Free Crochet Hooded Infinity Scarf Pattern:
Either you need a hood or the infinity scarf this crochet hooded infinity scarf can do the both for you. The lovely peachy pink hooded infinity scarf has so a simply stitched pattern which is easy enough to be done by the beginners too. Bulky yarn is the reason behind the chunky design and texture of this scarf.
Free Pattern thesequinturtle.blogspot
7. I'll Be Your Mama Bear Hooded Scarf (Scoodie) Crochet Pattern:
Here is this cowl with ears to look so cute and fun on you for the winters. The white yarn, chunky pattern and the pretty cute ears really add to the beauty and innocent style of this hooded scarf. You can make one of small size for your little girls so that you can be her mama bear and she can be your bear girl.
Free Pattern onceuponacheerio
8. Cabled Hooded Cowl:
Here is this super funky and cool cabled hooded cowl hat to make and style up yourself for the summers. The cowl has a hood and the triangular shaped design at the front. The green color and the cabled pattern adds a lot of charm and beauty to this hooded cowl. You can minimize this cowl size too.
Free Pattern yarnspirations
9. Little Red Hooded Cowl: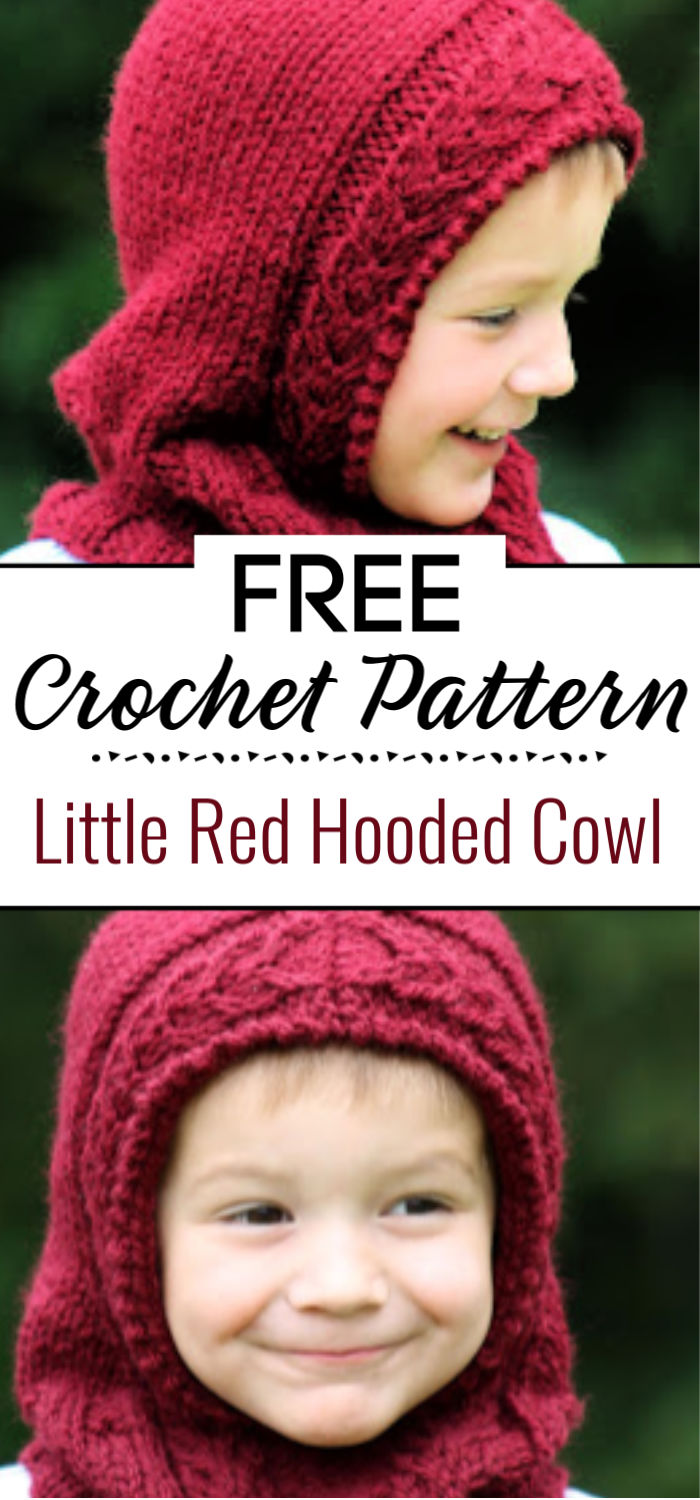 Every little girl once want to be a red robin hood and this little red hooded cowl can make her wish come true. The lovely hooded cowl is made out of the acrylic and the wool yarn with some cable stitches on the front to make this little red hooded quite unusual and fun. You can use this cowl as a lovely gift idea too.
Free Pattern ballstothewallsknits
10. Through the Woods Hoodlet:
This gorgeous through the wood hoodlet is the best thing to have this season of mild cold. You can wear the hood and walk through the woods to enjoy the nature with a toasty and warm head. The pattern and design of the woods hoodlet is quite modern and the buttons add more to its style and fashion.
Free Pattern whiletheyplaydesigns