Crocheting becomes double in the fun when you get to decorate your home via this skillful art. There is a huge variety of the things that you can crochet up to make your home décor jazz up a bit. We know that the clocks are gone from the walls of every house for being boring and dull but it's to bring them back but with the twist of crochet. So here we have brought to you these 10 DIY crochet clock patterns to get your hands on and create the lovely time pieces that are so going to light up your homey walls.
The gorgeous round-shaped crochet clocks offer you something really cool and quirky for your wall art. You can either work up your clock's outer edges with the colorful crochet work or you can simply crochet up a round doily with time machinery set up in the center. Choose your favorite yarn hues to crochet up the round clock pieces or the doilies. Also, you can use some cute appliqués to charm up these crochet clocks more just like pretty crochet owls, flowers, buttons or even the numbers on the clocks can be crocheted. A gorgeous crochet clock would be the best house warming gift for anyone around. Check out these amazing crochet clock patterns right below!
1. Color Full Clock Work: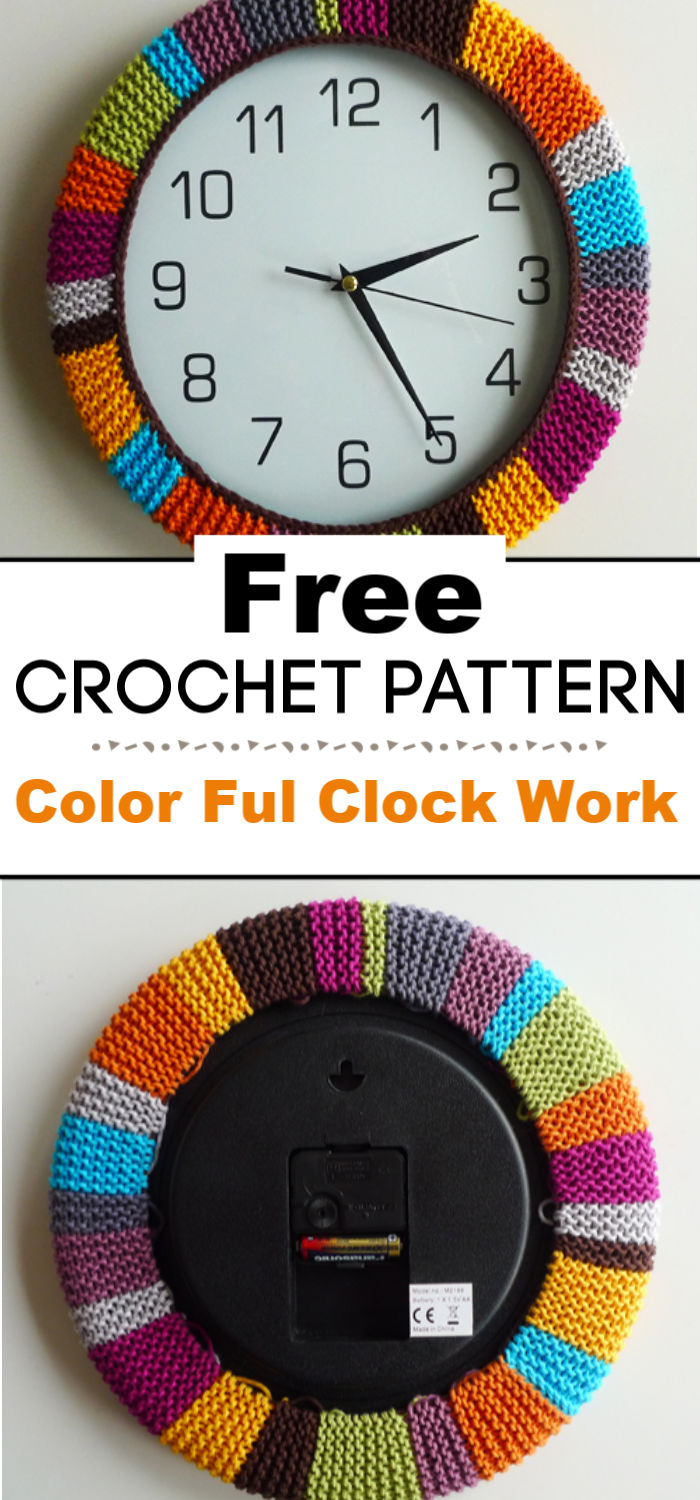 If you have a simple wall clock hanging on your walls then turn it into a lovely wall art piece with your crochet skills. Yes with the colorful yarn being nicely crocheted around the clock, you can bust your yarn stash in a completely fun and functional way. Get the details here!
Free Pattern retrobabydesign.blogspot
2. Tick Tock Mandala O'Clock:
We love the gorgeous and colorful mandalas and you can make functional wall art out of it. Yes, this gorgeous tick-tock mandala clock is really going to rock the beauty and charm of your walls. Just make a lovely colorful mandala and add the clock hands and machinery to get a funky timepiece out of it.
Free Pattern thelittlebee
3. Yarn Cuckoo Clock Wall Hanging:

Cuckoo clocks are the most classic wall pieces and also the most gorgeous too. Now you can create the crochet version of the yarn cuckoo clock to make your walls have a lovely wall hanging. SO using some off white and copper shade yarn hues you can create the cuckoo and the cuckoo home with clock hands on it.
Free Pattern 1dogwoof
4. It's Crochet Time Mandala Clock or Hotplate:
We love crocheting mandalas when we are on our crochet journey and now these mandalas can be super functional than just being decorative. So, create a colorful and catchy looking mandala and add some clock hands and machinery to it and have a lovely wall art timepiece for the summer home.
Free Pattern betweenmyfingers
5. Crochet Pattern Clock with Owls:
If you are looking for a pretty and fun wall art piece for the room of your kids then make this lovely crochet clock with the owls. The gorgeous clock has been beautified with colorful crocheted owls and flowers. It can also make a lovely gift for the kids, mothers and best friend too.
Free Pattern crazypatterns
6. Crochet Clock Free Pattern:
Give a warm welcome to the spring this time and this crochet clock is going to be the perfect gift for your spring home. The gorgeous and bright yarn hues with the cute flowers on the place of numbers really add to the beauty and charm of this clock. Check out the details right here!
Free Pattern knittingday
7. DIY Crochet Wall Clock Pattern:
The beginners can feel doing this super easy yet totally fun and cute craft of the DIY crochet wall clock. The gorgeous white yarn clock has a lovely blue boundary and the crocheted colorful numbers. Some buttons have also been used in the place of few numbers to make this clock look more fun.
Free Pattern 101crochetpatterns
8. Crochet O'Clock:
Need a house warming gift for your dear and near ones? Nothing can beat this super cute and fun looking crochet clock. The pretty blue clock with the colorful flower appliqués and the butterflies really looks stunning and summer perfect. You can make one adorn your own homey walls with too.
Free Pattern boyandbunting
9. Crochet Wall Clock:
You can make this totally simple yet quirky and cute crochet wall clock to make your spaces look so sassy and fun. The pattern of this crochet wall clock resembles a sliced pizza in the pan. Just pick up the favorite hues of the yarn to work up this simple and easy wall clock to beautify your walls with.
Free Pattern whyidiy.wordpress
10. DIY Doily Clock Tutorial:
Here is the simplest yet the cutest wall clock to make from a crocheted doily and adorn your walls with. A fabric-wrapped wooden box contains the machinery of the clock. Place this doily clock on any of your walls to make them look fun and functional. Check out the details here!
Free Pattern namethatcandy.blogspot