Blankets are the must-haves for all the weather. Either it is the intensely cold winter days or the chilly summer evenings, blankets come as a great rescue for us all. From baby rooms to living room sofas and the porch chairs to the bedroom the crochet blankets are our warm and cozy partners. So here we have brought to you these 11 crochet blanket free patterns to make some lovely and cozy blankets at home. These handmade crochet blankets would be the best as they are poured with strenuous efforts and love. Not only for the babies and the other family members but these handmade crochet blankets would make the best gifts too.
You are really going to fall in love with this blanket round up to find so much pretty and quirky patterns. Most of the patterns here have color block designs and patterns. Making these color block blankets would be a great way to bust your yarn stash and also bring so much beauty and colors to your spaces. These color block and the thick textured blankets are going to look to chic and modern lying on your living room sofa or the baby beds. Then there are blankets with geometric patterns to have funky and cool designed blankets. So if you want some fun like this you can get your hands on the hexagon and triangle crochet blanket patterns.
1. Color Block Crochet Blanket Free Crochet Pattern:
One of the best ways to bust your yarn stash would be making these adorable color block crochet blanket. The kids are really going to fall in love with this adorable and cute color block crochet blanket. The whole blanket is built with the waffle stitch and if you know how to double crochet you can do this blanket.
Free Pattern: mariasbluecrayon
2. Gorgeous Hand Crochet Blanket in an Hour:
Now even during the day when you are relaxing in your chair, you can make yourself feel all comfortable with a snuggled crochet blanket. This lovely brown crochet blanket is built out of the super bulky yarn and you can crochet it up with your hands. This blanket is worked up super quickly and easily at home.
Free Pattern: flaxandtwine
3. Happy Hexagons Free Crochet Afghan Pattern: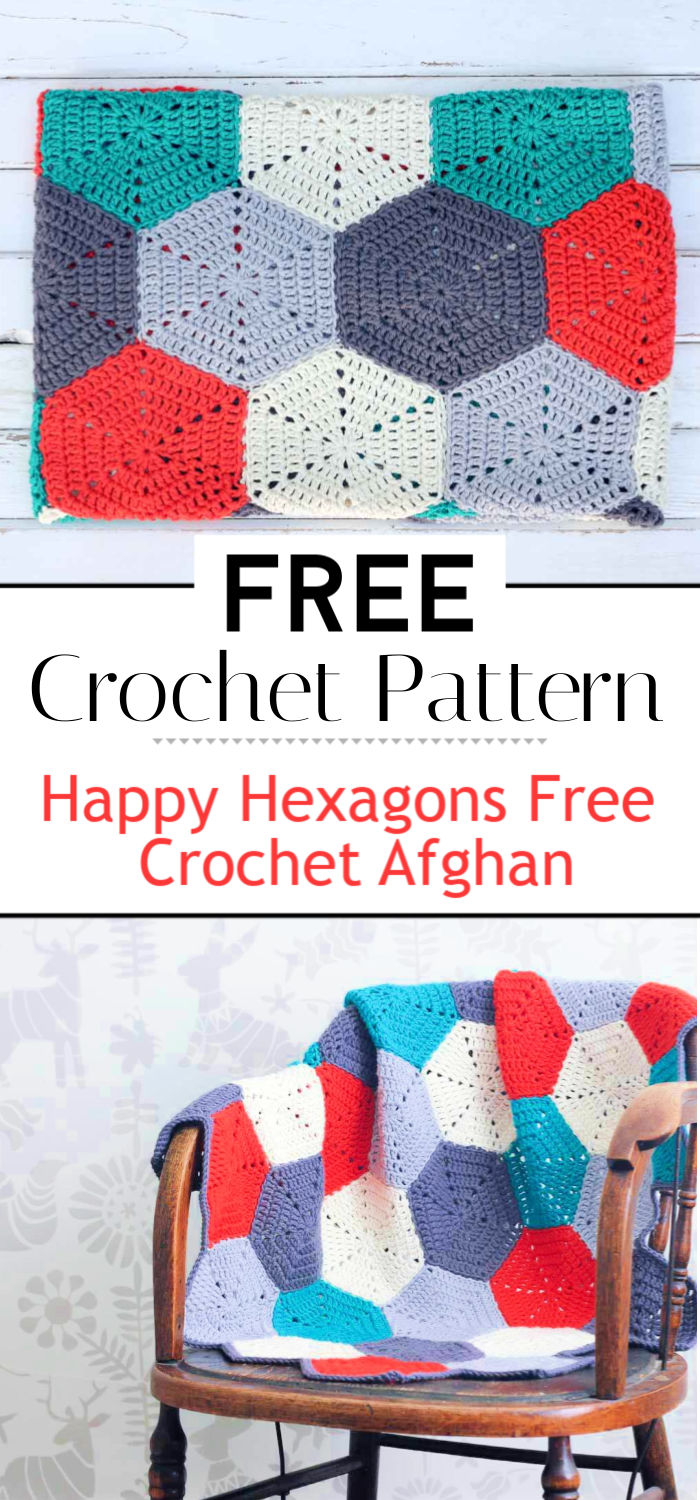 It's time to add some geometric fun to your crochet working and make this lovely happy hexagon free crochet afghan pattern. This lovely and colorful hexagon afghan pattern is the best thing to snuggle up on a sofa or the bed. So grab colorful yarn to crochet up hexagons and then yoke them together to shape up the afghan.
Free Pattern: makeanddocrew
4. Love Triangles Granny Stripe Baby Blanket: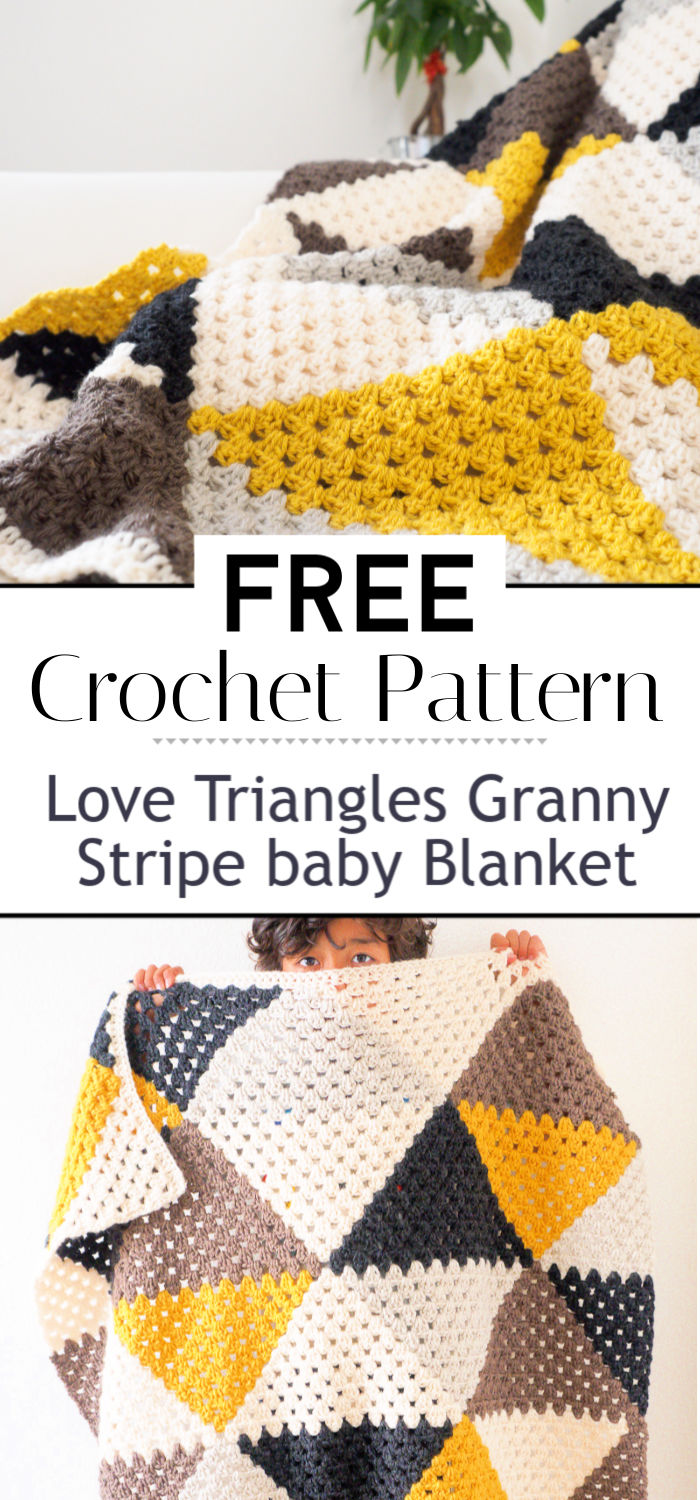 Another crochet geometric beauty is here to win your hearts and smiles. This lovely blanket is made out of the pretty crochet triangles and that in the color block pattern. SO grab all the yarn hues be it white, green, yellow, or any other and crochet triangles out of them. Stitch these triangles together and your blanket is ready.
Free Pattern: 1dogwoof
5. How To Crochet A Chunky Blanket An Affordable Beginner Project:
What can be the best way to spend your fall evenings then slipping under this lovely crochet chunky blanket that you can easily work up on your own? Using the thick yarn hues in the bright and beautiful colors you can easily work up this color block blanket using the big wooden hooks. Kids would love this blanket!
Free Pattern: makeit-loveit
6. Granite Crochet Throw Blanket Pattern:
This gorgeous granite crochet throw blanket is one of the best blanket patterns for being super cool and chic. So grab the thick and chunky yarn in the grey and white hues to make this super modern and stylish blanket. You are sure to get a lot of warmth and comfiness with this lovely granite throw blanket.
Free Pattern: rescuedpawdesigns
7. Crochet Baby Bean Baby Blanket Free Pattern:
Make your babies these colorful stripy and cute crochet baby bean blankets and they would be under the warm and cozy layers for the winters. The colorful strips of the yarn really turn out to be super exotic and cute to make this blanket look so tempting and cool. This would make a great gift idea too.
Free Pattern: leftinknots
8. Winter Chunky Ribbed Crochet Afghan Pattern:
The ribbed pattern is quite in fashion and trend these days so here is the idea of making these lovely winter chunky ribbed Afghans. Just get your hands on the white chic chunky yarn and create this gorgeous and super cute ribbed afghan pattern to make the best baby shower gift for the babies around.
Free Pattern: mamainastitch
9. All Double Crochet Afghan:
Free Pattern: kristineinbetween
10. Free Crochet Afghan Pattern, Falling Petals Afghan:
This gorgeous crochet Afghan pattern is the best thing to crochet this summer. The colorful block pattern and the wavy stitch pattern really make this pretty afghan a fun summer possession. So grab your favorite colorful yarn blocks and work on the Tunisian crochet stitch to work it up. This afghan is super appealing and gorgeous to be a gift too.
Free Pattern: crochetdreamz
11. The Hawthorn Afghan Free Crochet Afghan Pattern:
This is the coolest and the most boho kind of Afghan that you would ever see on the internet. This blanket has got everything that you can yearn in a blanket. It got a beautiful combination of bright and bold colors. It has thick fringes. The major part of the blanket is subtle and nude and the base layered are colorful and tasseled.
Free Pattern: persialou