Jewelry is the second love of every woman after makeup and necklaces are surely their favorite. The gorgeous jewelry in metal, silver, gold, and diamond is surely resting in almost every woman's closet. But it's time to quirk up the necklace collection by adding some crochet necklaces to them. Here we have brought to you these 11 easy crochet necklace patterns to work on and they are beautiful enough to win your hearts. Using your favorite embroidery yarn and the crochet hooks you can crochet up a variety of necklaces to adorn your dress up with.
You can simply crochet a necklace with a single chain stitch and even the beginners can make one and feel proud. Then you can add a variety of beads to the necklace and make them look prettier as your handmade jewelry items. From simple and long chains to choker style and the lacey layered pieces to pendants there are patterns for each necklace to try your hands on. Also, you can make these pretty crochet necklaces for every beloved lady around you no matter it is a gifting season or not. So browse and get the crochet necklace patterns for free with their detailed links attached!
1. Simply Easy Crochet Necklace:
Use your crochet skills for some cute and lovely addition to your jewelry collection just like this simple and easy crochet necklace. This pretty necklace is crocheted around a metal square like ring with a bead on the top to make it look so simply enchanting. Follow the pattern here!
Free Pattern oombawkadesigncrochet
2. Crochet Nursing Teething Necklace DIY:
Need a gift idea for your friend, cousin or colleague's baby? Making this lovely crochet nursing teething necklace is the best of the things to use as gifts. Also making this teething necklace would ease the babies with their growing teeth and the handmade love would arouse its value more. Details here!
Free Pattern giftseshop
3. How to Make a Crocheted Necklace:
It's time to pamper you with this gorgeous and colorful crocheted necklace. This gorgeous and thin in size necklace is made out of the ladder thread and the colorful beads strung in. It would make a great statement piece for your summer tanks and tops and also make a pretty gift idea too. Details here!
Free Pattern instructables
4. Crochet Feather Pendant Necklace Free Pattern:
A simple and cute pendant can instantly give a stylish boost to your boring dress up just like this feather pendant. You can easily crochet it up with the white yarn for that perfect feather look. The uses of seed beads have made this necklace look more of a jewelry piece. Pattern here!
Free Pattern crochetforyoublog
5. Free Pattern's Outline for a Crochet Necklace:
It's time to twist up your jewelry game with this free pattern of a crochet necklace. The pretty neck piece has three stands of yarn chains with the big flower at one side. You are surely going to look boho and chic wearing this necklace for a fun summer party around. Free pattern here!
Free Pattern creativeyarn.blogspot
6. Red Heart Lacy Beaded Necklace: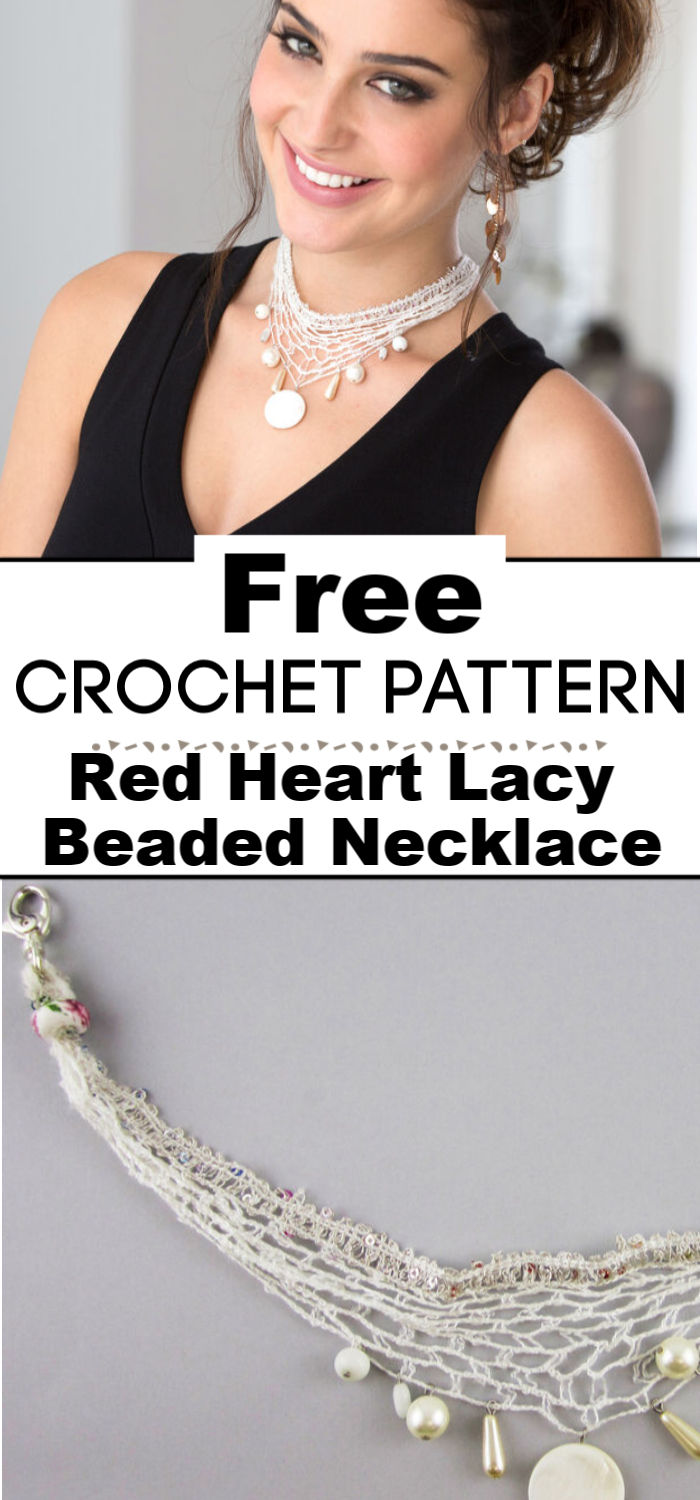 This gorgeous and rich in style necklace seems to come from a high fashion brand but to your utter surprise, it is handmade. The intricate lacy pattern with the variety of beads looks just stunning and highly exquisite. You can carry it to your dinner and dance parties. Follow the details here!
Free Pattern yarnspirations
7. Make Vibrant Bohemian Necklace: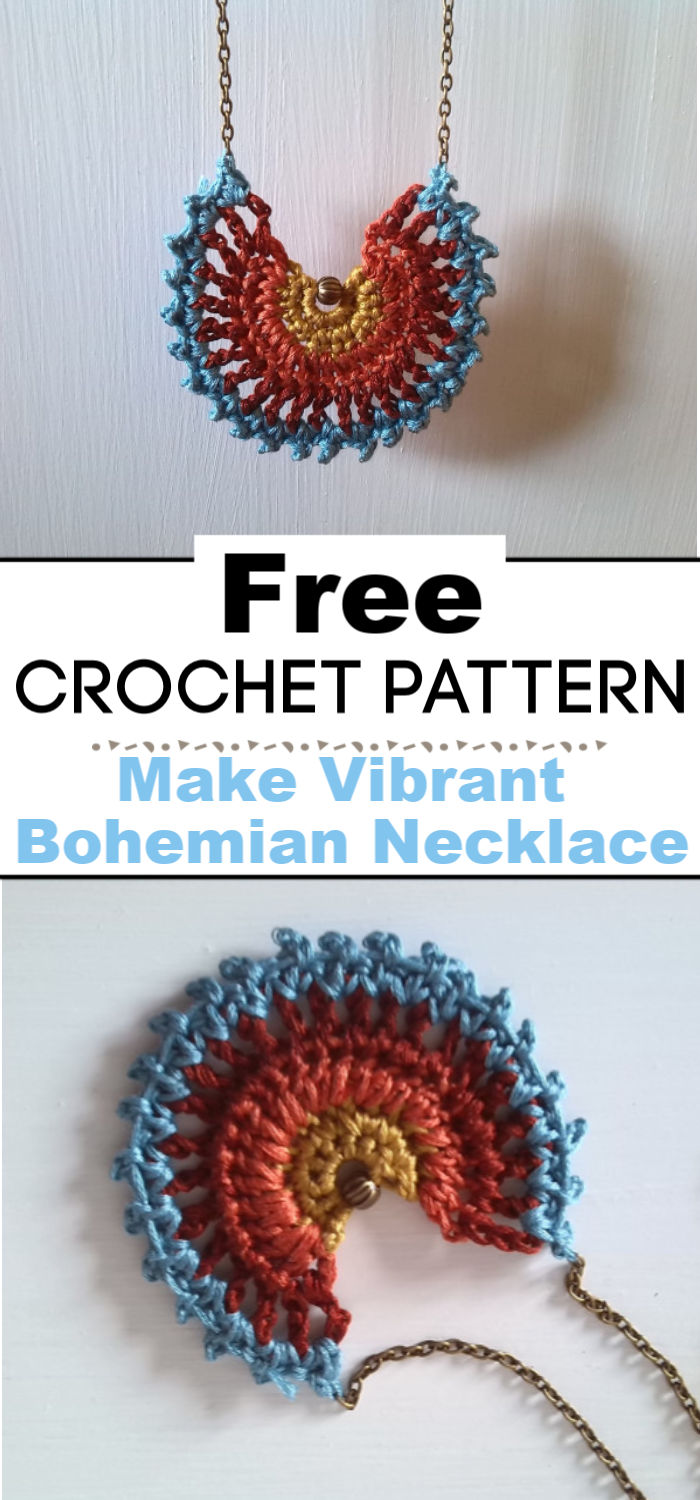 Look stylish and chic this summer with this handmade vibrant bohemian necklace. Using the blue and red embroidery floss you can easily crochet up this pretty necklace. Attach a metal chain to make it look of a necklace piece and strong to hold around your neck. Details here!
Free Pattern whyidiy.wordpress
8. DIY Bead Crochet with The Well Done Experience:
The use of beads and yarn together can create some marvelous creations and this lovely DIY crochet bead and yarn necklace is the best example of it. The pretty and minimalistic design of the necklace makes it really adorable. It comes with a huge length to wear in a variety of styles. Details here!
Free Pattern designsponge
9. Easy Beaded Crochet Necklace Tutorial:
Summers are great for every fashion so here we have this lovely and easy beaded crochet necklace which is simple and lightweight. Using only the chain stitch you can easily work up this lovely necklace with green beads to make it look quite quirky and cool. Follow the details here!
Free Pattern thesequinturtle.blogspot
10. Crochet Necklace DIY:
Sometimes a simple addition to the dress-up can really make a big difference and so is the case with this lovely crochet necklace DIY. This easy cute necklace is easy to DIY with simple chain crocheting and the beads being added in the pattern. You can make some and use them as perfect gifts around.
Free Pattern wisecrafthandmade
11. Rose Garden Crochet Necklace:
Look gorgeous at weddings and parties with this lovely rose garden crochet necklace.  The tiny peach crochet roses and the green leaves really add up to be this lovely necklace and you can pair it up with the same bracelet or headband for a more chic look. Details here!
Free Pattern yarntwist