Bracelets and bangles are one of the cutest and the go-to accessories for the girls to look stylish and cool with. From little girls to the teenage divas and the grown up ladies in the house, all love pretty and colorful bangles and bracelets a lot. Now you can enjoy the crochet version of your favorite bangles and here we have brought to you these 10 crochet bangles with free patterns to try right this week. Using these easy and quick patterns you can make yourself and your favorite girls a big bunch of cute and colorful bangles to adorn their dress ups with.
You can use all your scrap yarn in multiple hues to create these colorful and awesome pieces of the crochet bangles. Either make one colored bangles for a elegant and simple look or combine two contrasting hues for a rocking and chic look. Also there are patterns showing how you can combine with the bead, pearls and buttons to your lovely handmade crochet bangles and make them look so much interesting and cool. All these crochet bangles and bracelets are going to make the prettiest gift for your favorite ladies be it teen girls, best friends, colleagues and even the teachers. Each pattern is give below for free with all the needy details and instsructions!
1. Free Colorful Crochet Bangles Pattern:
It's time to bust your yarn stash with this lovely idea of the colorful crochet bangles that your young girls are going to fall in love with.  Using two yarns together of complimentary or the contrasting hues you can easily make these lovely crochet colorful crochet bangles for the teen girls. Details here!
Free Pattern crochetforyoublog
2. Crochet Bangle Bracelets: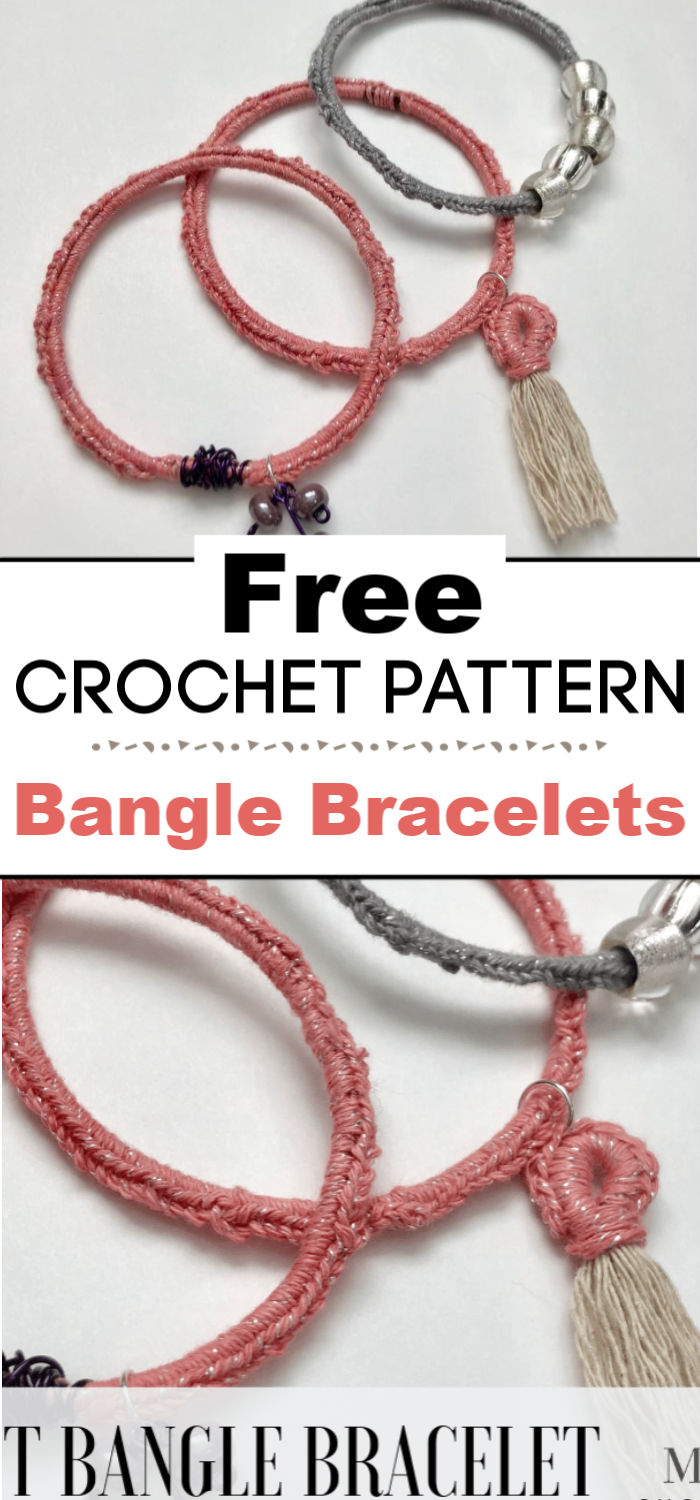 These gorgeous thin bracelets with tassels are the best things to make this week and use as the perfect girls for your favorite girls and ladies around. The bracelets are going to look super elegant and gorgeous in the wrists either matching or complimenting your pretty dresses. Check out details here!
Free Pattern marlybird
3. Quick Knit Headband Necklace Honeycomb Cable Pattern:
If you are familiar with the cable stitch then make these super cute and quick honeycomb cable necklaces using your scrap yarn. Not only necklaces you can use these lovely necklaces as the bracelets and the headbands too. Your little girls are so going to fall in love with these yarn accessories. Details here!
Free Pattern studioknitsf
4. Crochet Beaded Friendship Bracelet:
There is a kind of beauty and charm in the thin crocheted bracelets and these crochet beaded friendship bracelets are the best thing to make this week. The pretty bracelets are super easy to make with your favorite yarn hues in solid hues and use as the best gift for your friends on friendship day. Details here!
Free Pattern 1dogwoof
5. How to Crochet Bracelets:
You can make the most out of your scrap yarn by crocheting up this simple yet cool bunch of the bracelets. Wear them all in your wrist to make a quite catchy style statement with your boho dresses. You can adorn their beauty more by adding things like buttons. Follow the free pattern here!
Free Pattern feltmagnet
6. Crochet Beaded Bracelet:
Make your summers more fashionable and fun by making a big bunch of these crochet beaded bracelets. You would need two sized beads and yarn to make these super cute and charming bracelets in your favorite hues. Grab 15 and 1mm hooks to work up these easy and quick crochet beaded bracelets. Details here!
Free Pattern makicrochetpatterns
7. A Beaded Bracelet Pattern & Tutorial:
This super cute beaded bracelet with a wide band looks just so awesome. The bracelet is crocheted with yarn and the edges are adorned with the beads with a button clasp to look just so tempting and cool. You can make a lot of them to distribute as the fun summer gifts to your favorite ladies around.
Free Pattern mrsmicawber.blogspot
8. Crochet Bracelets:
These are one of the simplest of the bracelets to make and quickly get something so cool and stylish to put in the arms. With the easy twists, you can quickly work up these lovely yarn bracelets on your own. The use of eight yarn hues really makes these bracelets look so exotic and fun. Free pattern details here!
Free Pattern instructables
9. Twisted Chain Bangle: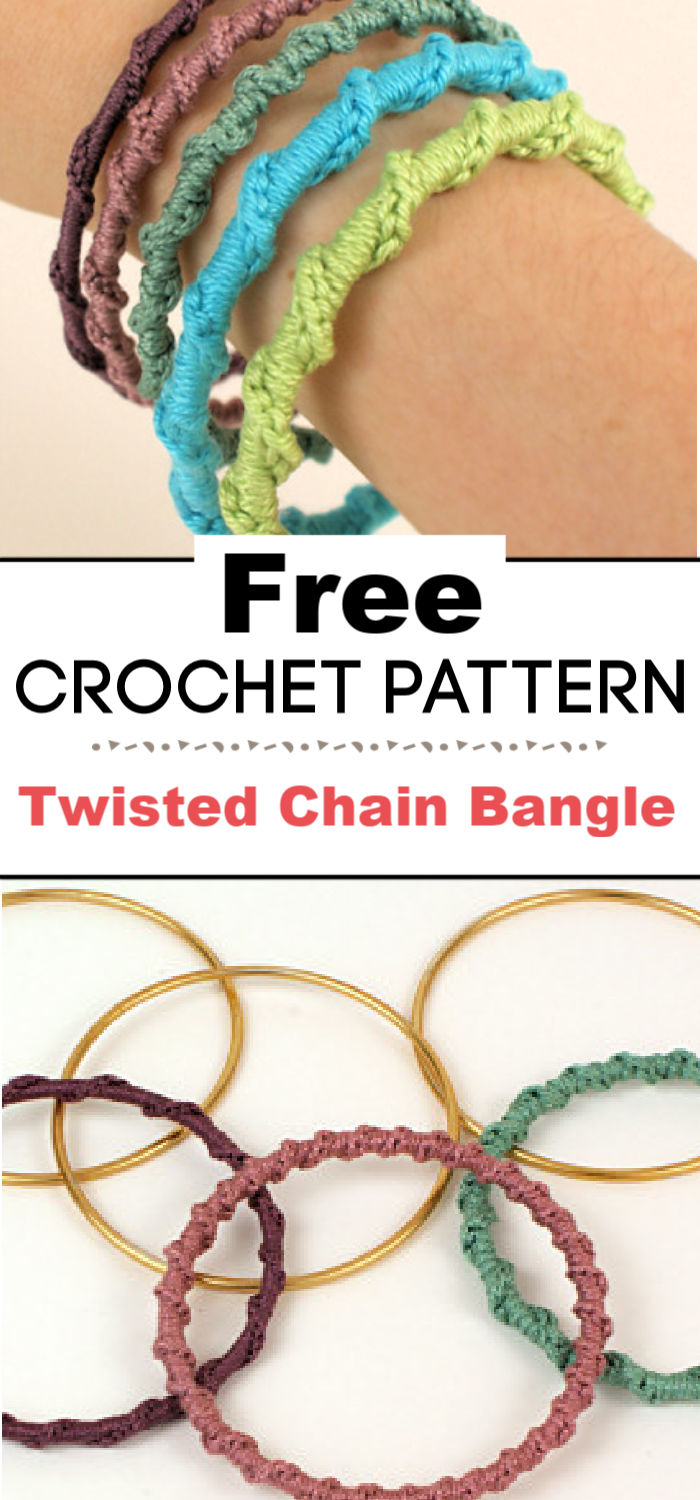 Your plain plastic or metal bangles are really going to look styled up with this idea of twisted chain bangle. Yes using your favorite crochet yarn and the hooks you can wrap those plain bangles with a lovely crochet pattern and design. A set of these colorful bangles is going to rock your look for sure.
Free Pattern planetjune
10. Crochet Bangles Bracelets Pattern:
Spice up your arm fashion with these gorgeous crochet bangles bracelets patterns. The pretty bangles are easy to crochet up with the acrylic worsted weight yarn in a variety of hues and the 4.5 mm hooks. You can a single bracelet or you can put them all together for a complete pretty and chic look. Details here!
Free Pattern hustleandhook