The kitchen is the space where mommies and housewives spend most of their time. There are a lot more other tasks than just cooking like cleaning, dish washing, and organizing. Crochet kitchen towels are the must-haves for the kitchens as you need to dry your hands or the dishes with. Also, you need it to clean the counters and so much more. Now instead of wasting your money on the market bought towels you can crochet up a few at home. Here are these 12 crochet hanging towel patterns to get your hands on.
These pretty hanging towel patterns are easy and so much fun to work on and bring so much beauty and functionality in the kitchens. Kitchen towels, hand towels, and the dish cleaners, you can use these patterns to get anyone of these. These hanging towels are quick to crochet for being a small and cute project to do in an afternoon. Also, you can choose the yarn hues and patterns according to the season ongoing. For example for the summers there are lovely and brightly colorful crochet towels with floral patterns and designs. For the winters you can get your hands on the subtle hues and the patterns like a snowman. They would look so great hanging on the wall racks or the oven handles. You can also use these adorable hanging towel patterns as the lovely gift idea for the beloved ladies around.
1. How to Crochet Hanging Kitchen Towel:
Towels are the kitchen integrals and now you can beautifully hold then near your working place with this 12 crochet hanging towel. With the matching yarn hues of your readymade towel you can easily create the extended towel holder to it. It closes up with a button to get nicely stuck on the wall mounted steel bar.
Free Pattern naztazia
2. Chevron Kitchen Towel Free Crochet Pattern:
Crochet up these chevron kitchen towels and they would prove to be the most functional one. The towels are made with some much beauty of the chevron design. You can choose the yarn of your own choice to make the pretty towels with chevron lines. The come with button to get easily hung on the iron rod.
Free Pattern crochetdreamz
3. Amour Hanging Towel Free Crochet Pattern:
Here is this simple and totally elegant amour hanging towel to make and save yourself some money over the market bought ones. You can use one soft and subtle yarn hue to make this towel with a button band so that you can hang it over the over or any place near to your working spot.
Free Pattern hookedontillylife
4. Floral Hand Towel Free Crochet Pattern:
This gorgeous floral hand towel is the best thing to crochet this summer. The white and blue yarn hues make this towel pattern really an eye catching piece. The pretty floral sequence adds more oodles of charm and beauty to this patter. This lovely crochet towel pattern would make a really good gift idea.
Free Pattern thepurpleponcho
5. Snowman Kitchen Towel Free Crochet Towel Pattern:
Dedicate some of the winter crochet projects to the theme of snow man and make this lovely snowman kitchen towel. You need white yarn hues to crochet up the towel with some of the black and orange to crochet up the features of the snowman. It would look great hanging on the oven handle.
Free Pattern acrochetedsimplicity
6. Free Pattern Raspberry Lemonade Hand Towel:
Summers are here and we would be enjoying a lot of fun drinks with lemonade being our favorite. So this lovely raspberry lemonade hand towel is the best thing to use in your summer kitchen. The light blue and yellow yarn hues have really come together so well. A pink button is attached to the towel so that you can easily hang it in the kitchen.
Free Pattern snappy-tots
7. Beginner Crochet Towel Topper Tutorial:
The beginners can practice their hands on crocheting by making some cool and colorful dish clothes or towels and here is a pattern. You can make these crochet towel toppers using the matching yarn of your towel. Also the topper has a crocheted button to make it easily hang and take off the rack or oven handle.
Free Pattern taylor-lynn
8. My Favorite Tea Towel Free Pattern:
Make your kitchen cleaning easy and fun with this handmade crochet tea towel. The gorgeous tea towel is made out of the white yarn and two hues of the blue.  You need simple chain stitches to shape up this gorgeous and functional tea towel. Also this tea towel can make a really great gift idea for the ladies around.
Free Pattern sincerelypam
9. Crochet Hanging Kitchen Towel:
Now you do not need to buy kitchen towels as you can easily crochet up a few at home. Here is this crochet hanging kitchen towel to make and nicely use in your kitchen. The carrot ted crochet kitchen towel has the pretty pink stripe and the topper with a button. You can customize the kitchen towel with your favorite yarn hues too.
Free Pattern crochetncreate
10. Crochet Kitchen Towel Pattern:
Even the simple and daily used items can be beautiful just like this pretty kitchen towel. The gorgeous selection of the yarn hues in black, white and red along with the pretty wavy stripy design has come out to be so stunning and gorgeous. This lovely kitchen towel is going to look so adorable hanging on the oven handle.
Free Pattern bhookedcrochet
11. Free Crochet Pattern Holiday Helper Dish Towel:
While you will be cooking some exciting dishes during the Holidays this gorgeous holiday helper dish towel would help you much to clean the kitchen mess. The dish towel is crocheted with the green, white and red yarn hues to be perfectly fir the Holidays. You can use these Holiday dressed dish towels as the great gifts too.
Free Pattern pattern-paradise
12. Spring Gingham Hand Towel Free Crochet Pattern: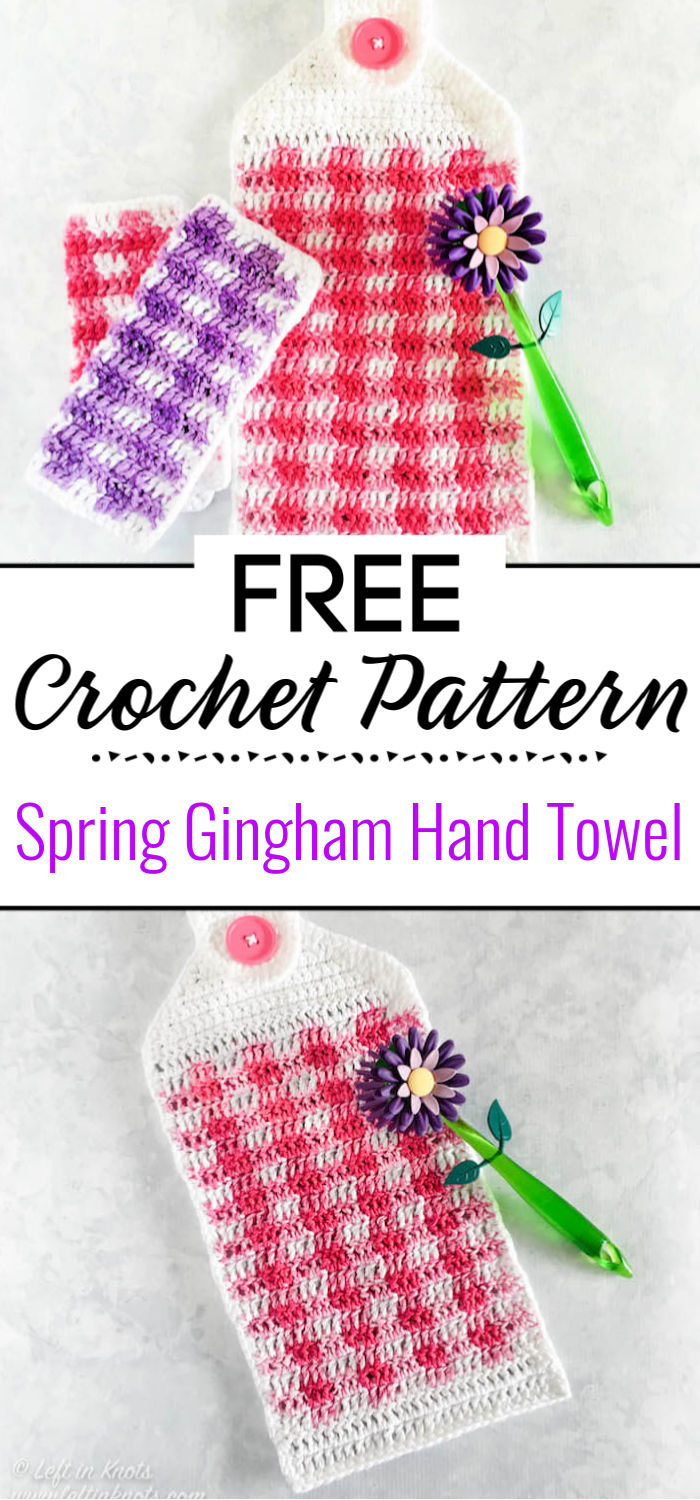 Spring is all about the pretty colored flowers bolossming around so make some spring crochet projects just like this lovely gingham hand towel. So you need bright yarn hues of the spring to shape up these simple yet cute hand towels. So along with the white, grab some pink, purple and green yarn to shape up these lovely hand towels.
Free Pattern leftinknots