Crocheting those big blankets, sweaters and the shrugs can be tiring so take a break on heavy crocheting. With the arrival of the spring, you can indulge in some lightweight and minimalist crochet patterns to get rid of the tiredness that winter crochet projects gave you. Here we have brought to you these 11 easy free crochet ring patterns to make your springs super fun and fresh. These easy and quick crochet ring patterns are perfect to get your hands and crochet hooks on and in return get some super cute and pretty yarn rings for the spring and summer fashion.
To pay a tribute to the spring via your fun crocheting you can make the lovely flower rings. Any rose can be copied to create a pretty floral ring but the gorgeous rose rings are the prettiest and the cutest. Not only just flower rings but there are more varied patterns and designs of the rings here in this lovely round-up. You are going to fall in love with the bow rings, bunny rings, doily rings and more. Not only these rings for the fingers but you can make some playful rings for the kids too. There is a ring stacking game, donuts and the teether rings pattern to make. Check out each crochet ring pattern right below!
1. Pretty Crochet Flower Ring:
You can enjoy some cool and funky jewelry possession out of crocheting and this pretty crochet flower ring is the best. The lovely ring flower a green leafy base and the and gorgeous red crochet rose. This lovely crochet flower ring would make a pretty accessory for the summer fashion.
Free Pattern popsdemilk
2. Bow Ring:
Make yourself some cool and fun summer accessories just like this lovely bow ring. The gorgeous light blue yarn and the bow design turns out to be just so adorable and elegant kind of ring fashion. You can make this super cute and chic kind of ring for anyone in the family be it little girls or the ladies.
Free Pattern cutoutandkeep
3. Crochet Baby Ring Stacking Toy The Rings:
You can make the most out of your crochet yarn stash by making this lovely baby ring stacking toy the rings. So crochet a little cute post and then the rings so that your toddler can have fun stacking the rings to the posts. This lovely crochet ring stacking toy would be the best baby shower gift too.
Free Pattern acraftycook.blogspot
4. Crocheted Jewelry:
If you need to pass your time and also make the most out of your crochet yarn stash then make these adorable bunch of the pretty crochet rings. You can either choose to make a flower shaped crochet ring or you can make a simple one with the button to look super custom and cute.
Free Pattern justsewbyrickmarsh.wordpress
5. Wood Ring Teether Crochet Tutorial:
The best way to help your kids with teething would be making this lovely wood ring teether for the toddler. Just grab a wooden ring and then crochet it up with some colorful yarn hues to look just so perfectly adorable. You can wash it to give your kids the safest and cleanest teether every time.
Free Pattern christacodesign
6. Doily Rings:
You can crochet a doily to make these adorable and totally elegant looking doily rings for yourself. Just take a piece of the simple ring and then cut out a simple piece of the doily to wrap it around the ring and it's ready to rock your summer fashion. You can wear these doily rings with any of your dresses.
Free Pattern yellowspool
7. Crochet Paper Yarn Ring:
It's time to make some funky jewelry from your crocheting skills and making this crochet paper yarn ring is the best thing to get your hands on. Along with the crochet paper yarn you would need an old ring of yours to make this lovely yarn ring. You can make a lot of them to use as gifts around you too.
Free Pattern paperphine
8. How to Crochet Donuts Free Pattern:
Donuts are the yummiest rings that everyone is so much in love with. So this time you can pick up your crochet hooks to shape up these adorable and super cute donuts and that too with all your favorite colors. They would make the pretty décor and playing stuff for the kids so do make some.
Free Pattern helloyellowyarn
9. Crochet Rings: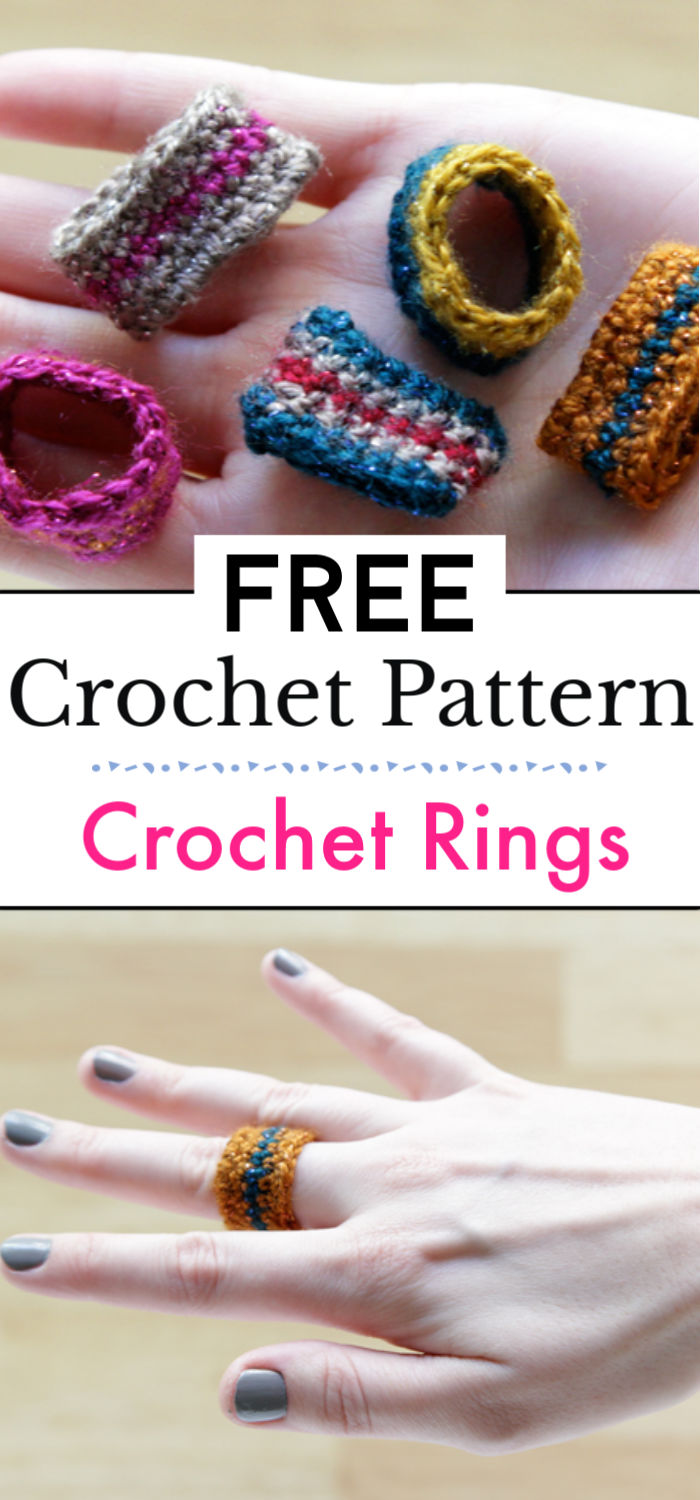 This summer you can try something new to look more pretty and stylish and these gorgeous crochet rings are perfect for the purpose. So make these lovely crochet rings using some colorful yarn hues and the neat and thin crochet pattern. Either match or contrast them with your dresses they are going to look awesome in your fingers.
Free Pattern handsoccupied
10. Bunny Ring Pattern:
Easter is coming up and you would be in need of some lovely bunny projects to crochet up. Making these bunny rings would be a great idea to try something new and fun but totally suitable for the Easter. The cute grey and white bunny rings are going to be your and your kid's favorite Easter accessories.
Free Pattern crochetrochelle
11. How To Crochet The Magic Ring:
Free Pattern 5littlemonsters