If you ask anyone about their most favorite and comfy clothes you are going to get big shout outs for the T-shirts. The fun thing is that you can now funk up your T-shirts a little using your crochet hooks and some yummy yarn hues. Here we have brought to you these 10 crochet T-shirt patterns for free so that you can bring some fancy and fun t-shirts to the summer wardrobe. Those who like to experiment with their clothes but without compromising on their comfort level should really be peeking into these gorgeous crochet T-shirt ideas.
Either you need to go out with your family and friends for a picnic or you are just staying at home at the weekend, these crochet T-shirts are the perfect pickups from the wardrobe once you made them. There are tees with lacey patterns, with thick texture but lightweight cotton yarn, some cool off-shoulder and cowl neck t-shirts too. Also, the good thing is that these t-shirts can be adapted to sizes that you need for yourself. Also, you are free to choose your favorite yarn hues to work up these lovely crochet T-shirts for custom and cute look. Jeans, shorts or skirts these T-shirts are going to pair up best with each of them. So check out the patterns and have fun!
1. Simple Crochet T-Shirt:
Bring some crochet fun to your t-shirt collection with this simple crochet T-shirt. The lovely lacey patterned t-shirt is so gorgeous with lovely green and grey hues. This T-shirt is going to be a great top off on your white dress up for the summer.  Also, this shirt is crocheted with simple crochet chains and a double stitch.
Free Pattern wilmade
2. The Top cho Easy Crochet Shirt Pattern: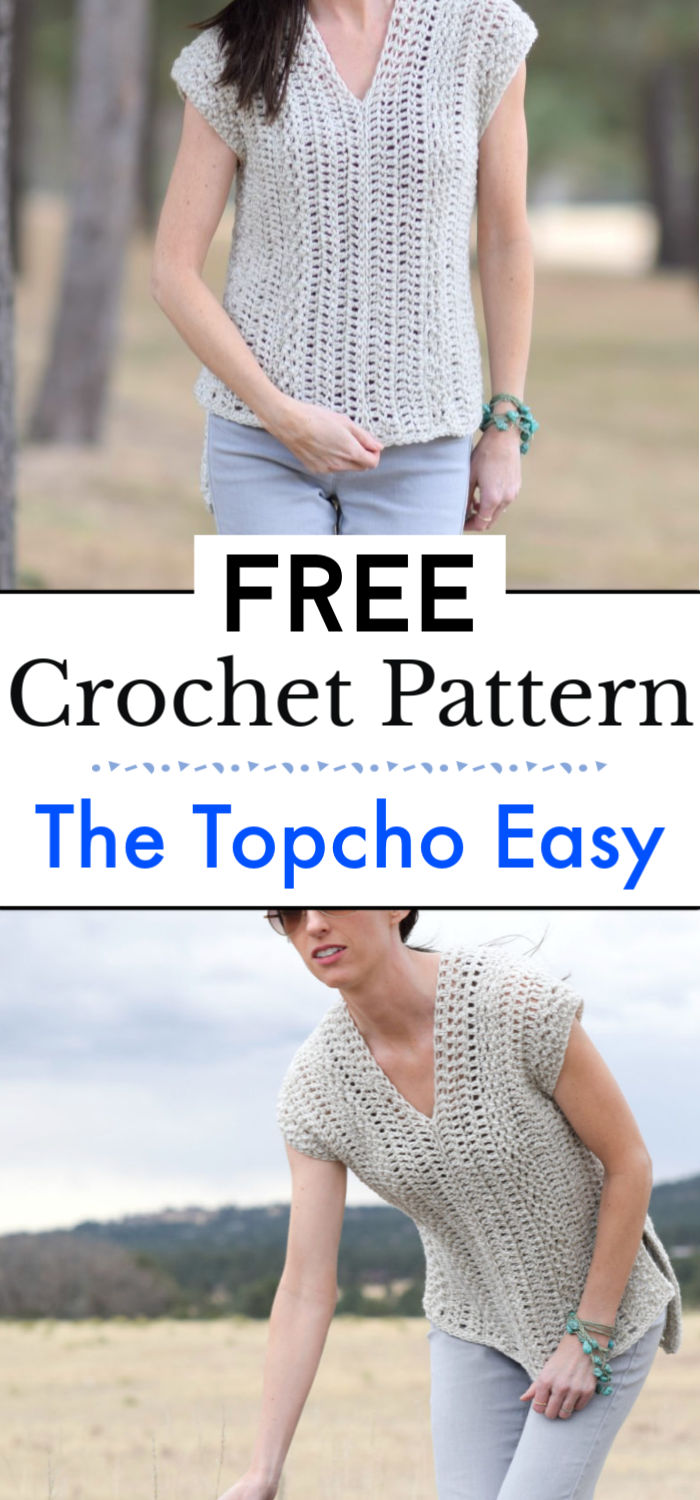 Make your summers more stylish and comfortable with this easy topcho crochet T-shirt pattern. The lovely t-shirt is the combination of a top and a poncho that is why it has been named topcho.  The topcho has a lovely texture and quite elegant design to look so stylish and boho on you.
Free Pattern mamainastitch
3. Basic T-shirt in Crochet: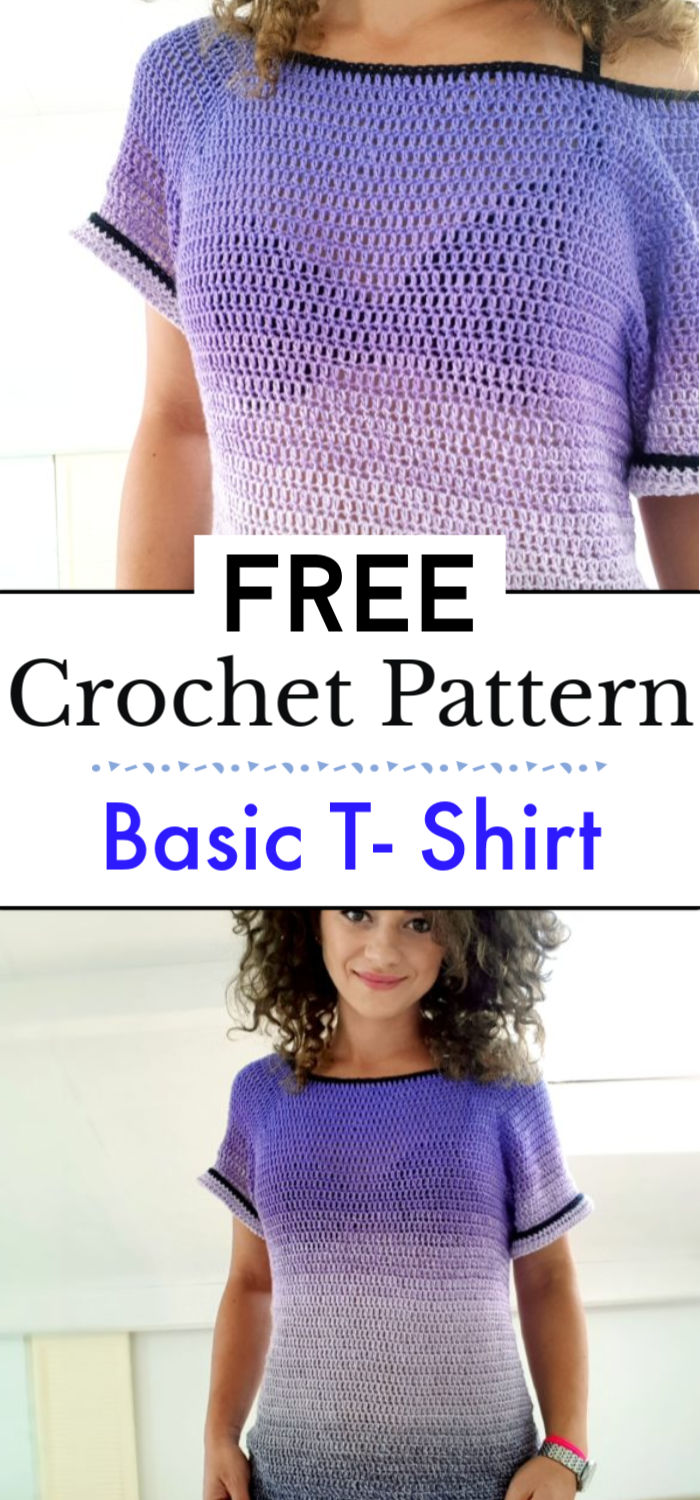 Now you can enjoy the lovely t shirts in crochet and bring some fashion to the summer wardrobe. This simple and common looking t shirt is crocheted in purple ombre to look so cool and catchy. You can wear it with your favorite denim shorts and look just so stylish and fun for a day out or just lingering at home.
Free Pattern by-katerina
4. Free Crochet Pattern for a Summer Camisole:
Feel super comfy and cute in summers with this handmade crochet summer camisole.  The pretty green-hued camisole is going to be a perfectly comfy and stylish T-shirt for your regular homey days. The breezy pattern and the cotton viscose yarn makes this camisole completely comfortable for you.
Free Pattern garnstudio
5. Valerie Tee Free Crochet Pattern:
If you are looking for something fashionable and comfy for the summer wardrobe then get your hands on this Valerie tee crochet pattern. The pretty red yarn hues and the pattern has a lot of holes which makes it breathable for the hot summer days. You can keep one shoulder off, both shoulder off or wear it as a simple T too.
Free Pattern twobrothersblankets
6. Positano Tee Crochet Pattern:
This gorgeous Positano tee crochet pattern ought to be on your crochet list for the summers. The lovely Lacy patterned top comes with a loose-fitting and a kind of neutral shade so that you have multiple options to dress up with it. From a funky beach cover to a boho t with your denim shorts, this Positano tee is everything.
Free Pattern hopefulhoney
7. Cup Cake Tee:
Make this gorgeous and fun looking cupcake tee shirt to rock your summer fashion in crochet style. The pretty cupcake tee has a lovely cowl neckline, mesh pattern and a little loose fit to look just so perfect for the hotter days. Adorn the tee more with a thin belt on the waist and look more boho and chic.
Free Pattern mooglyblog
8. Red Heart Make The Grade Crochet Tunic:
This blue grade crochet tunic is so elegant and cute to have. The thick texture and the full sleeves make the crochet tunic perfectly warm and comfy for the girls. You need to get your hands on the Red Heart Amore yarn of your favorite color to shape up this lovely tunic on your own.
Free Pattern yarnspirations
9. Simple Summer Tee Crochet Pattern:
Looking cute and fashionable is no more a hassle if you are a crochet person. Here is this lovely simple summer tee crochet pattern to get your hands on. The lovely summer tee is quite a boho in the design. You can pair it up with your denim shorts and sandals to look perfectly stylish for a summer day out.
Free Pattern hookedonhomemadehappiness
10. Magnolia Tee Crochet Pattern:
This gorgeous Mangolia Tee crochet pattern is the best thing to crochet up for the summer fashion. The lacey pattern and the gorgeous yarn hues really make this Mangolia Tee a woman temptation. You can pair it up with a skirt for a party or with jeans for a normal day at home. This design is perfect to hack for the little girls too.
Free Pattern twobrothersblankets