A mobile phone is best secured with a pouch or a cover on it and now you can crochet them up too. These 20 crochet mobile pouch patterns offer you a variety of ideas and designs to create a lovely crochet mobile pouch for yourself and for the people around you. To have a cool and catchy mobile pouch is the desire and demand of everyone these days. With these crochet mobile pouch patterns, you are sure to get some really basic and simple mobile pouches to some really chic and quirky ones too. So do check out these amazing crochet mobile pouch patterns and we are sure you would get what you want.
Being made out of the yarn these crochet mobile pouches are going to save your mobile screens from the scratches and from the severe damage if it falls too. The gorgeous colors of the yarn, lovely patterns and the pretty designs add more to the value of these handmade mobile covers. So either you need to carry your phones in hand, in your bag or in your pocket, these mobile cozies are going to protect them everywhere. The teenagers would love mobile pouches with patterns like angry birds, minions, BMO and Instagram. The girls would love the mobile cases with doilies, mandalas, polka dots, and flowers. There are more interesting patterns like these to explore right below!
1.Crochet Instagram Phone Cover Pattern:
You can get some cool and fun possessions from your crocheting skills just like this crochet Instagram phone cover pattern. The whole Instagram logo has been used on this gorgeous and totally fun looking crochet Instagram phone cover and everyone is going to love having it. It would make a great gift idea too. Pattern here!
Free Pattern acraftyspoonful
2. How to Crochet BMO Phone Case:
This cute crochet BMO phone cover is going to bring a smile on your face for being too adorable. This lovely and fun character of BMO from the cartoons Adventure Time really brings some memories back. You can make a lot of these BMO phone covers and everybody is going to love them so much. Pattern here!
Free Pattern louiesloops
3. Free Crochet Pattern Building Block iPhone Case:
Kids love to play with the building blocks coming in so many solid hues of green, red, yellow and blue. This lovely and simply cute iPhone case is made with the same design and pattern of the building block. You can make it with any of the colors you like and those cute bobbles really make it look adorable.
Free Pattern crochetcauldron
4. Angry Birds Cell Cozy Crochet Pattern:
Make your cells safe in the cutest way with these lovely crochet angry bird cell cozies. The pretty red cozy has the simple crochet pattern with the crochet angry birds features to look just so fancy and cool. Your young boys and girls are really going to love this cute cell cozy. You can differ the shades for more fun.
Free Pattern lizisfactory.blogspot
5. Pikachu Phone Cover Free Crochet Pattern:
Need a gift idea? How about crocheting up this adorable Pikachu phone and relive our favorite pokemon memories with it too? The ones who have seen these cartoons are surely going to adore this Pikachu phone cover. Either for your own self or for the others, this Pikachu phone cover is the best gift to make.
Free Pattern thegeekyknitter
6. Cherry On Top A Crochet Phone Cosy:
Do you have some yarn left from your previous crochet project? If yes then making this cherry on top of this crochet phone cozy is the best idea to use it. The lovely pink simple stitched phone cozy has two cherries being stitched in to look so simply cool and cute. Check out the details and pattern here!
Free Pattern pink-milk
7. Crochet A Cell Phone Pouch:
Secure your phones and tabs with the handmade crochet pouches and covers. Here are some really gorgeous and eye-catching cell phone pouch designs for you. They come with bright and solid yarn hues and that too in strikingly gorgeous looking strips. Check out the easy details and instructions here!
Free Pattern thewhoot
8. Crochet Mobile Pouch:
This reddish-pink crochet mobile pouch turns out to be so simple yet so much desirable too. It has a button closing on the top and a lovely green leaf stitched on the top. This quirky and cute crochet mobile pouch is going to be your favorite to make for your own self and for others around you too.
Free Pattern lucykatecrochet
9. How to Crochet a Cell Phone Pouch:
Save yourself a lot of money on buying things like cell phone covers as you can easily make them at home. So here is this lovely crochet cell phone pouch with a really basic but beautiful pattern. The pattern of this pouch has complete details and instructions attached that too with written instructions and the pictures.
Free Pattern wikihow
10. Minion Inspired Phone Case Free Pattern:
The minion lovers are really going to love this cute and super adorable minion inspired phone case. So grab some yellow, blue, black and white yarn to crochet up this minion version of the phone case. The young boys and girls are so going to love this. Here are the details!
Free Pattern loopsan
11. Secret Pearl Phone Cozy Free Pattern:
If you are also one of the persons who love the girlish items then making this secret pearl phone cozy is the best thing to make next. The lovely mixture of dark and lighter shades of yarn really makes this phone cozy look extraordinary with that cute little mandala embellishing. Free pattern here!
Free Pattern lillabjorncrochet
12. Crochet Phone Cover with Polka Dots:
Protect your phones in the cutest way with this lovely crochet phone cover with polka dots. Just grab a dark yarn color to crochet up a simple cover first and then add some cute polka dots to the whole cover using a lighter-hued yarn.  You can customize the cover with your favorite hues of the yarn. Details here!
Free Pattern craftaholicsanonymous
13. Crochet Vintage Doily Phone Case:
We love vintage doilies and here is the most amazing use of them with these crochet vintage doily phone cases. Just crochet up a simple phone case with any of your favorite yarn but in the solid shade. Then add a small and cute vintage doily to the side of the phone case and it surely turns out to be hugely impressive.
Free Pattern instructables
14. Free Crochet Pattern Herringbone Phone Cover:
If you are a crafty person then you must be aware of the herringbone pattern and here is this lovely crochet phone case with the herringbone pattern. The main feature of this phone cover is the use of three hued yarn to crochet up this lovely cover. You can choose your favorite shades to get a custom phone cover.
Free Pattern haakmaarraak
15. Crochet Cell Phone Pouch:
With a little creativity and skill, you can make your cell phones look so darn cute and interesting just like this pretty cell cozy. A simple phone cover has been made to look super interesting and cool by adding a button flap on the front but that too with the dog design. It has dog ears and tongue and looks so adorable.
Free Pattern feltmagnet
16. Chevron Crochet Tablet Pouch Free Crochet Pattern:
Chevron is a famous pattern for the homey craft persons and now you can use it in the crochet patterns just like this chevron tablet pouch. Using the combination of bright and subtle yarn hues you can easily work up this lovely table or phone pouch with a button flap for more secure use. Details here!
Free Pattern whistleandivy
17. Blue Agave Phone Pouch: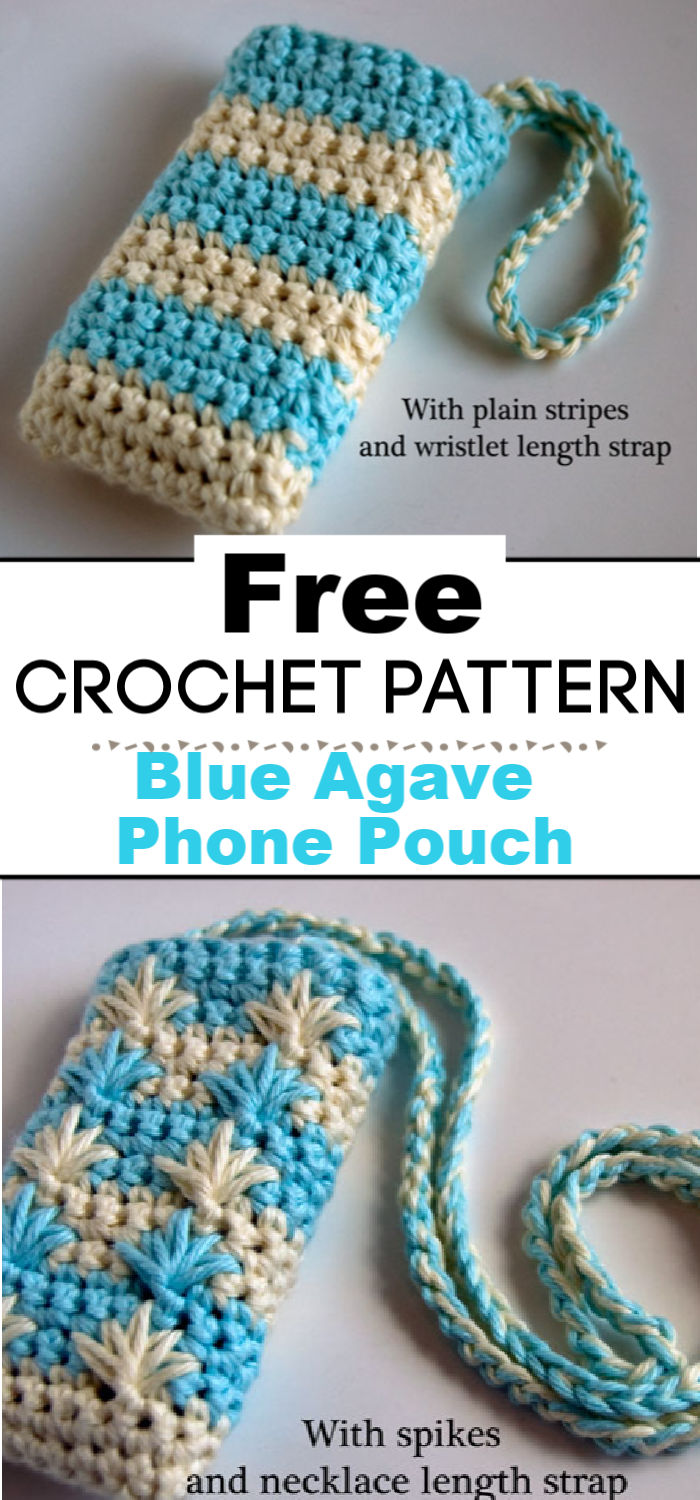 The gorgeous agave plant has long spikes and this can be your next crochet inspiration with this blue agave phone pouch. The blue and white colors of the yarn add more to the beauty of this gorgeous agave phone pouch but you can choose your favorite hues. Follow the details here!
Free Pattern mooglyblog
18. DIY Phone Pouch Free Tutorial:
This gorgeous and intimate DIY phone pouch is the best thing to make for your next crochet project. The lovely pouch is made from the fabric and then adorned with lovely and colorfully bright crochet flowers on the top. The phone pouch looks so interesting and intimidated so do check it out all here!
Free Pattern dadasplace
19. Cell Phone Pouch Free Crochet Pattern:
Here is this lovely cell phone pouch that is quite simple in looks but has so many things to win your heart with. The wood berry-colored Bernat home décor yarn, the button flip and the slanted pattern of lines really add to the beauty and charm of this lovely crochet cell cozy. You can customize it with your favorite hues and the size too.
Free Pattern nickishomemadecrafts
20. Mobile Pouch: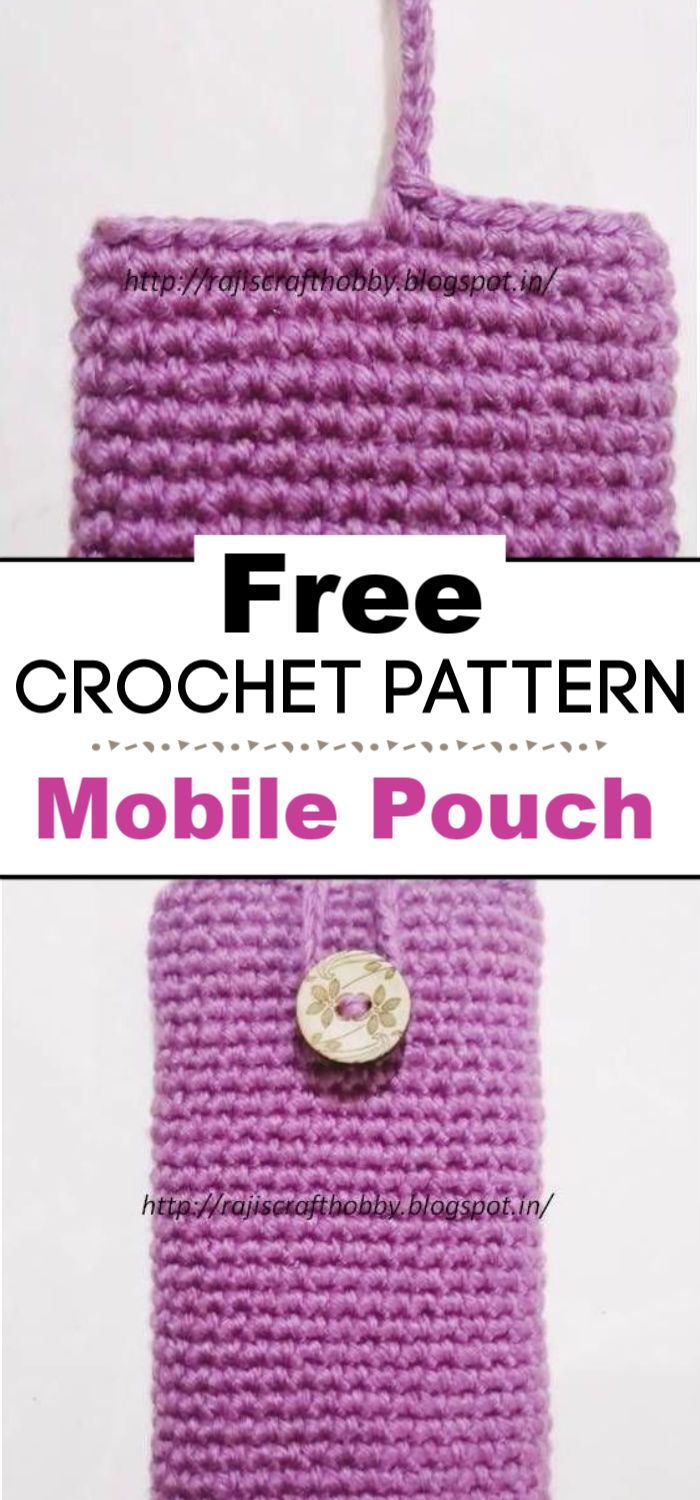 Give your mobile phones these lovely handmade pouches and make them all safe and secure from the scratches. This mobile pouch is quite easy to crochet up and has only one hued yarn used for its crocheting. Also, it has a button close system to look and act more secure. Follow the pattern here!
Free Pattern instructables