Mason jars are the favorite things for the home décor lovers and the craft persons. We use them for a variety of décor and styling purposes in the house along with being the best organizers for the homework desks and tables. Now you can use your crochet skills to crochet up the lovely cozies and covers for these home used mason jars and make them look more enchanting. The patterns are super easy and fun to work on and they really ensure to bring the perfect beauty and glam to your spaces. Also, the patterns are quick to crochet up so you can make a bunch of them to use them on all the homey mason jars.
These crochet Mason jar cozies look great on your Mason jar vases for all the seasons. Use colorful and bright yarn hues to make a pretty crochet cover for the spring or summer Mason jar vases. The crochet covers with subtle and neutral hues are going to dwell fine with the winter and fall décor. You can use the same color scheme and patterns for the Mason jar table organizers too. Then there are Mason jar glasses to enjoy the cold summer drinks and the handmade crochet cozies can keep them cold for longer. Check out the free patterns with details right below!
1. How To Crochet Mason Jar Cover:
Here is how you can restyle your Mason jar vases with this lovely bunch of the crochet mason jar covers. Get the lovely bright-hued yarn to create these lovely spring and summer-inspired mason jar covers. The pretty hues and the mesh-like pattern really make the crochet mason covers look fantastic. Details here!
Free Pattern yarnandhooks
2. Patriotic Mason Jar Cozy Free Pattern:
Make your homes ready for every Holiday with some handmade décor pieces just like this patriotic Mason jar cozy. This one is for the Independence Day ant thus made up with the chunky yarn of white, blue and red hues. So make one and proudly display on the mantles, shelves or tables. Details here!
Free Pattern melodys-makings
3. Lily Sugar'N Cream Crochet Mason Jar Cozies Small:
Your Mason jar made lanterns are going to be so much gorgeous and decorative you cover them with this lovely crochet cozies. From small to the large size Mason jar lamps, you can crochet up these cozies for everyone. So grab some Lily sugar N cream yarn in your favorite hues to shape up this lovely bunch of cozies.
Free Pattern yarnspirations
4. Rustic Elegance Canning Jar Cozy Set DIY Free Crochet Pattern:
If you are a rustic décor lover then this gorgeous rustic canning jr cozy set is for you to DIY at home this week. The lacey pattern in the rustic brown color of the yarn has turned out to be super elegant and enchanting.  The cozies are made to look prettier with the chocolate hued ribbons tied to them. Details here!
Free Pattern kirstenhollowaydesigns
5. Jar Full of Love Mason Jar Cozy:
Blue mason jars are our favorite for the summer home décor and now you can add more to their charm and beauty with this crochet Mason jar cozy. The blue yarn crochet cozy has the lovely red hearts being crocheted in the pattern to make the jar cozy look so lovely and love symbolized too. Details here!
Free Pattern thestitchinmommy
6. Heart Jar Cozy Free Crochet Pattern:
Make your Mason jar organizers look all beautiful and fun with these heart jar free cozy pattern. Yes, the pattern has a built-in heart shape inside the pattern that you can make more prominent using the ribbon. So enhance the beauty of your homework tables by making your pencil jars wearing these crochet cozies.
Free Pattern hookedonpatterns
7. Easy Crochet Mason Jar Cozy Free Pattern:
With the arrival of the winters, everything gets covered in the warm crochet wraps. So here is the idea of making this easy crochet Mason jar cozy with the free pattern to make your jars look all ready for the winters. Choose the neutral yarn hues to make these cozies perfectly suitable for the fall and winter season. Details here!
Free Pattern wethreeshanes
8. Easy Crochet Mason Jar Cozy Pattern:
If you want to make your crochet Mason jar look pretty and fun then make this crochet mason jar cozy pattern. The lovely bleachy blue crochet mason jar cozy is the perfect  thing to make and charm up the jars in the most awesome and simple way. Details of the idea right here!
Free Pattern sixcleversisters
9. Crochet Mason Jar Cozy Pattern:
Give your lovely and crafty Mason jar a completely warm and cozy look with these crochet Mason jar cozy patterns. These crochet cozies are the simplest and the most elegant with their soft and subtle hues and the buttons attached as the embellishment. Check out the complete pattern here to use them as the gifts too.
Free Pattern justbcrafty
10. Crochet Mason Jar Cozy Pattern:
Bring some cute rainbow colors to the desk o your little ones by crocheting these gorgeous Mason jar cozies. The use of rainbow jars in layers and with the help of multiple crochet stitches has really made these crochet mason jars cozies look so adorable. The cute adorned crochet flowers make these cozies look lovelier.
Free Pattern petalstopicots
11. Crochet Mason Jar Cozy Free Pattern:
Mason jars make the perfect drink glasses for your summer beverages and this lovely crochet Mason jar cozy is going to add oodles of charm to your Mason jar glasses. The pretty grey crochet cozy with white edging on the top is going to be the perfect addition to your Mason jar glasses and the vases as well. Details here!
Free Pattern stitching-together
12. Crochet Jar Jacket:
The colorful flowers in your vases are going to look more charming with these crochet rainbow jar jackets. Yes, when the Mason jar vases are filled with the lovely spring blossoms you can make them these colorful crochet cozies to look more interesting and delightful. Details and patterns here!
Free Pattern attic24.typepad
13. Crochet Jar Cover Pattern:
This crochet jar cover is super pretty and elegant for two reasons. One is the use of a lacey pattern in white and the other is the use of lovely shell stitch to crochet it up. You can use this dazzling white crochet jar cover for the Mason jar lanterns or the vases to spruce up their look for the home décor.
Free Pattern fondrari.blogspot
14. Mason Jar Cover Free Pattern: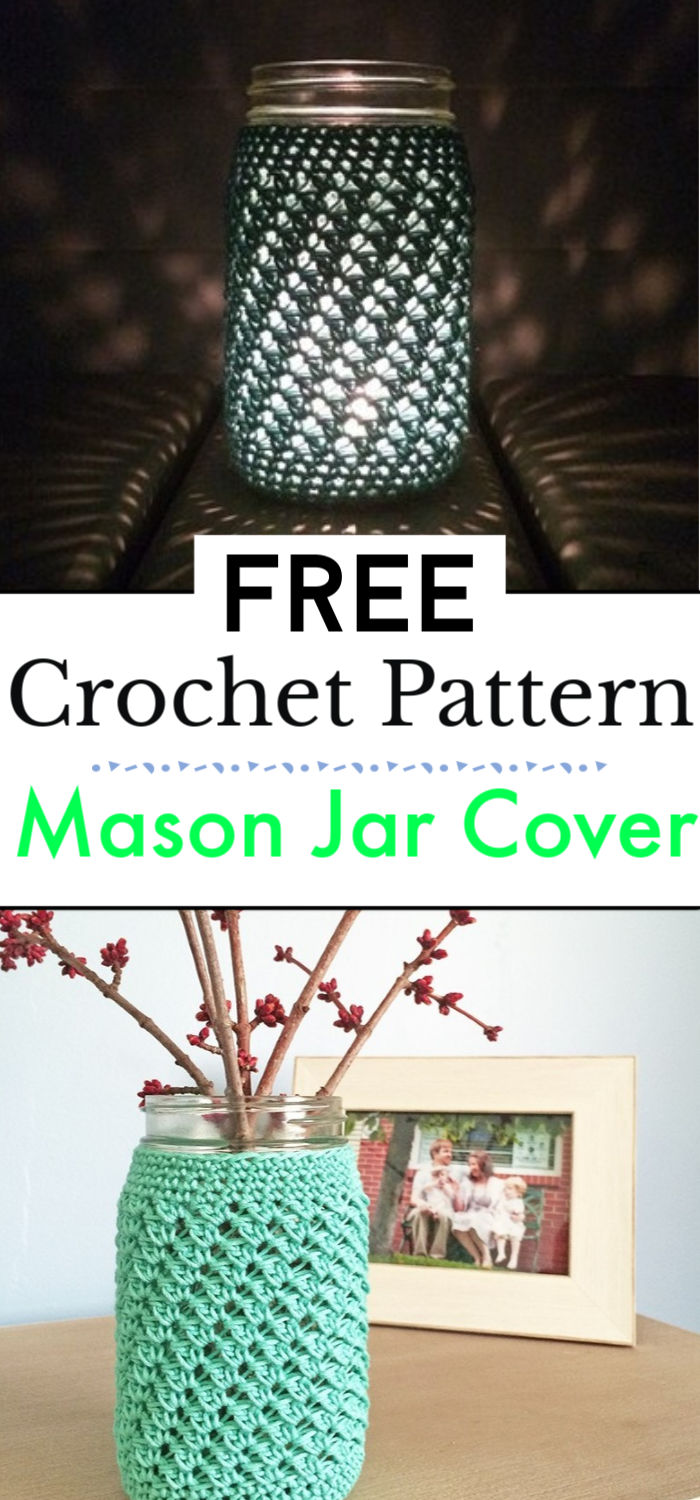 Mason jars are the fun home décor crafty material either you need a lantern or you need a vase. So here is this lovely Mason jar cover that you can use both on your lanterns to spread the light through its holes and the pretty vases during the day. The thick texture adds more to the beauty of this lovely Mason jar cover. Details here!
Free Pattern littlemonkeyscrochet