We have cushions on our sofas, chairs and the beds so they are surely one of the things that impact the home décor and style. If you are planning to change the covers of your spaces then you should grab the crochet hooks and some yarn this time. Here we have brought to you these 18 crochet cushion cover patterns to make you fall in love with them. The gorgeous yarn hues, enchanting texture and the pretty patterns of these crochet cushion covers are really going your lure your hearts. Either you want some new cushions for the living, bedroom or even for your pets, these crochet cushion cover patterns are perfect for all.
There are cushion covers of a variety of styles to let you choose your favorite kind of pattern from. There are soft-hued and subtle patterned cushion covers to suit your chic and elegant home style. The bright yarn hued cushion covers with granny square patterns and pom poms are super cute to bring in a boho summer house. Also, there are stripy and ombre yarn crochet cushion cover patterns to meet the décor needs of a modern home. The cable stitched cushion cover with tassels at corners make the best place in a farmhouse styled living or bedroom. Grab the free pattern of each cushion cover via links provided.
1. Pompom Cushion Tutorial:
You need this pom pom cushion for your chairs or your cat beds as they are not only comfy but super colorful and cute too. Two crochet covers have sewn together with a zipper to be filled with some cotton or pouf. The top of the cushion has been loaded with a lot of colorful pom pom yarns to look super interesting.
Free Pattern mojimojidesign
2. Free Pillow Cover Crochet Pattern:
These gorgeous pillow covers are going to bring some super fresh air in the home décor. The lovely yarn hues of the pillow cover in soft mint green and pink look just so exquisite and subtle. Even the pattern is quite simple and chic to be easily done when you are free to grab your crochet hooks.
Free Pattern leeleeknits
3. How to Crochet a Pillow Cover:
Pillow covers are the prettiest when you crochet them up at home. Here is an easy crochet pattern for you to make a pillow on your own. The pattern has easy details with complete instructions and the pictures. You can choose your favorite yarn hues to work up this lovely pillow cover pattern.
Free Pattern wikihow
4. Throw Pillow Cover Crochet Pattern Using One Skein of Red Heart Ombre Yarn:
Bring some charm of ombre hues in your home décor with this lovely red heart ombre pillow cover.  Be it blue, red or green ombre yarn the simple crochet pillow covers are really going to turn out cute and adorable. You can make a bunch of them use all around the house.
Free Pattern hearthookhome
5. Crochet Cushion Construction:
This gorgeous and colorful crochet cushion is the best thing to make this weekend. The base of the crochet cushion has been made out of a cut-out piece of an old sweater. Then this base has been adorned with the colorfully crocheted granny squares to look just so pretty and fun.
Free Pattern attic24.typepad
6. Easy Crochet Throw Pillow:
Here is this gorgeous throw pillow to be a fun part of your summer bedding. The gorgeous orange yarn hues and the thick yarn texture really add to the beauty and charm of this throw pillow. You can customize the size of this adorable throw pillow. You can also change the color of the pillow to make it more suitable.
Free Pattern thecraftpatchblog
7. Wrap Around Cushion Cover Tutorial:
Here is this totally chic and lovely wrap up cushion cover to make and enjoy something new with your favorite pillow. The lovely pillow cover has the square shape and the design with colorful yarn hues nicely infused in. You need to wrap up this cover to the cushion cover for a lovely and chic look.
Free Pattern thepatchworkheart
8. Super Chunky Crochet Pillow Project:
Here is the easiest crochet pillow cover pattern to get your hands on. The chunky crochet pillow cover has the gorgeous white yarn and the whole pillow cover has been crocheted with the singe stitch crochet pattern. You can take any of the bulky yarn with your favorite hues to make the best pillow covers.
Free Pattern mamainastitch
9. Fleece Backed Crochet Cushion Covers:
This gorgeous and colorful crochet cushion cover is the best thing to make this summer. A piece of the fleece has been used to make the base of the crochet cushion and then a bunch of the crochet colorful cozies has been sewed on the cushion covers to make it look so pretty and fun.
Free Pattern gingerschatz.blogspot
10. Crochet Pompom Sunshine Pillow For The Cyc Pompom Party:
Welcome summers to your home with this super cute and adorable crochet pom pom sunshine pillow for the cyc pom pom party. The gorgeous round yellow sunshine pillowcase has a zipper opening and the lovely face features to look like miss sunshine. The pom-poms around the pillow add more oodles of charm to this pillowcase.
Free Pattern repeatcrafterme
11. Chunky Crochet Cushion Cover:
Here is how you can make this simply gorgeous and elegant chunky crochet cushion cover. This cushion cover is crocheted in a big length and then wrapped around the pillow for a new and interestingly covered look.  So grab some chunky yarn and the crochet hooks to make this lovely cushion cover.
Free Pattern threadbarecloak
12. Easy All-In One Cushion Cover Tutorial:
The cool and interesting thing about this easy all in one cushion cover is that it has been a wrap-up method for the cushion. So firstly you need to make a big 18 inches square using the colorful crochet hues. Then take your pillow and wrap up this cushion with this cover using the folding technique.
Free Pattern blog.thenest
13. Striped Crochet Pillow Cover:
You can make the most out of your left out yarn pieces with this lovely striped crochet pillow cover. Using the yarn hues in black, white and blue you can easily work up this adorable and subtle looking pillow cover. This crochet pillow cover has a button flip closure to look more cool and chic.
Free Pattern rescuedpawdesigns
14. House Or Dorm Warming Free Crochet Pillow Pattern:
This gorgeous crochet form warming free crochet pillow pattern is the best thing to get your hands on. The lovely grey crochet pillow cover has a beautiful red heart stitched in the pattern. These pretty red heart pillow covers are going to look so cool and chic in the dorm rooms or even the bedrooms of your teenagers too.
Free Pattern makeanddocrew
15. Crochet a Gorgeous Granny Square Cushion Cover:
This gorgeous crochet granny square cushion cover is the best thing to make for this fall. The white yarn base of these granny squares has been centered with the gorgeous yarn hues of the fall like red, orange and yellow. This pretty granny square cushion cover is really going to spice up your spaces.
Free Pattern crafts.tutsplus
16. Crochet Pattern Sleepy Santa Pillow:
Bring about the Holiday vibes in your home with this simple yet utterly cool and fun looking crochet sleepy Santa pillowcase. The gorgeous brown yarn Santa has sleepy eyes and a big stuffed nose. Some loop yarn has been used in white to create the beard and the hair of this Santa pillow.
Free Pattern undergroundcrafter
17. Zigzag Bobble Pillow A Free Crochet Pattern: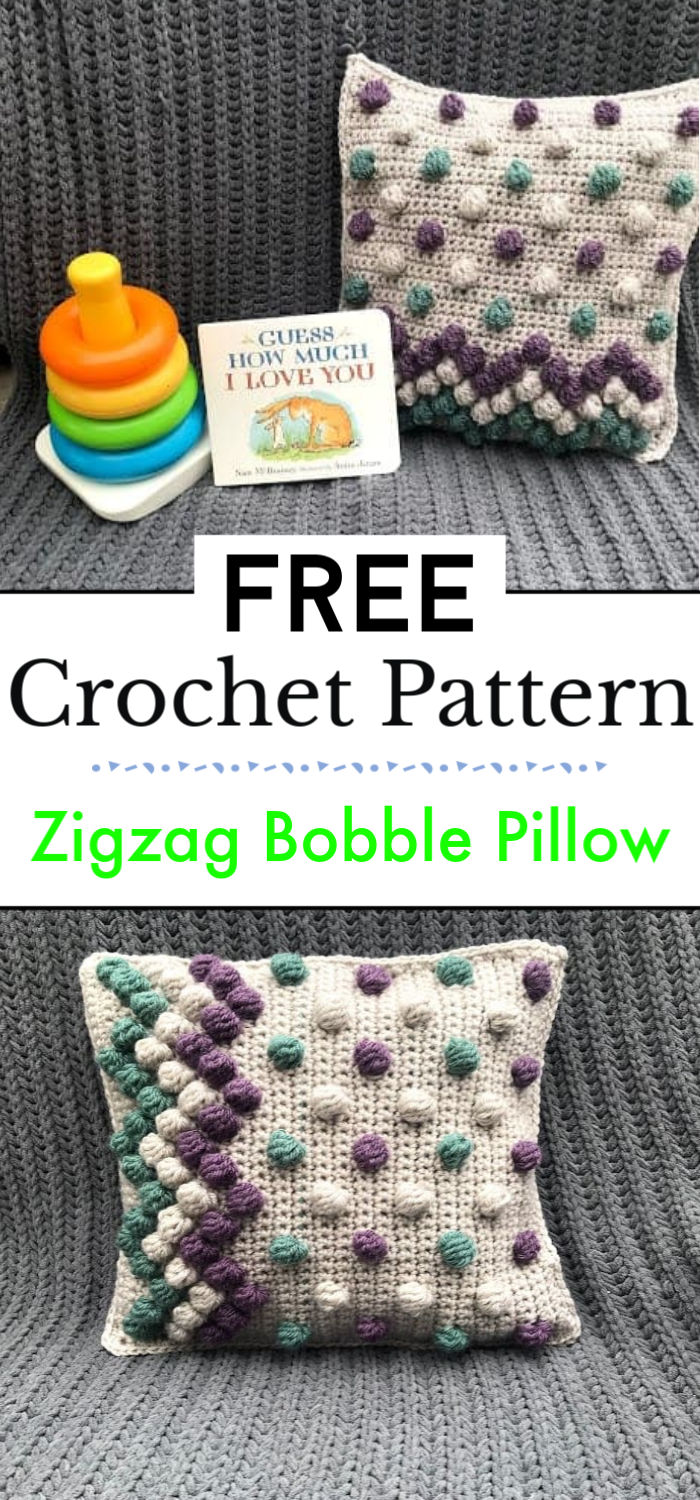 Here is another super cool and fun pattern of the zigzag bobble pillowcase to make and enjoy in your spaces. The linen yarn pillow has gorgeous bobbles in purple and green hues. Some of them are scattered and some of them form the zigzag lines at the bottom.
Free Pattern joyofmotioncrochet
18. Another Free Farmhouse Pattern The Comfy Cables Pillow Cover:
You can make this farmhouse styled crochet pillow cover pattern having cable details and the tassels on the corners. The yarn hues and the design totally confirm to be a part of the farmhouse décor. So do make this lovely farmhouse pillow pattern to jazz up your subtle home style and beauty.
Free Pattern megmadewithlove