One of the reasons that we ladies love summer a little is that we get to wear our favorite and colorful tank tops. The crochet ladies can enjoy wearing more gorgeous and funky tops and tanks for the summer by crocheting some on their own. The crochet tank tops are so much in fashion that your wardrobe is literally incomplete without some. So here we have brought to you these 13 crochet boho tank top patterns for free so that you can get some style inspiration from them.
Everybody is a bohemian in himself these days so these boho tank tops are so going to lit your summer fashion.
There are bralettes, breezy tanks, and the funky halter tops to delight up your boho fashion soul. The bralettes can be paired up with the skirts and the tops and tanks are perfect to carry with your favorite jeans. The breezy and see-through tank tops make the perfect wraps for the swimsuits too so you can easily carry them to the beaches too. Most of these crochet tanks are made out of granny squares and with fringes to look just so exquisite and fun. Each of these crochet boho tank tops has their free pattern links attached.
1. Boho Bralette Hakeln:
Charm up your summer fashion with this boho bralette hakeln pattern. The gorgeous design and the minimalistic pattern of this bralette is fascinating. You can adorn this lovely tank top with your skirts and look perfectly ready for a summer adventure or a party. You can customize the size and the color of this chic tank top.
Free Pattern green-bird
2. Canyonland Boho Crochet Top Free Pattern:
Here is how you can look perfectly stylish and boho in the summers with this canyonland boho crochet top. The breezy and see-through pattern of this top makes it perfect for the hot day. Just pair it up with your favorite denim and a cami and you are good to go out on a nice sunny summer day.
Free Pattern makeanddocrew
3. How To Crochet A Summer Boho Top Free Pattern:
Your summer wardrobe is should have some rocking tops and tanks and now you can crochet up this one. From the soft and gorgeously hued yarn to the amazing breezy pattern with granny squares, this boho top is going to be your favorite for the summers. Adorn this top when you have a plan to go out with family or friends.
Free Pattern mamainastitch
4. Crochet Boho Tank Top: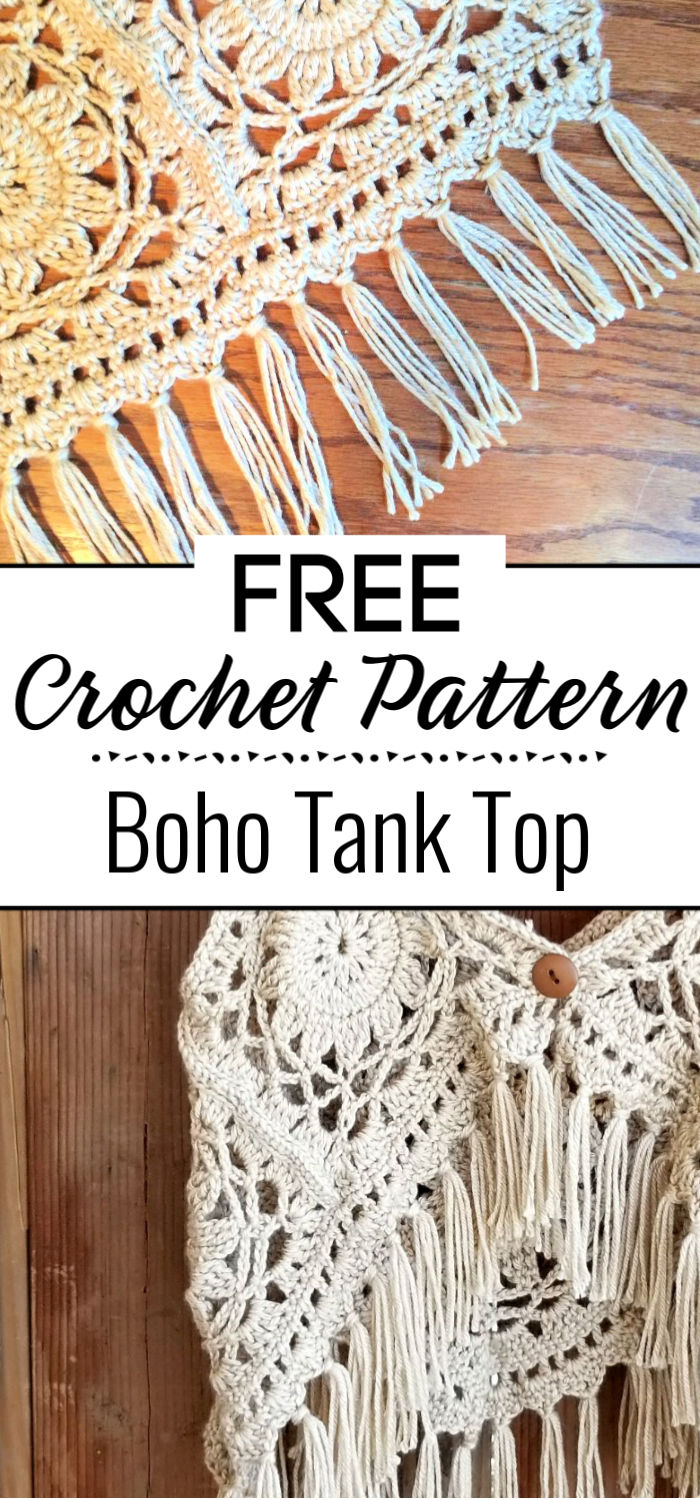 This crochet boho tank top has so much to win the hearts of the boho fashion lovers here! The white yarn crochet boho tank top has a deep necklace design, lovely long fringes, and the granny squares in the pattern. The button closure makes it more comfy and casual. You can use this top over your beachwear too.
Free Pattern hookedonhomemadehappiness
5. Festival Boho Crochet Fringe Crop Top:
This gorgeous festival boho crochet fringe crop top has super sexy appeal for its hot design and pattern. The deep neck and the lovely fringes really add to the beauty and charm of this chic boho top. Use any of the soft yarn to work up this lovely festival boho crochet crop top on your own.
Free Pattern annoocrochetdesigns
6. American Flag Crochet Halter Top Pattern:
Look perfectly ready for the independent day celebrations with this lovely American flag crochet halter top pattern. This gorgeous flag-inspired halter top has obviously the hues of blue, red and the white to look just so tempting and cute. You can make one than one to use as a lovely gift for the lovely ladies around.
Free Pattern taylor-lynn
7. Boho Chic Crochet Crop Top Free Pattern:
If you are boho fashion lover or you have boho girl in the house and then making this absolutely boho and chic crochet crop top is the best thing to do this weekend. This boho top has gorgeously designed arms, a breezy pattern and the buttons on the front to look so chic yet elegant and stylish.
Free Pattern jennyandteddy
8. Boho Crochet Crop Top DIY:
Granny squares can give you some really cool and boho fashion possessions just like this amazing crop top. This lovely top would take seven granny square to be stitched together and shape up this crop top. Further, you need to add fringes and straps to this v neck crop top and pair it up with your cami and jeans.
Free Pattern popshopamerica
9. Boho Chic Crop Top Crochet Pattern:
Make your little girls feel the happiest with this boho and chic crop top. Using the rainbow hues of the yarn you can work up some lovely granny squares. Then stitiching together these rainbow granny squares would shape up this stylish crop top with straps and fringes. The top is going to look so stunning with a pair of worn-out jeans.
Free Pattern mandmcrochetdesigns
10. Girls Boho Halter Top Crochet Pattern:
Look just the best styled for a beach trip with this lovely girl's boho halter top crochet pattern. The gorgeous red halter top has an elegant and totally symmetrical pattern to get easily stitched at home. Pair this lovely and bright-hued halter top with a pair of denim shorts and rock the summers in style.
Free Pattern dabblesandbabbles
11. The Boho Granny Square Top:
Make this super chic and boho granny square top to rock your summer with some cool fashion wear. The whole boho top has been made out of the lovely granny squares and that too in the classic color combination of the black and white. Also, the top has fringes attached to look just so tempting and cool.
Free Pattern fiorelila
12. Crochet Vivo Dress Free Crochet Pattern:
Here is this super cute and simple looking crochet vivo dress that you can completely adorn for the summers. The gorgeous light green hued crochet vivo dress is the best thing to crochet up this weekend as the summers are coming. You can work up this lovely top for a day out or even at the beach.
Free Pattern joyofmotioncrochet
13. Sea Breeze Tank Top Free Crochet Pattern Video Tutorial:
Here is this lovely sea breeze tank top to make and enjoy and for the summers. The lovely grey hued crochet pattern with a deep v neck is the best and the most elegant thing to crochet up and wear on the casual days.  You can increase or decrease the length of the tank top the way you like it.
Free Pattern forthefrills