one of the things that strike our minds when we think of the word crocheting is the "scarf". They are stylish, comfy and warm and also perfect for both the weather. Now you can crochet your scarves and enjoy a variety of them in your wardrobe. These 16 crochet scarf patterns are free to follow and create some pretty scarves for yourself and the family. Either you are a beginner or you are pro with your crochet hooks, these lovely crochet scarf patterns can meet all the skill levels of yours. The beginners can get the best practice for their crochet skills boosting by working upon these lovely crochet scarf patterns.
This round of the scarf patterns has scarves for both the seasons. Yes, there are thick, bulky and textured scarves for the winters to keep the cold at arm's length. Also, there are some skinny, lacey and breezy patterned scarves to add some fun and charm to the summer dress-ups. There are scarf patterns with a simple design and medium length to use casually and the infinity scarves with handsome length and width can be worn in multiple ways. Choosing your favorite yarn hues and the combinations would get you more custom and personalized scarves that you can use as the pretty gifts for the men and women around.
1. Skinny Summer Scarf Free Crochet Pattern:
Unlike the heavy and thick winter scarves here is this super cute and skinny summer scarf pattern for you to work this time. The lovely blue scarf is skinny and has a lovely breezy pattern. The blue color makes it perfect for the summer and you can wear it over your white shirts and shorts.
Free Pattern: christacodesign
2. How To Crochet A Filet Crochet Scarf Free Pattern:
Here is this gorgeous crochet filet scarf that you can use as in two fun ways. This can be a lovely scarf for its medium size length and also a cowl for your neck for a more narrow coverage. The pattern is quite elegant and cute and you can easily work it up over a free evening time.
Free Pattern: nickishomemadecrafts
3. Crochet Scarf Pattern Peek A Boo Scarf:
Look stylish and feel warm at the neck with this lovely crochet scarf pattern. The scarf is as cute and fun as its name Peek A Boo. The lovely scarf has a thick textured design and pattern and also the tassels at both ends. You can pair it up with a matching beanie to look more style accomplished.
Free Pattern: caabcrochet
4. Easy Textured Scarf:
Women love infinity scarves and here is the one which is textured too. Also, the scarf has some pretty colors put together to make this scarf look so stunning and cool. The yarn used here is bulky and the colors are quite nicely blending. You can choose your favorite yarn hues to get a custom made a scarf.
Free Pattern: hookedonhomemadehappiness
5. Free Scarf Crochet Pattern: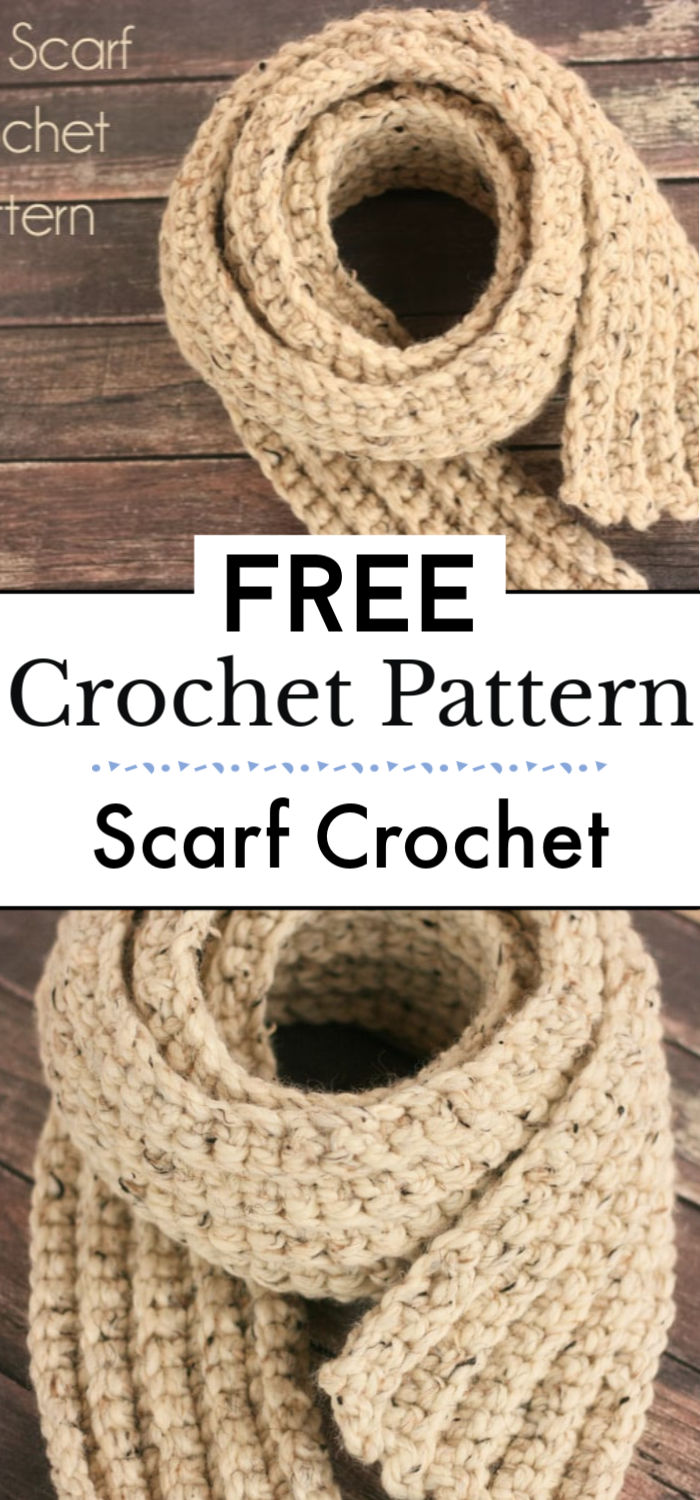 Here is this super chunky and thick textured crochet scarf pattern for you to style up yourself in the winters. The lovely scarf is 5 feet long and 4 inches wide so it is sure to give you a nice and warm coverage on the neck. You can use this scarf as the perfect gift for your mother, grandmother or the best friend too.
Free Pattern: midwesternmoms
6. Chunky Crochet Scarf Tutorial:
Here is this lovely and chunky crochet scarf to be a part of your winter wardrobe. The scarf is not only going to warm up your neck but also adding oodles of charm and style to your personality. This scarf is made out of the three colored yarn in white, red and pink but you can use your favorite hues too.
Free Pattern: onemamasdailydrama
7. Aspen Infinity Scarf Crochet Pattern:
This gorgeous infinity scarf is made out of the neutral yarn hues so you can easily carry it with any of your shirts and pants. Also, the yarn used to make this scarf is worsted weight yarn which makes the scarf lightweight and soft on and around your neck. The Scarf looks so neatly made so ought to make one.
Free Pattern: mariasbluecrayon
8. Super Scarf Crochet Pattern:
If you want a super comfy yet stylish scarf then get your hands on these adorable super scarf crochet patterns. The pretty scarf is made out of the blue and white yarn hues with an easy yet quirky pattern. You can wear this scarf in multiple styles and also with any of your outfits during the winter.
Free Pattern: simplycollectiblecrochet
9. Crochet Easy Ribbed Scarf Free Pattern:
Free Pattern: crochetforyoublog
10. Super Simple Crochet Scarf Pattern:
Here is this lovely crochet ribbed scarf that even the beginners can make and be proud of. The colorful crochet ribbed scarf is made with multiple yarn hues to look just so pretty and fun. The stitches used to shape up this scarf are the chain stitch and the double half crochet stitch. The textured scarf comes out to be pretty.
Free Pattern: lwvogue
11. The Boyfriend Scarf Crochet Pattern:
Scarves are the favorite winter fashion for both the genders and this time you can crochet up this lovely boyfriend scarf pattern. The gorgeous and elegant scarf is so going to charm up the personality of your man. The combination of red with some subtle and soft yarn hues has come out as an amazing color combination.
Free Pattern: dabblesandbabbles
12. Easy Double Crochet Scarf Pattern:
This simple and easy crochet double scarf pattern is the best thing to crochet up this winter season as it is super easy and quick to make. The stitch used here is the only double stitch so even the beginners can make this pretty double crochet scarf and that too with any of their favorite yarn colors.
Free Pattern: madamestitch
13. Reeva Scarf:
This gorgeous Reeva scarf is the prettiest and the coolest for being in the delightful ombre hues of the blue. Also, this pretty Reeva scarf has pom poms attached at the corners which make this scarf look more exotic and fun. You can use this scarf as the perfect styling accessory for the summers.
Free Pattern: sinanaymadel.blogspot
14. Striped Neck Scarf Crochet Pattern:
This gorgeous black and the white striped scarf is perfect for both the genders. So you can easily make one and both the husband and wife and use it from time to time for fun. The stripy patterns add more oodles of charm to the pattern. You can simply wrap it or wear it as a stylish cowl too.
Free Pattern: ideal
15. Easy Crochet Super Scarf Free Crochet Pattern:
With a simple and cute scarf, you can add a lot to your casual outfit and this easy crochet super scarf has the same attributes. This long scarf can be wrapped up in a variety of ways to look so quirky and cool on different days you wear it. Also, the ends of the scarf got tassels which make it look more chic.
Free Pattern: theunraveledmitten
16. Pattern Boho Triangle Scarf:
Look boho and chic during summers by adding this lovely crochet triangle scarf to your attire. The lightweight, lacey patterned and the neutral-hued scarf is the best to pair with any of your shirts and tops. The tassels at the end of the scarf are making it look more stylish and boho kind of.
Free Pattern: sunsandstitch