We love using mason jars around the house for a lot of purposes. They serve us cheaply but commendably for their boundless uses as the organizers, canning, decoration and more. There is a variety of ways you can beautify the home used mason jars and now you can do it with the yarn and the crochet hooks. Yes, with these 10 crochet Mason jar toppers you can easily work up some nice and pretty covers for your homey mason jar and make them look extraordinary. The ideas are quite easy and fun to work on so do have them explored below!
The very first and cute pattern is about the mason jar toppers that you can use over your jam jars and they look super cute with their fruity theme. Also, the crocheted tiny fruits hanging on the toppers would work as the labels for the jam inside the jars. Secondly, you can make covers for the jar tops be it the home used organizers and the vases. Using any of your favorite yarn hues and combinations you can instantly stitch up a nice Mason jar cover. Covering your summer drink glasses with the crochet covers and making some holiday-inspired Mason jar hats is another great idea to find within these free patterns. Check out them all with easy details and instructions right below!
1. Lily Sugar'N Cream Canning Jar Toppers: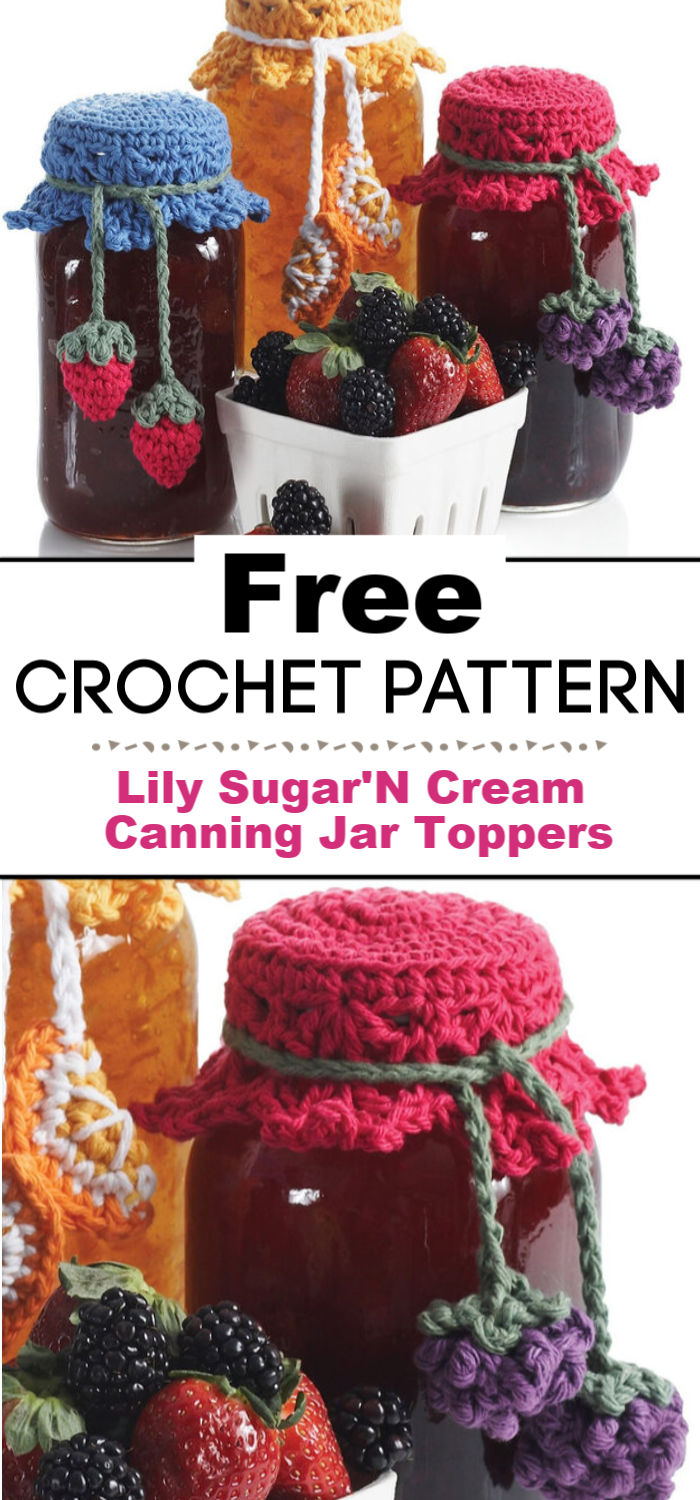 Here is how you can make more charm to your handmade fruit jam gifts in the mason jars with these lovely canning jar toppers. Yes, you can make these lovely and colorful toppers with the theme of the fruit whose jam is inside the jar. Here are the easy and fun details of these cute and colorful topper patterns.
Free Pattern yarnspirations
2. Water Jar Cozy: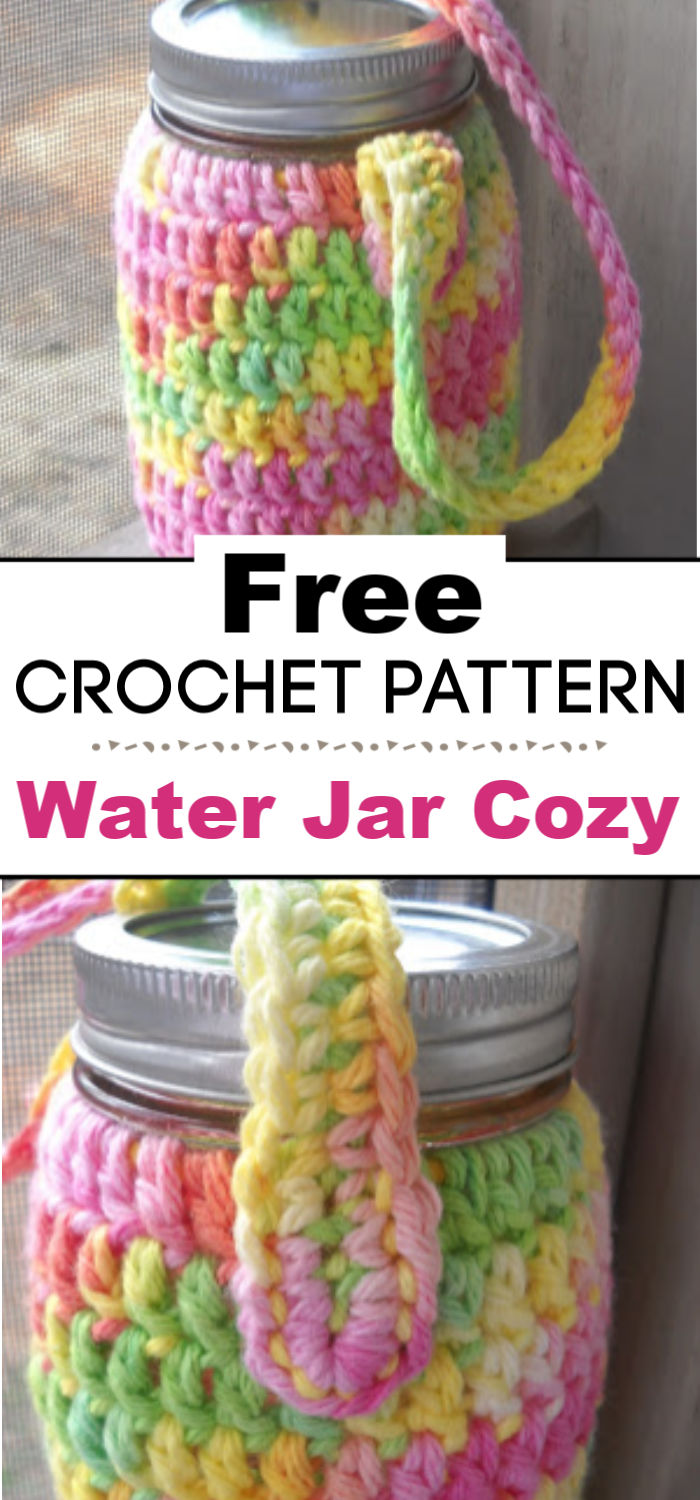 No need to buy a water bottle as you can use the lovely mason jars for the purpose. Just make a cute and colorful water jar cozy to hold it nice and easily around with you. You can use it to carry outside in the summers or also the kids can take them to school. Free pattern here!
Free Pattern atinyforest
3. Crochet Santa Hat Jar Topper: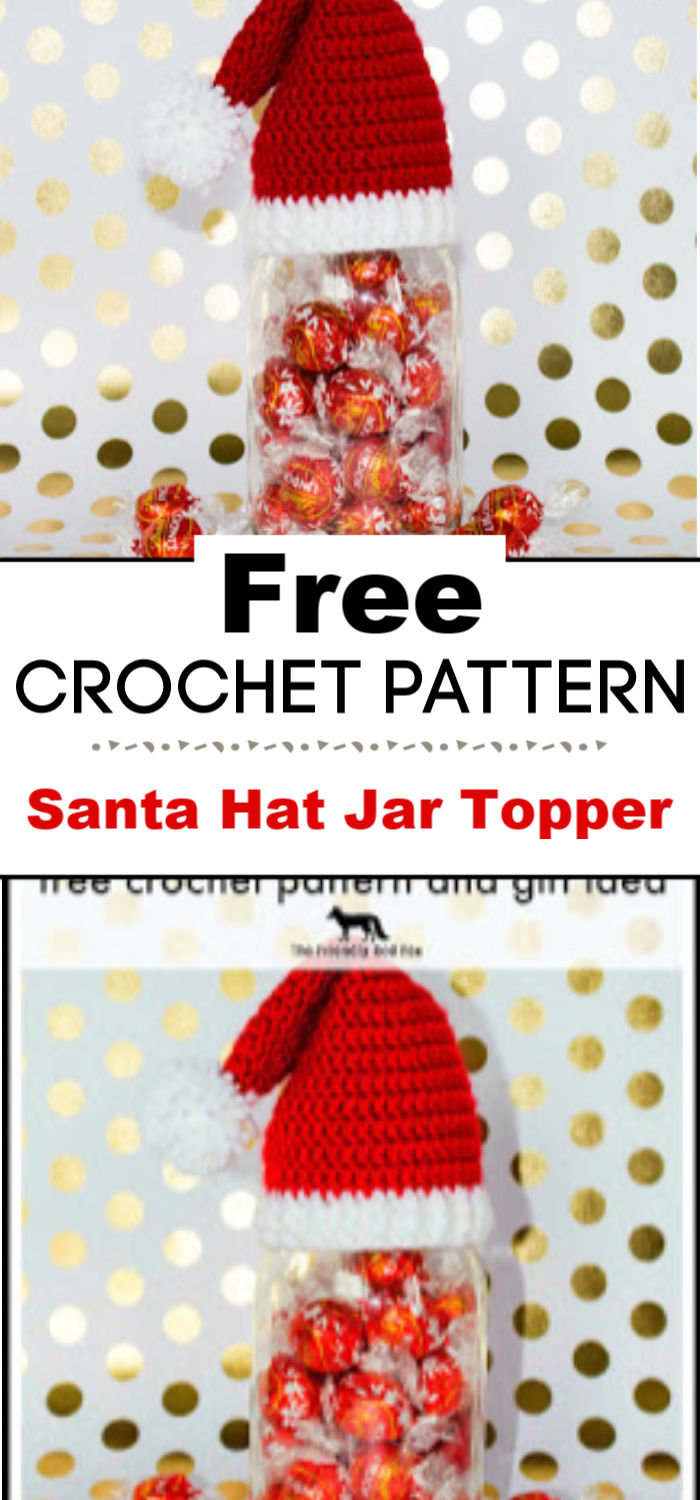 You can make the best gifts for the Christmas with this lovely crochet Santa hat jar topper. Yes, just fill your jar with a bunch of chocolates and candies and make this lovely Santa hat to top off the jar and turn it into a perfect Holiday gift. Learn the easy and simple Santa hat jar topper pattern here!
Free Pattern thefriendlyredfox
4. Crochet Mason Jar Covers:
These cute and crochet Mason jar covers make the perfect décor for your summer drink glasses. Also, they are easy to wash and reuse so you can use them for all your summer drink parties and BBQ nights. The lovely and round-shaped covers are easy enough to be crocheted by the beginners too.
Free Pattern caabcrochet
5. Crocheted Jar Toppers Transform Recycled Jars Into Adorable Containers:
With a little effort, you can turn your junk items into total functional possessions just like these mason jars have been covered into the pretty containers. Just crochet up the lovely covers to use as the toppers on the mason jars and use them as the pretty organizers for your knick-knack stuff in the house. Details here!
Free Pattern creativejewishmom
6. Pin Cushion Jar Toppers: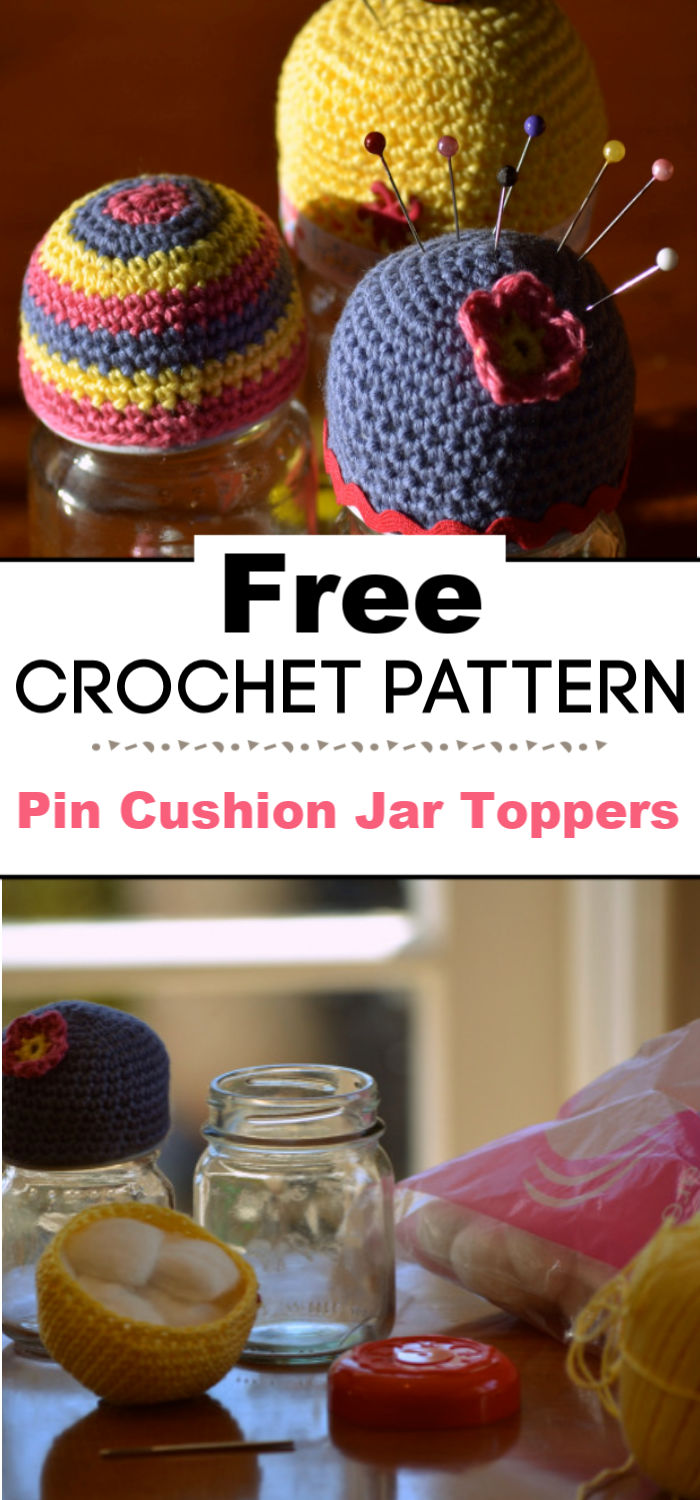 Make your mason jars look the cutest with the pincushion jar toppers.  Just make round little crochet bowls and fill them with the cotton pieces inside. Use these cute toppers on the mason and secure your pins on them to find them on time every time. Follow the pattern here!
Free Pattern thegreendragonfly
7. Holiday Jar Topper Crochet Patterns Free: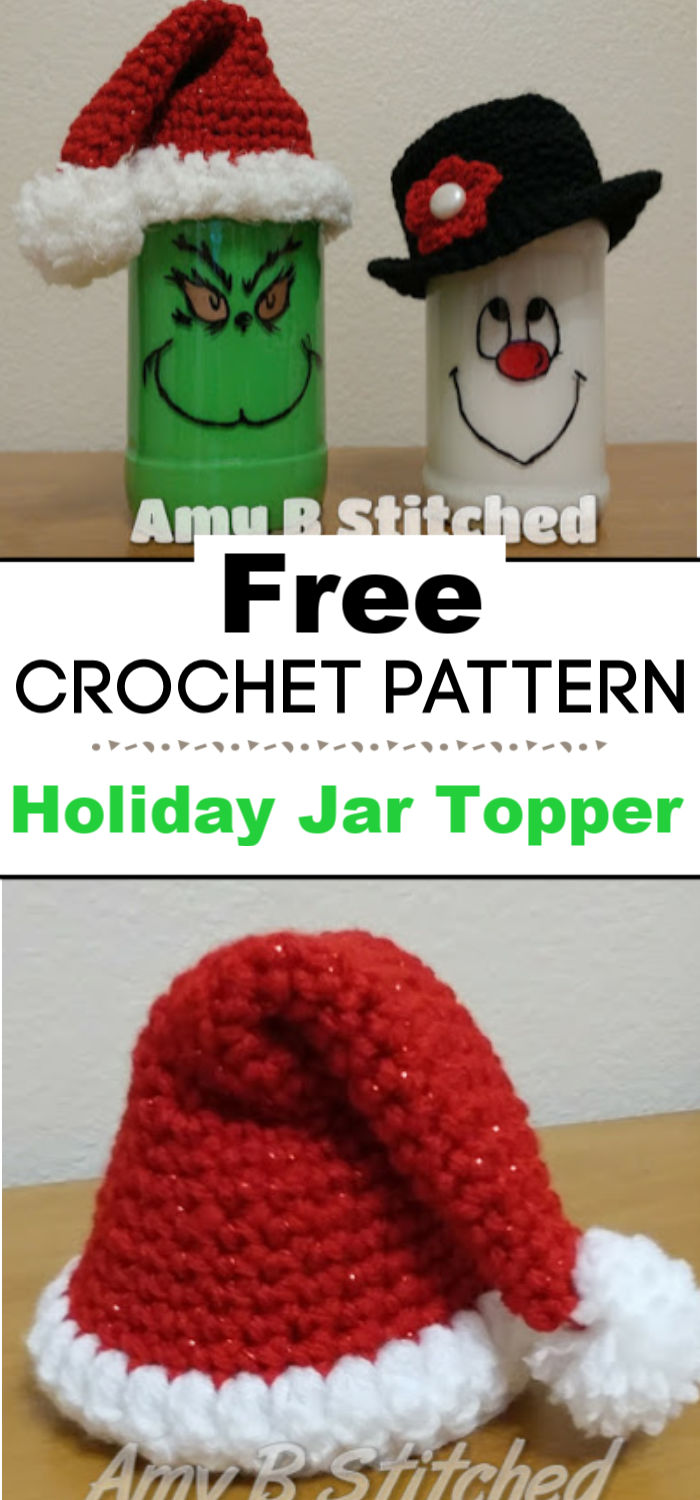 You can use mason jars to create some lovely décor pieces for the Holiday and topping them with some cute crochet hats would enhance their charm for sure. So you can make a lovely Santa hat and the pretty snowman hat to make your lovely jars look impressive and gorgeous. Details here!
Free Pattern amysastitchatatime.blogspot
8. Dandelion & Wild Violet Jelly Recipe Bonus Free Crochet Jar Topper Pattern: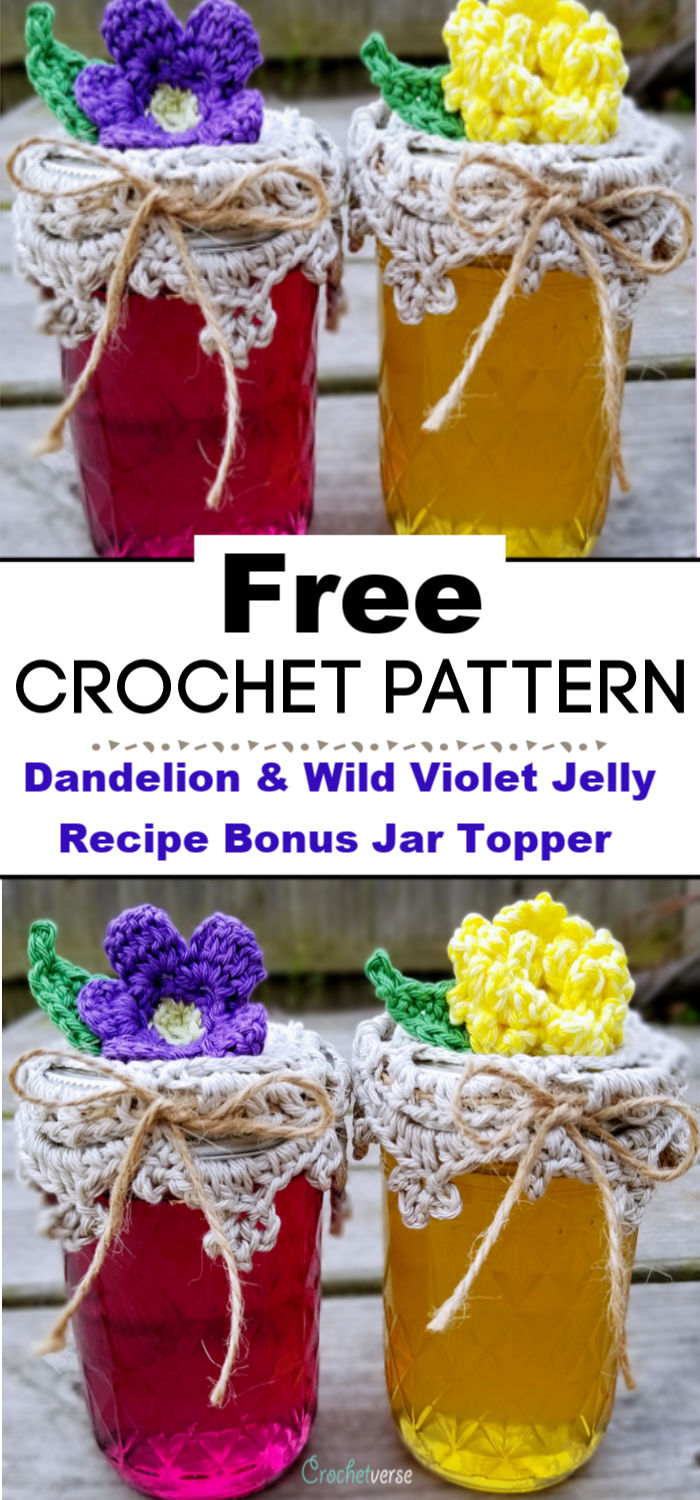 You can make the best favors with these dandelion wild violet jelly recipes with free bonus crochet jar toppers. The gorgeous flowers really make the Mason jar toppers look so beautiful and funky. They have been tied with the twine to look prettier and gift-worthy. Follow the pattern here!
Free Pattern crochetverse
9. Mandala Jar Topper Free Pattern:
Mason jars make the best gift especially when filled with some handmade recipes of jam or jelly. To enhance the value of your Mason jar gifts with the gorgeous and colorful Mandala jar toppers and that too with the free pattern. You can follow the free pattern right here!
Free Pattern itsallinanutshell
10. A Flowering Jar Topper:
Make your Mason jar organizers look super stylish and decorative with these handmade crocheted flowering jar toppers. Use your favorite yarn hues and crochet up these lovely flowers with multiple hues for each layer of the petals and then let the jar lids wear these lovey toppers to look so exquisite and fun. Details here!
Free Pattern crochetnirvana.weebly