Bags have become more of a fashion and style statement thing for a long time. There is a variety of bags for women depending on the number of things to carry around. So when you need a small number of essentials to take with you, the drawstring bags make the perfect choice to be out of your closet. Here we have these 11 crochet drawstring bags with free patterns to crochet on your own. From your little girls to your own adult self and for your mothers, there is a lovely drawstring bag pattern for everyone out there. So either you are taking a short trip to the park or you have moved to a beach these drawstring bags are going to be your perfect partner.
The best thing about crocheting something on your own is that you can use a lot of customized options to make the crochet possessions personalized. Also, you can alter the size per your needs and desires. These crochet drawstring bags offer you the most pleasant and the most exquisite patterns with awesome color schemes and the designs to win your hearts with. You can make one for your summer adventures to carry your wallets, phones, and sunblocks. Need a gift for any girl around? These drawstring bags make the best gift options for your favorite ladies around. Check them out with free patterns and details below!
1. Native Print Drawstring Bag Free Crochet Pattern:
Make your summers more fun with these lovely and cue native print drawstring crochet bags. You can crochet them up for your own self and for the girls around you too. Also, you have a hold on the color scheme. The native African Ankara pattern makes the bags look so beautiful and interesting. Details here!
Free Pattern loopinglymade
2. The Sophia Drawstring Backpack Free Crochet Pattern:
Drawstring bags are the cutest and now you can have one on your own. Here is this lovely The Sophia drawstring backpack with the amazing color scheme and design to crochet up right this week. The use of colors in the layer style really makes this backpack look so adorable. Grab the pattern here!
Free Pattern kmtcrochetcreations
3. Crochet Drawstring Bag With Free Pattern:
Little girls love to carry and cute and stylish backpack and this crochet drawstring bag is the best thing to make right this week. The pretty yellow color of the yarn really makes this drawstring back look so delightful and cute. So if you need a gift for a cute little girl around this crochet drawstring bag is the perfect thing.
Free Pattern yarnhookneedles
4. Crochet Sheep Drawstring Bag:
A drawstring bag is a must-have for the wardrobe of a little girl and this sheep crochet bag is the cutest and the quirkiest to have. Just make a simple drawstring bag and then add sheep face in the center and the ears to both sides. This lovely drawstring bag is going to make a perfect birthday gift too.
Free Pattern repeatcrafterme
5. Drawstring Bag Crochet Pattern:
Your phone, wallet, and sunblock would be right by your side while walking on the beach with this stylish and cute crochet drawstring bag. The bag is made from the Raffia yarn in a natural color and adorned with a leather tassel and the chain string. Get the details of this boho drawstring bag here!
Free Pattern handylittleme
6. Crochet Club Small Drawstring Bag:
This crochet club small drawstring bag is the cutest one to witness here. The lovely summer-inspired color scheme of blue, white and yellow makes it perfect for the summer trips and beach tours. The added pom poms of tiny size are adding more oodles of charm to this pretty bag. You can easily carry your skincare products to the beach in it.
Free Pattern lovecrafts
7. Cindy Crochet Drawstring Bag Free: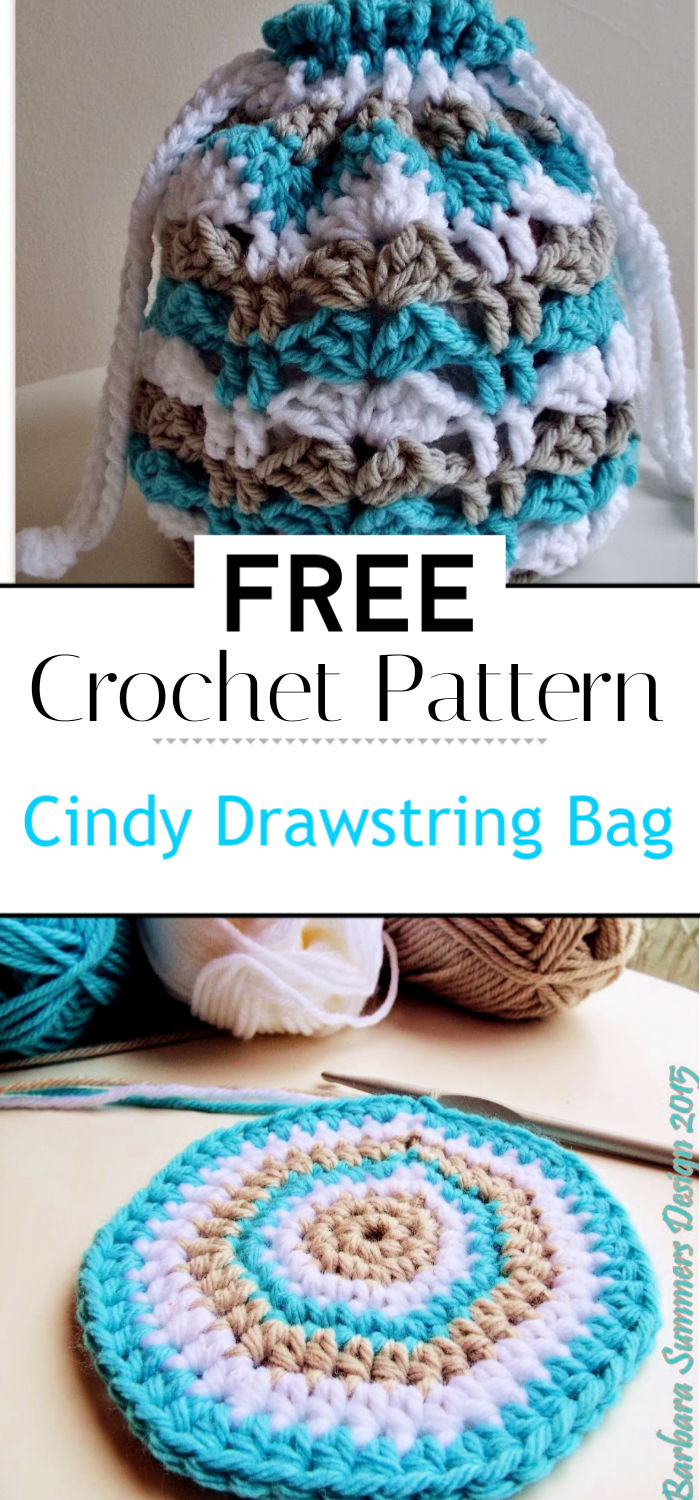 This Cindy crochet drawstring bag comes in a cute round shape to win every girl's heart. Also, the color scheme with blue, white and brown has turned out to be so quirky and cool. These nylon colors and the thick texture pattern have made this bag look a complete summer fashion win. Details and pattern here!
Free Pattern crocknit.blogspot
8. Crochet Snowman Sack With Stocking Stuffers From Oriental Trading:
Here is the most adorable crochet snowman sack with stocking stuffers to make the best and most beautiful gift for Christmas. The snowman string bag has a snowman face in white with a lovely green cap. Fill it with your favorite stuff and you are ready with a drool-worthy gift for the Holidays.
Free Pattern repeatcrafterme
9. Cam Drawstring Bag Free Crochet Pattern:
Make your summers more fun with these cam drawstring bags which are adorable and cute enough for every lady out there. From little girls to moms these pretty drawstring bags are going to be a perfect bag pack style for everyone. The bag has an additional zipper pocket at the front too. Check out the pattern details right here!
Free Pattern hookedontillylife
10. Crochet Pattern Drawstring Bucket Bag:
This super cool and modernly styled crochet drawstring bucket bag is the best thing to have for your summer bag collection. They are stylish and handy to carry your essentials around. The one hued bucket bag with bag strap and leather cord has turned out to be a simple and fashionable drawstring bag ever.
Free Pattern mypoppet
11. Drawstring Favour Bag Free Crochet Pattern & Tutorial:
With these cute little drawstring favor bags, you can create the most valuable and cute favors ever. Using a variety of colors in the cotton yarn you can easily stitch up a bunch of the favor bags with the ribbon used as string to draw. Fill them with your favorite goodies and your cutest favors are ready to go. Details here!
Free Pattern doradoes.co