One of the best things to crochet up and have fun making them is surely the amigurumi. You can make an amigurumi of anything lying around that you like and adore just like an apple that you eat every day. So here we have brought to you these 11 crochet amigurumi apple free patterns to work on and give your amigurumi crocheting some fruity fun. These apple amigurumi are not just for the sake of passing time by crocheting as they got so many fun and functional uses too. Also, they are super easy and simple to make so the beginners can really enjoy making them and improving their skills with an easy practice.
Apart from eating and getting health benefits the second most related fact about the apples is that they are perfect back to school gift items. So this time instead of the original apples which are not going to last more than a few minutes, you can make these lovely crochet amigurumi apples to last for the longest. The majority of the apple amigurumi patterns have the gorgeous red apples with the face features and some have pink and green apple included too. Also, they are going to make a perfect dinner table embellishing for the Fall and for the kitchen anytime. Grab this cute apple amigurumi free patterns right below.
1. Amigurumi Apple Back to School Series: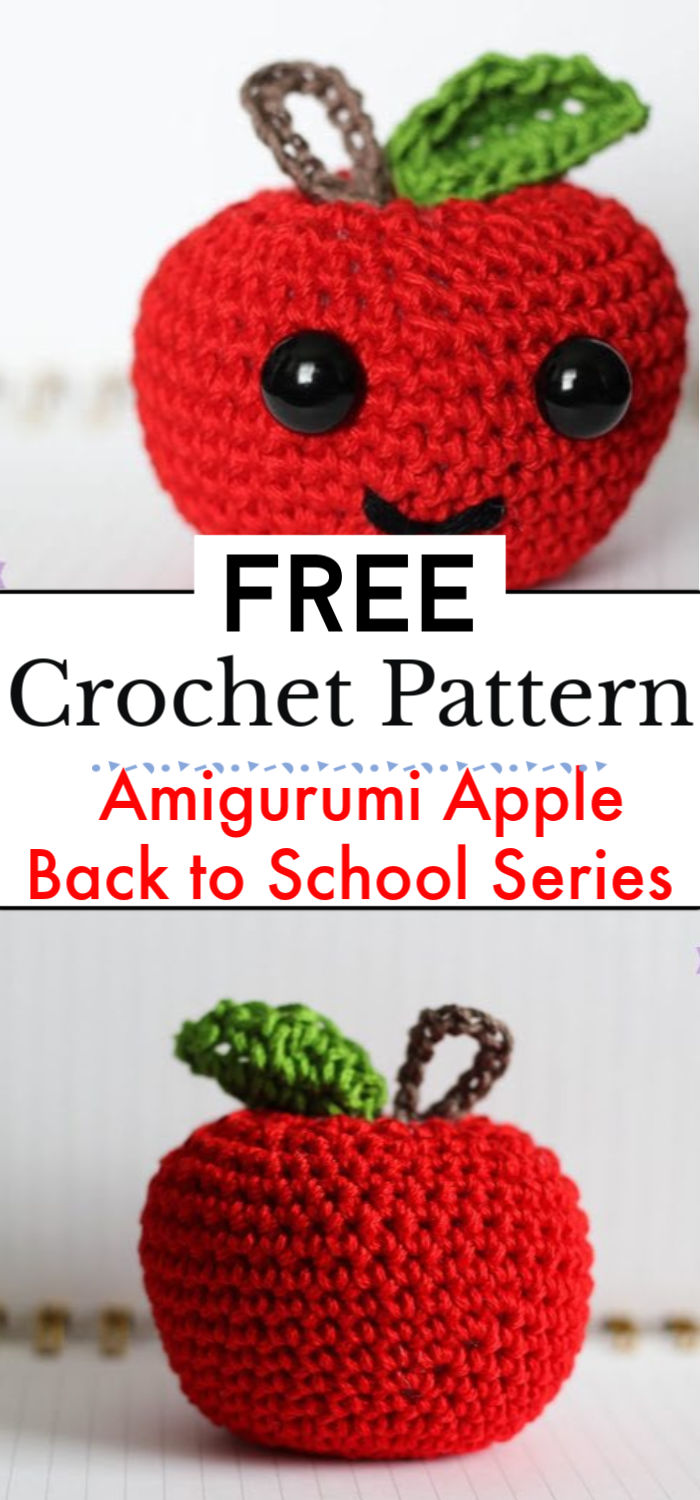 It's time to make some fruity amigurumi and this apple amigurumi is the best thing to make this time. The lovely and fluffy apple looks so cute with its gorgeous red hues and the black yarn face features. Kids are going to love having so much fun playing with it. Details here!
Free Pattern sewrella
2. Back to School Crocheted Apples: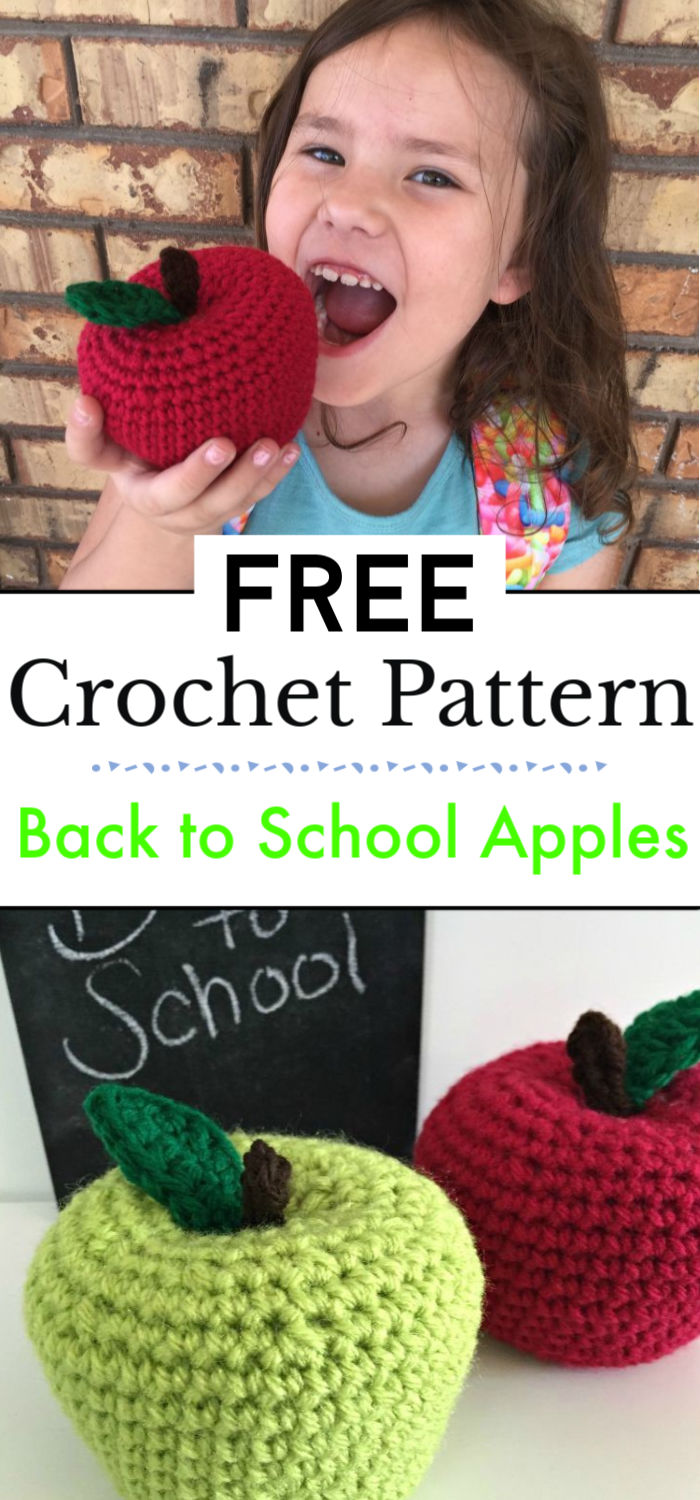 Need a back to school gift idea for the teachers? Here is this lovely crocheted apples idea to make and decorate your places with and also give away to the teachers too. You can make both green and the red apple using the respective yarn hues. Follow the details here!
Free Pattern 5littlemonsters
3. Crochet Apple Free Mini Amigurumi Pattern:
If you have some red and green yarn left out of your previous crochet projects then make this pretty crochet apple out of it. You can use this super cute small size red apple as the perfect key chain for the summers. It would make a great gift idea for everyone so do make dozens of them. Details here!
Free Pattern stellasyarnuniverse
4. Free Crochet Apple Pattern:
Apples come with the perfect Fall theme crafts so here we have these crochet apple patterns for your work on. These adorable and colorful apples have lovely and cute face features with the added blush on to win the hearts of everyone. You can use them around for the Fall décor. Get the details here!
Free Pattern graceandyarn
5. Big Apple Amigurumi Crochet Pattern:
Need some kitchen décor ideas? How about crocheting up these big apple amigurumi crochet patterns for you to work on. You can make green and red apple amigurumi and use them in a basket with some other crochet fruits and vegetables to bring some cute fruity décor vibes in the kitchen. Details here!
Free Pattern amiguworld
6. Apple Amigurumi Pattern:
Bring some fruity and healthy vibes to your spaces with these adorable apple amigurumi patterns. The cute mini apple would make a great piece of décor for so many purposes. Also, you can use them as the embellishing for so many things like key chains, bags and more. Follow the pattern here!
Free Pattern suenhosblanditos
7. Amigurumi Apples:
Here are these gorgeous crochet amigurumi apples to make and use for some really fun décor purposes in the house. They would great as the centerpiece for the dining table or you can just keep them on any of your tables. They would also make a great gift idea for the teachers. Follow the pattern details here!
Free Pattern planetjune
8. Big Apple Amigurumi:
It's time to make your dining tables ready for the fall and the apple picking fun days with these big apple amigurumi. The lovely pink and green apples are crocheted with the baby yarn for that perfectly neat and thick texture and you can use the bulky yarn if you want. Grab pattern details here!
Free Pattern craftpassion
9. Easy Crochet Apple:
Here are these easy crochet apples to make and use as the perfect back to school gifts for the amazing teachers of your kids. The gorgeous red apples are made with the thick and bulky yarn and it would take a few minutes to crochet up one apple. So grab the red, green and the brown yarn hues to work on these pretty apples.
Free Pattern repeatcrafterme
10. Free Crochet Pattern Amigurumi Apple:
Crocheting up the fruits is a new fun project for the crochet lovers these days and here is the cute amigurumi pattern for the apples. You can make a lot of them to use them for the table décor in your kitchen and also to give your kids to play with. Free pattern with details here!
Free Pattern awesomealice
11. Beginner Level Amigurumi Apple:
Celebrate the fall season with some fruity apple fun by making this lovely crochet beginner level amigurumi apple. The pretty apple is easy to make in the shape of a cute red ball then added with a green leaf, black gem eyes, and a crocheted smile. Follow the details here!
Free Pattern missdolkapots.wordpress