Owls are the wisest of the birds and now they have become the cutest too. We can seem them all over from the styling of dresses and accessories to the home décor. Now you can create the lovely crochet versions of the owls and here are these 11 cute crochet little owl free patterns for you. No matter at which skill level of the crocheting you are, these crochet little owl patterns are easy to make by everyone. The combination of gorgeous yarn hues and the adorable features of the owls have turned out to be just so enchanting and exquisite in all of the avatars.
First of all you can make pretty appliqué of owls using your desired hues and use them over anything around. From baby dresses, to gifts and bags they are going to rock so many of your things in an exquisite way. Then you can make some lovely and puffy owls for the pure purpose of décor over your shelves, tables and racks. From a grown up adult owl to a baby owl and a complete owl family, there are patterns and ideas for each. Also there are patterns for the owl amigurumi to create the lovely and squishy gifts for your little ones. All ideas have tutorial links attached along with the free patterns below!
1. Buho De Amorrrr:
Here is this lovely buho de amorr owl to make and enjoy a fun crochet afternoon on your porch. The pretty combination of the yarn hues and the lovely owl features really make this buho de amorr a pretty crochet pattern to get your hands on for the weekend. Get the pattern here!
Free Pattern creandomingumiosdeesos.blogspot
2. Free Pattern Small Owl:
Make some fun décor possessions for your hoiday season and this cute little small owl is going to be the best for fall and winters. The owl is winking which really makes it look more cute and adorable. You can either place it over your racks or shelves or in the kid's room too. Details here!
Free Pattern engsidrun.spire
3. OWL Amigurumi Mr Murasaki:
Hello fam! Meet this super cute and adorable Mr. Murasaki the owl to be the next fun buddy of your little ones. This pretty owl amigurumi is going to be a great addition to the family of your little one's stuff toy collection. The gorgeous purple color makes it even more attractive and you can change it too.
Free Pattern craftpassion
4. Crochet Wise Old OWL With Graduation Cap:
Owls are considered to be the wisest birds so they are totally capable to graduate. So make this pretty crochet wise old owl with a graduation cap to use as the perfect gift for your little wise boys and girls. Also, you can use it as a décor item for the graduation party celebration at the house. Pattern here!
Free Pattern repeatcrafterme
5. Crochet Owl Amigurumi Pattern:
Need a cute gift idea for the new love birds around you? Making these adorable crochet owl amigurumi would be a great way to dedicate some love to the new couple. The colorful yarn hue with the pretty owl features and the scalloped feathers of these owls is the best and cutest gift ever. You can use it for the little ones too.
Free Pattern amigurumi.today
6. Baby Owl Free Pattern:
We love making anything that is tiny in size and cute in looks and so is this lovely baby owl to crochet with a free pattern. The pretty and colorful baby owls are going to look great on mantles, shelves, and the tables too. Also, you can use them as pretty toys for your little ones. Free pattern here!
Free Pattern littlemuggles
7. Stash that Cash Little Owl Purses:
Little girls love to have some cute and stylish purses during the summers. Now you can make them one with this lovely stash that cash little owl purse pattern. The gorgeous blue color owl purse is the quirkiest in style but also cutest to adorn your kids. The girls are going to drool over this handmade gift for sure.
Free Pattern mojimojidesign
8. Crochet OWL Family Amigurumi Pattern:
The family love is at the peak during the holidays so show it through this gorgeous and colorful crochet owl family amigurumi. There is a cute little fat mama and papa owl with an adorable baby bowl to form the gorgeous family having all the love and joy. Place it over your mantles and shelf for a perfect display.
Free Pattern repeatcrafterme
9. Beginner Friendly Owl Pattern: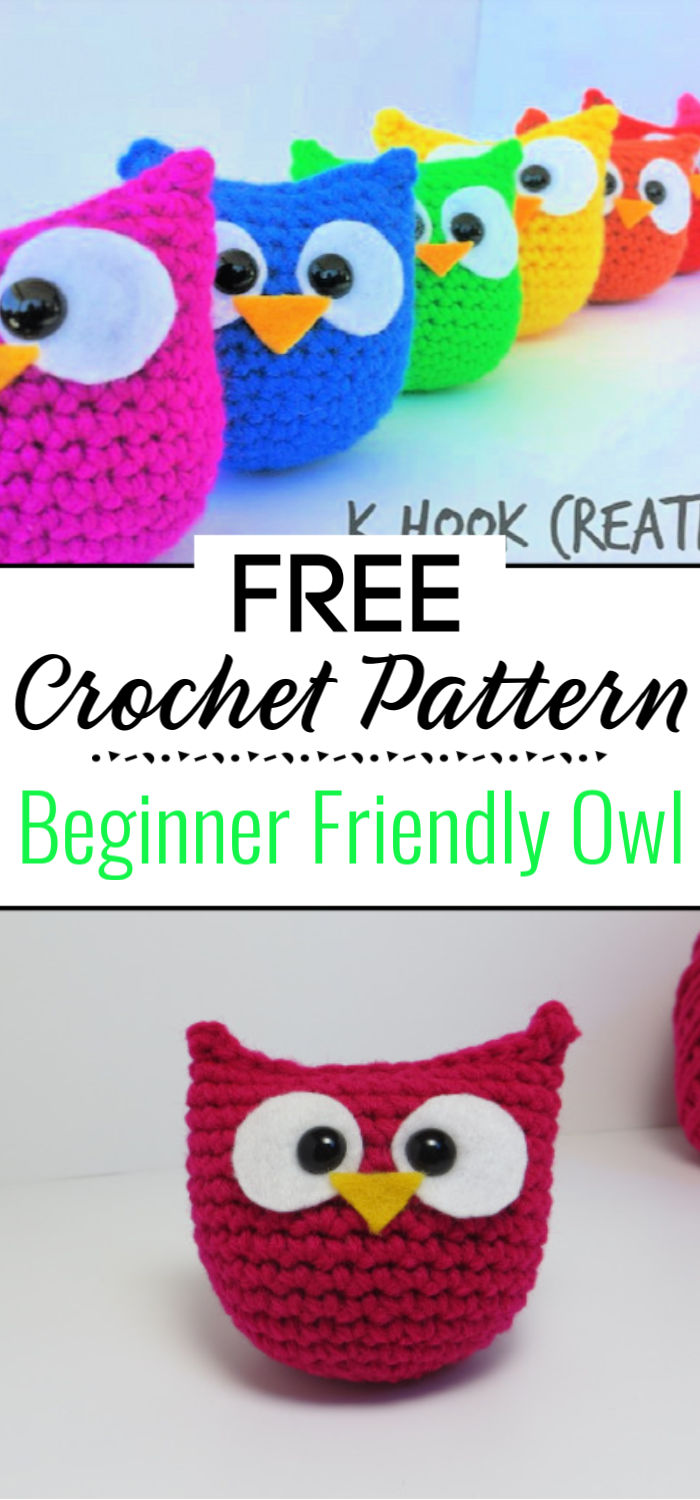 Even the crochet beginners can enjoy making some super cute and adorable projects just like this colorful bunch of the owls. They look like the angry birds but with the cute owl version. A rainbow bunch of these owls is a best way to bring summer and spring vibes in the home décor. Follow the pattern here!
Free Pattern khookcreations
10. Oliver Owl Decoration:
There are so many things that you can make and use as the perfect gifts for the lovely people around you. Here is the idea of making this Oliver owl decoration which is surely going to add oodles of charm as a gift for your neighbors, for teachers and for the friends too. Follow the easy pattern here!
Free Pattern morningpoppy.wordpress
11. Love Those Hooters:
This gorgeous and pink owl with fluffy ears is going to be the best thing to make and contribute your part for the breast awareness. You can use it for your campaign as the cutest way of spreading the message and awareness. Learn to easily make it right here!
Free Pattern fiberdoodles.blogspot