Summers are great for all types of fashion and so it provides a perfect time to try those fancy and fun shoes you have in your closet. If you do not have a pair of the barefoot sandals in your summer footwear collection then you are so undone with the summer feet fashion. Do not need to buy or beg your grandmother to make you some barefoot sandals as you can now make some at home on your own. You can get it started with these 11 crochet baby barefoot sandals which are mini and cute to crochet first and then try your hands on the adult versions.
These crochet baby barefoot sandals are absolute beauties and cuties with their small sizes and the sparkling color combinations. You can use a lot of designs and patterns to make these gorgeous and adorable baby barefoot sandals for your little cute girls. There are patterns with the flower, heart, bows and the stars to crochet up these whimsical pairs of the barefoot sandals. You can match them with their little cute summer dresses and headbands to create a completely delightful dress up. No matter it is a normal fun summer day out or you need to get ready for a function these barefoot sandals are perfect for those tiny feet fashion.
1. Baby Barefoot Sandals Crochet Pattern:
These baby barefoot sandals are the cutest things to witness today on the internet. The small size, the gorgeous combination of the white and red yarn hues and that rose pattern really makes these baby barefoot sandals look so whimsical. You can crochet up this lovely pair in a few hours to match with the baby dress.
Free Pattern inkarapoozville.blogspot
2. Free Pattern Bryony Baby Toddler Barefoot Sandals:
These barefoot bryony baby toddler sandals are quick to crochet in just a few minutes for being so simple in the pattern and the design. You only need to crochet up a circle as the main section of the sandals having the chain stitched straps. You can crochet these lovely barefoot sandals in any of your favorite colors.
Free Pattern nicolaknits
3. Baby Bow Barefoot Sandals:
Make those tiny and cute feet look more adorable with these easy to crochet baby bow barefoot sandals. The pattern and design on the sandals feature a strap with a bow to wrap around the ankle of the baby girl. You can use your favorite hues to make the custom barefoot sandals for your little girls.
Free Pattern whistleandivy
4. Baby Star Barefoot Sandals: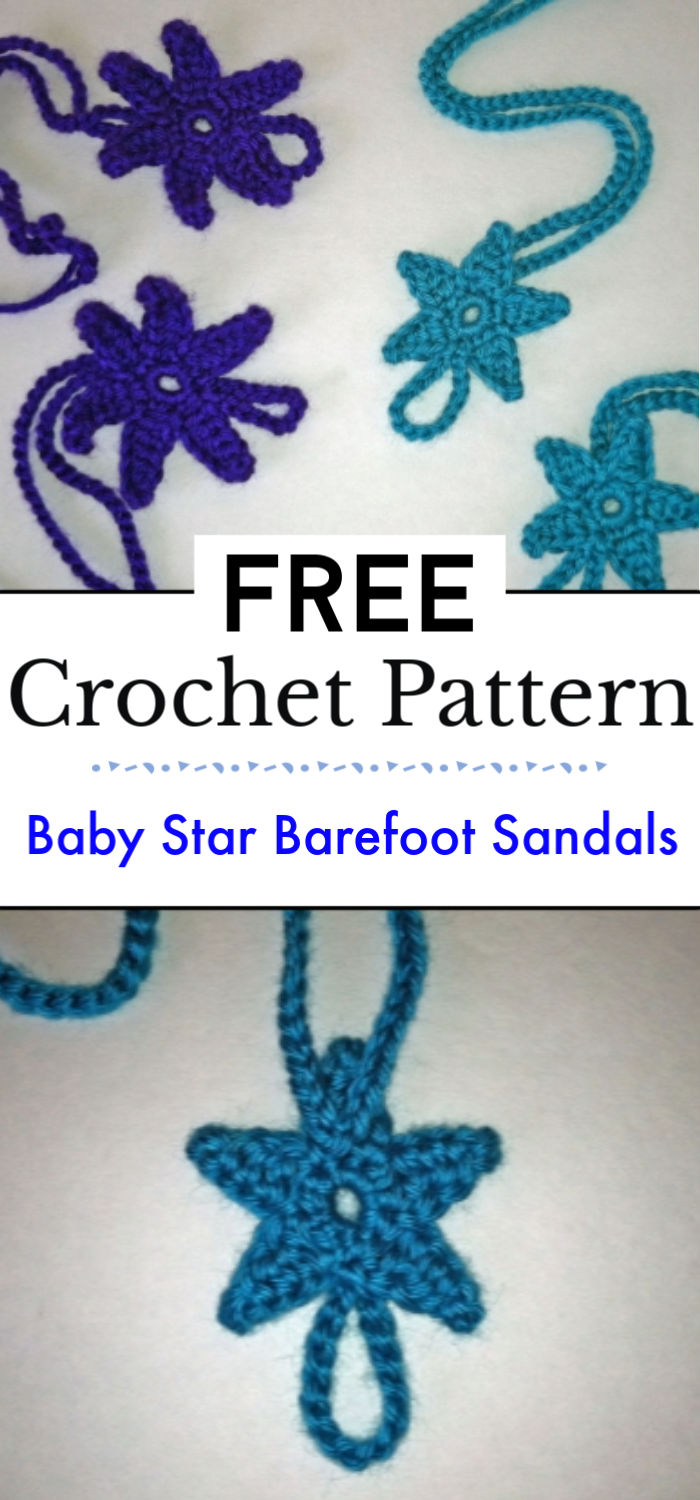 Bring the stars down to the tiny feet of your little ones with this pair of cute and fun baby star barefoot sandals. So grab any of the solid yarn hues and crochet up a star with three chain straps to create the quick and the coolest baby star barefoot sandals ever.
Free Pattern craftown
5. Ten Minute Baby Sandals:
Yes, you read it right, these ten-minute baby sandals are the cutest and the most fun things to crochet up this weekend.  The grey straps with a lovely and thick yellow flower on the top make the most enchanting pair of the baby sandals ever. Follow the easy and cute pattern here to try it right now.
Free Pattern allfreecrochet
6. Barefoot Baby Sandals: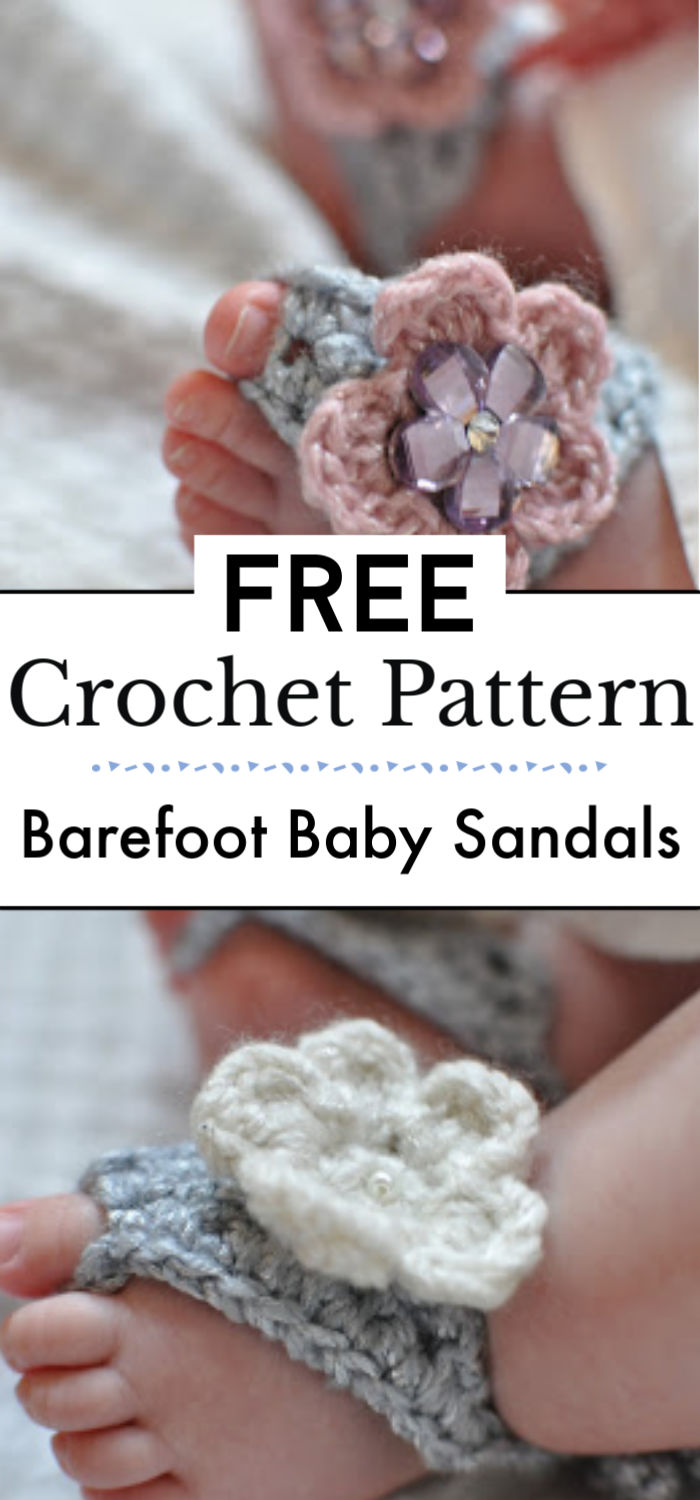 Here are these soft and subtle barefoot baby sandals to make and bring some style and beauty to their dress-up. Either you are going out for a function or you just hanging out in the garden with your baby, these barefoot sandals are perfect for the baby's feet. Grab the pattern details here!
Free Pattern misadventuresofhandmade.blogspot
7. Crochet Butterfly Barefoot Sandals:
Make this super cute and fun looking crochet butterfly barefoot and dazzle up the wardrobe of your little doll. The vibrant hues of the lion brand yarn in orange, pink and yellow hues have really turned out to be eye-catching in this crochet butterfly barefoot sandals. Follow the free pattern here!
Free Pattern repeatcrafterme
8. Baby Barefoot Flower Sandals:
Flowers make our favorite them when it comes to barefoot flower sandals. Using the pretty and colorful solid hues in the yarn you can make a pretty flower first. Then chain stitch the straps and add the flower to them and your flower sandals are ready to rock the little girl's feet. Details here!
Free Pattern makemydaycreative
9. Baby Heart Barefoot Sandals: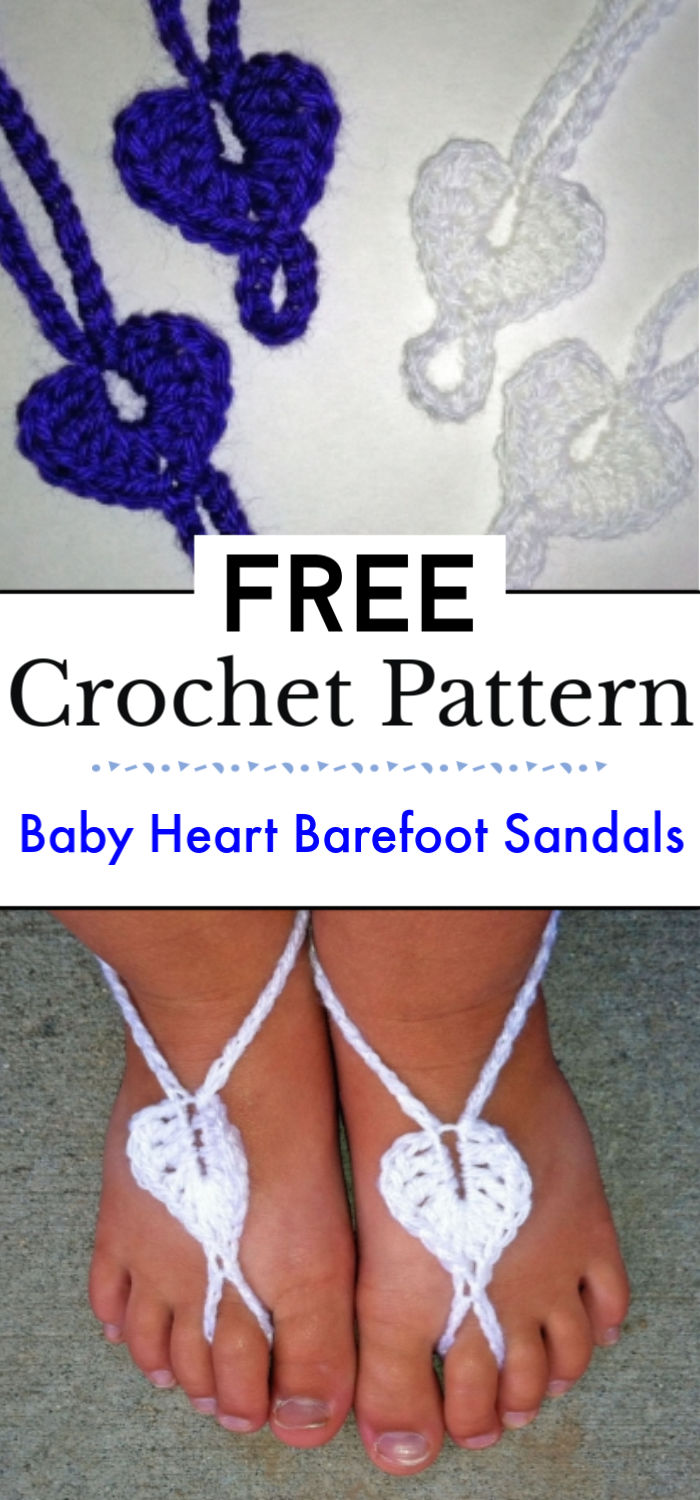 Barefoot sandals are the perfect thing to crochet up for the summers and every girl just loves them so much. So make these pretty baby heart barefoot sandals with a heart motif in the center and the chain straps to wrap around the feet. The pattern and design can be copied for the adult version too. Details here!
Free Pattern craftown
10. Baby Barefoot Sandals:
Make those tiny feet feel so soft and cute with these adorable baby barefoot sandals. The basic pattern and design of the sandals have a triangle motif and a lovely flower on the top for the embellishment. You can use your favorite yarn hues to make the pretty sandals that match her favorite frock.
Free Pattern livingthecraftlife
11. Summer Flower Baby Barefoot Sandals:
Let the gorgeous summer flowers blossom on the tiny feet of your little girls with these summer flower baby barefoot sandals. The pretty pink flower is big enough to cover the rooftop of the baby's feet and the green straps really make the flower sandals look complete and cute. Follow the free and easy pattern here!
Free Pattern whistleandivy