The more the warmer is the best quote for the winter layering stuff. The more layers you put on the more comfy and warm you feel. There is like a separate laying piece for each body part like beanies for head, coats for upper body, socks for feet and scarves or cowls for the neck. You can look stylish and pretty even under the burden of these multiple clothing layers. Cowls are one of the most fashionable winter layers to keep your neck warm and cozy in style. So here we have brought to you these 11 chunky much love cowl crochet free patterns to work up some lovely cowls at home.
There is a variety of the cowls and you would yearn for each. Most of the cowls here are done with the bulky yarn for that thick texture and rich style. You can embellish these handmade chunky cowls more by adding some extra styling accessories and the examples are cowls with buttons and the rustic cowl with leather fringes. The beginners can work up the cowls with basic double or single stitches but or try a level next by crocheting cowls with ribbed and cable patterns. The best thing about these chunky cowls is that they make the perfect Christmas gifts for the dear and near ones around so do grab them all.
1. Chunky Buttoned Cowl Crochet Pattern:
This gorgeous crochet chunky cowl is going to be a rocking neck warmer for the winters. The lovely cowl has a thick texture and that is because of the yarn type. Using simple stitch you can easily work up this lovely chunky cowl with buttons to look more chic and modern. The yarn comes from Yarn Bee and the hook used is 8mm.
Free Pattern hookedonhomemadehappiness
2. Mountain Cowl:
Rock your winter styling accessories with this completely chic and boho looking mountain cowl. The colors, pattern, and the designs really bring mountain memories to you. The yarn used here is the Purl Soho's gentle giant and the stitch you need to work up is stockinette. So make this funky cowl and enjoy.
Free Pattern purlsoho
3. Chunky Ribbed Cowl Free Pattern:
This chunky ribbed cowl is going to be your best warm buddy for all winter long as it is sassy, stylish and entirely warm and comfy. The simple creamy white cowl is all crocheted from the ribbed stitch to look simple yet quirky and cute. This creamy white cowl is going to fit match all your winter clothes.
Free Pattern littlemonkeyscrochet
4. Knit Cowl of the Chunky Variety A Tutorial:
Now you can maintain your boho fashion with this lovely knit cowl with a chunky texture. The cowl is crocheted with the bulky and thick yarn. The size of the cowl is minimal as it gives you only one drape around your neck. The cowls are knitted in fall orange and the turquoise hues to look so bright and beautiful.
Free Pattern smashedpeasandcarrots
5. Red Heart Easy To Knit Chunky Cowl:
Look elegant and styled this chilly weather by wearing this Red Heart easy to knit chunky cowl around your neck. Using some bulky yarn in neutral or subtle yarn hues you can easily work up this chunky cowl pattern and get yourself in a relaxing mode. This pretty cowl would make a really delightful gift idea too.
Free Pattern yarnspirations
6. Easy Chunky Rustic Crochet Cowl:
If you are in need of some chunky Christmas gifts then you should really be getting your hands on this easy chunky rustic crochet cowl. The thick textured chunky cowl is obviously made out of the super bulky yarn with a mini loop around the neck. Two leather fringes have been added to the side of the cowl to make it look boho enough.
Free Pattern mamainastitch
7. Crochet Pattern Chunky Cluster Cowl:
Here is an easy peasy and the small size crochet pattern for a chunky cluster cowl. This pretty cluster cowl comes with thick puffs to make your neck feel so warm and cozy. The cowl has a mini loop to tightly fit around your neck. A number of these chunky cowls would make great Christmas gifts.
Free Pattern crochetspot
8. Chunky Double Crochet Cowl:
Make your winter look complete by taking your style quotient to another level with this lovely and boho crochet chunky cowl. Using the bulky yarn and the simple double stitch you can easily work up this chunky cowl. Even the beginners can easily work up this lovely cowl and add in some style to the personality.
Free Pattern allaboutami
9. A Chunky Moebius Cowl An Easy Chunky Knit Free Pattern: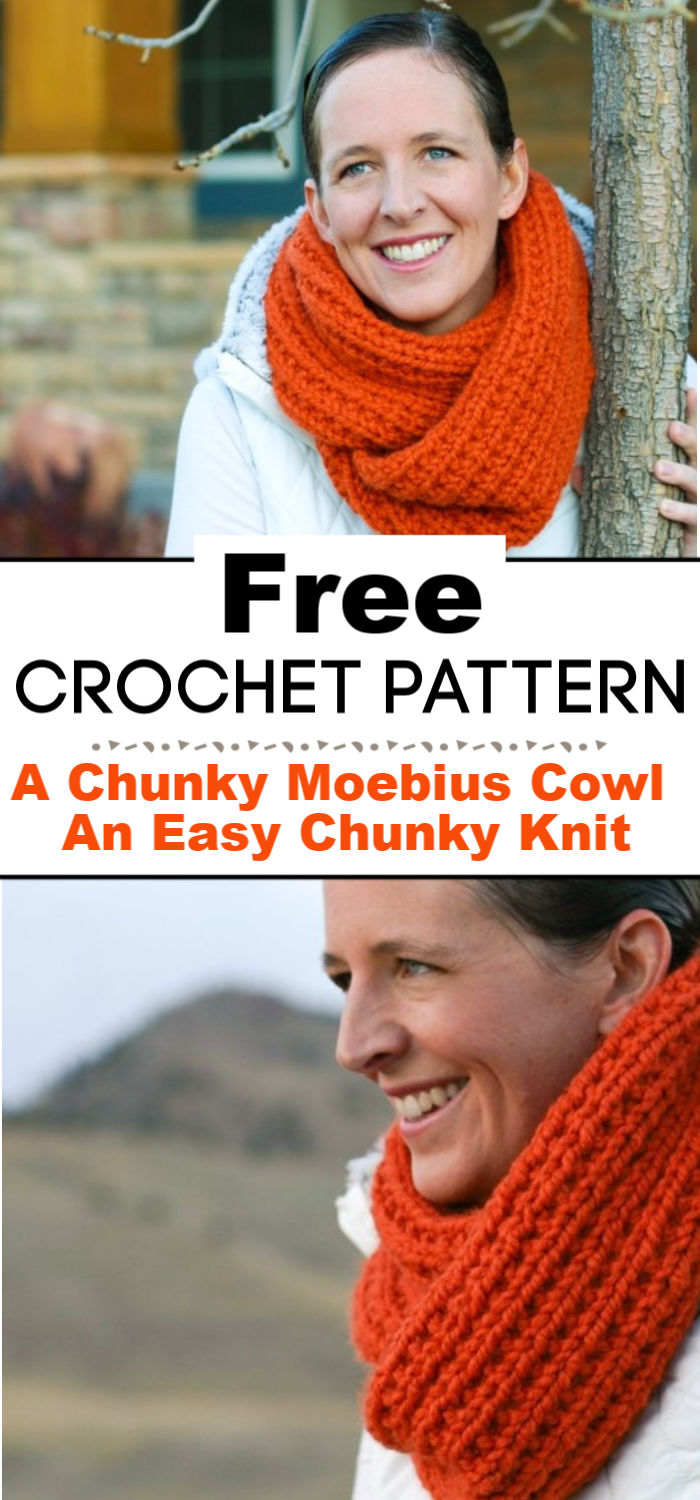 Add some bright and beautiful colors to your boring and dull winter dress up with this orange chunky Moebius cowl. The gorgeous and eye-catching chunky cowl is made out of the bulky yarn and the stitch sued is ribbed and both of these factors award a thick texture to the cowl. The pattern is quite easy and fun to work on.
Free Pattern flaxandtwine
10. Chunky Cabled Cowl Free Knitting Pattern:
Cable patterns are quite a in trend these days and to start your venture with this pattern you need to get your hands on this chunky cabled cowl. The gorgeous maroon colored cowl has the cable stitches all over to look so intimidating. You can easily learn to work up the cables with a little practice.
Free Pattern leeleeknits
11. Chunky Much Love Cowl:
Look cute and fun during the winters with this chunky much love cowl pattern. The minimalist design of the cowl is made with the three darn gorgeous yarn hues to turn out so eye-catching. Also, the cowl has a matching hat with pink pom pom balls to look just so fancy and cool. This beanie and cowl set would make a great gift idea.
Free Pattern kaitescrochet