Sometimes we feel that there is something missing in the décor and styling of the home décor. Often there are tiny details of that we are missing out on and getting that imperfect feeling for the beauty and style of our spaces. Today we have brought to you these 12 crochet pillow patterns for free to bring some quirky charm in all your spaces. Be it the comfy chair in the patio, your living room sofa or your bedding, these crochet pillows can spice up the décor of each space. These crochet pillow patterns are a perfect way to add some pop up of colors of an extra touch of beauty and glam to the spaces.
There is a huge variety of the patterns, stitches and the styles that you can opt for while creating a lovely handmade crochet pillow for yourself. If you want a cute and colorful pillow cover then you can make one from the colorful crochet granny squares. Bobble and waffle stitches are best to work with when you desire for a perfectly textured pillow for your chair or sofa. The pillow covers for the kids can be cutely inspirational from their favorite things like there is a Santa pillow, a bear pillow, and a cute heart pillow. Get to know more about these fun crochet pillow patterns right below!
1. Pillow Crochet Pattern:
It's time to add some cute handmade pillowcases to your home décor and here is this lovely crochet pillow pattern. First, you need to crochet up some small size squares and then stitch them together to form a lovely and totally custom pillowcase. You can vary the colors to enjoy your favorite color combo.
Free Pattern rescuedpawdesigns
2. Gorgeous Free Round Crochet Pillow Pattern:
It's time to quirk up your living room décor and add this gorgeous round crochet pillow on the sofa or the chairs. The vibrant-hued round pillow with the ribbed pattern looks just so pretty and fun to get right now. So follow the pattern and work it up! Link here!
Free Pattern sustainmycrafthabit
3. Free Pattern for the Crochet Cottage Pillow:
Bring the perfect cottage style to your home décor with this crochet cottage pillow. The white color, the pretty square pillow with the cross design is the best thing to make and enjoy this summer. The lovely cottage pillow pattern is lying right here for free!
Free Pattern megmadewithlove
4. Love Your Granny Square Pillow: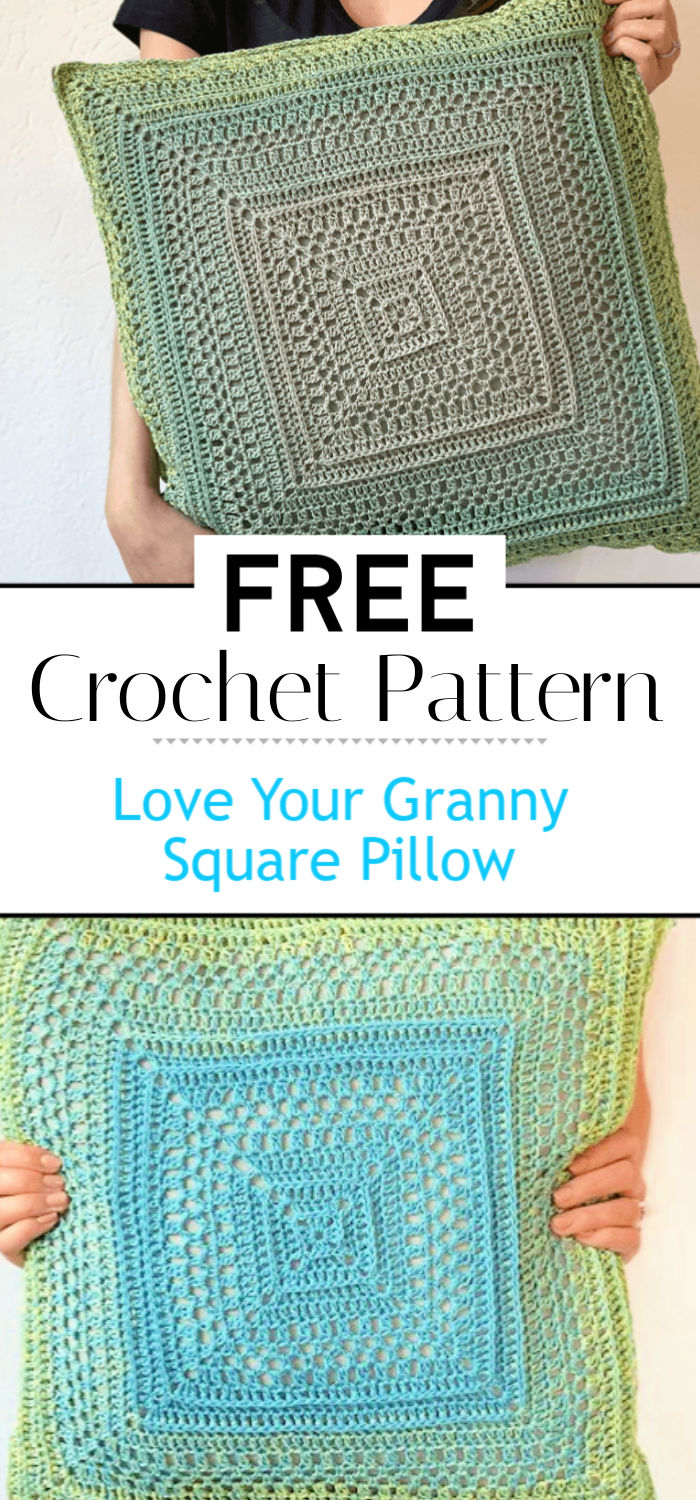 Here is this giant granny square pillow to make and bring some cuteness to your living room. You can easily crochet up the big pillowcase with the neatly knit in the pattern.  You can choose any of your favorite colors to make it match with your living room décor. Details here!
Free Pattern wilmade
5. Crochet Pattern Sleepy Santa Pillow:
There are so many fun crafts that you can do before your Christmas celebrations and making this crochet sleepy Santa pillow. The cute Santa pillow with the beard and hair looks just so adorable. It would also make a perfect gift for your dear and near ones. Details here!
 Free Pattern undergroundcrafter
6. Super Chunky Crochet Pillow Project:
If you are in love with the things which have the thick and fluffy texture then making this lovely super chunky crochet pillow is the best thing to make. The pattern is quite fun and simple to work on with your favorite color of the yarn and the crochet hooks. Learn the easy pattern details here!
Free Pattern mamainastitch
7. Free Pillow Cover Crochet Pattern:
It's time to bring some cute colors and temptation to the kid's room décor and these cute and colorful crochet pillow cover patterns are right here for you. You can choose any of the colors from the bed sheet to crochet up some lovely pillows with your crochet hooks and skills. Learn the pattern details here!
Free Pattern leeleeknits
8. Crochet Textured Cushion Pattern:
This gorgeous grey cushion has the best design and style to grab your attention. It is going to look so awesome sitting on your sofa and the chair. The bobble stitch gives the cushion a perfect texture and the beauty that one can ever crave for. The fringes add more to the beauty of the cushion. Catch the details here!
Free Pattern creamofthecropcrochet
9. Crochet Heart Pillow Buddy: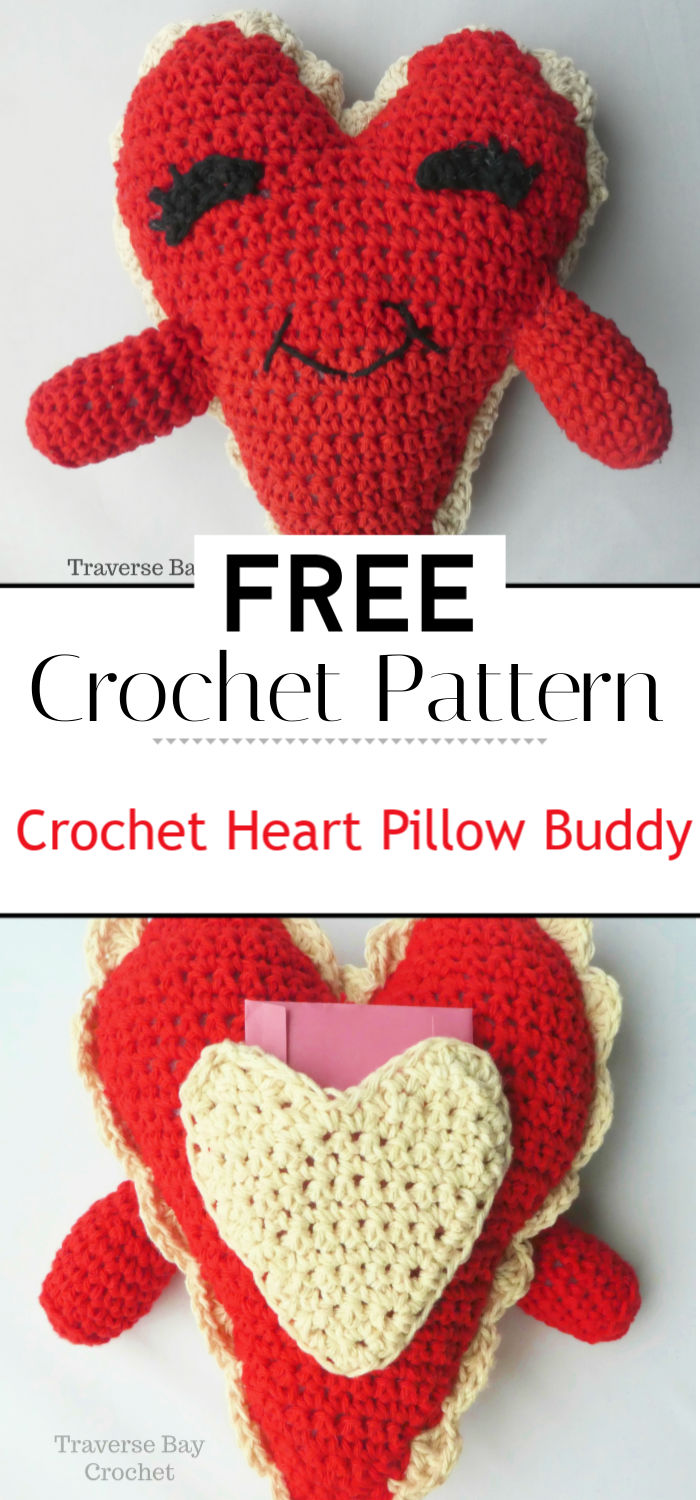 Here is this super cute crochet heart pillow with his arms wide open to hug your little ones tight at night. Not only this pretty crochet heart pillow buddy would make a lovely valentine's day gift but also for any of the celebrations. So give your heart to the dear and near ones with this crochet heart pillow buddy.
Free Pattern traversebaycrochet
10. Zigzag Bobble Pillow A Free Crochet Pattern:
There are so many ways to add some twists to the simple crochet patterns and this zigzag bobble pillow is the best thing to make to adorn a simple crochet pillow. The plain crochet pillow cover has the colorful bobbles and the zigzag lines to make it look so stunning and beautiful. Follow the details here!
Free Pattern joyofmotioncrochet
11. Waffle Stitch Throw Pillow Free Crochet Pattern:
Every stitch has its own kind of beauty and the texture for the things that we are crocheting. Here is this waffle stitch throw pillow to make and enjoy a lovely textured piece with corner tassels to make it look more beautiful. The mesh-like pattern is so gorgeous and unique. Follow the tutorial right here!
Free Pattern leftinknots
12. Girls Sleepy Teddy Pillow Crochet Pattern:
Kids would love to have a sleeping buddy and for your little girls, this sleepy teddy pillow is going to be the best companion. The round-shaped teddy pillowcase has the cute bear face features including the rosy cheeks. You can make it in the favorite yarn hues of your girls for a more personalized possession.
Free Pattern mermaidsandmonkeys