Summers are so much fun to dress up like a free bird. You can try a variety of dresses during the summer as there is no fear of catching a cold and get suppressed under the thick layers. Tops, tunics, and tanks are our favorite summer dresses and now you can enjoy their crochet version too. Here we have brought to you these 10 crochet tank top patterns to get your hands dirty with and fill your summer closet with some super sassy and cool tank tops. Breezy patterns, enchanting yarn scheme, and the easy patterns can make any woman fall for them easily.
From a casual day out to a nice summer day at home, you can find a perfectly matching crochet tank top right here in this round-up. There are top tanks with tight-fitting and also the ones with voluminous flairs to fit in your choices. Also, these patterns offer you so many options with the colors as you can use one yarn color, create sections with the two or go ombre with the strips. You can choose the simple and subtle crochet tank tops for the normal wearing and the pretty ones with the decorative panel can be saved for a picnic, party or even the beach. Get a free pattern of each with details right below!
1. Ombre Crochet Tank Top:
Tank tops are our favorite pickups from the summer wardrobe and this ombre crochet tank top is the best thing to make this time. The chevron-like strips and that too in the ombre pattern and hues are just too impressive. You can customize this fairy tank top with any of your favorite yarn hues too. Details here!
Free Pattern hookedonhomemadehappiness
2. Voluminous Tank Top Crochet Pattern: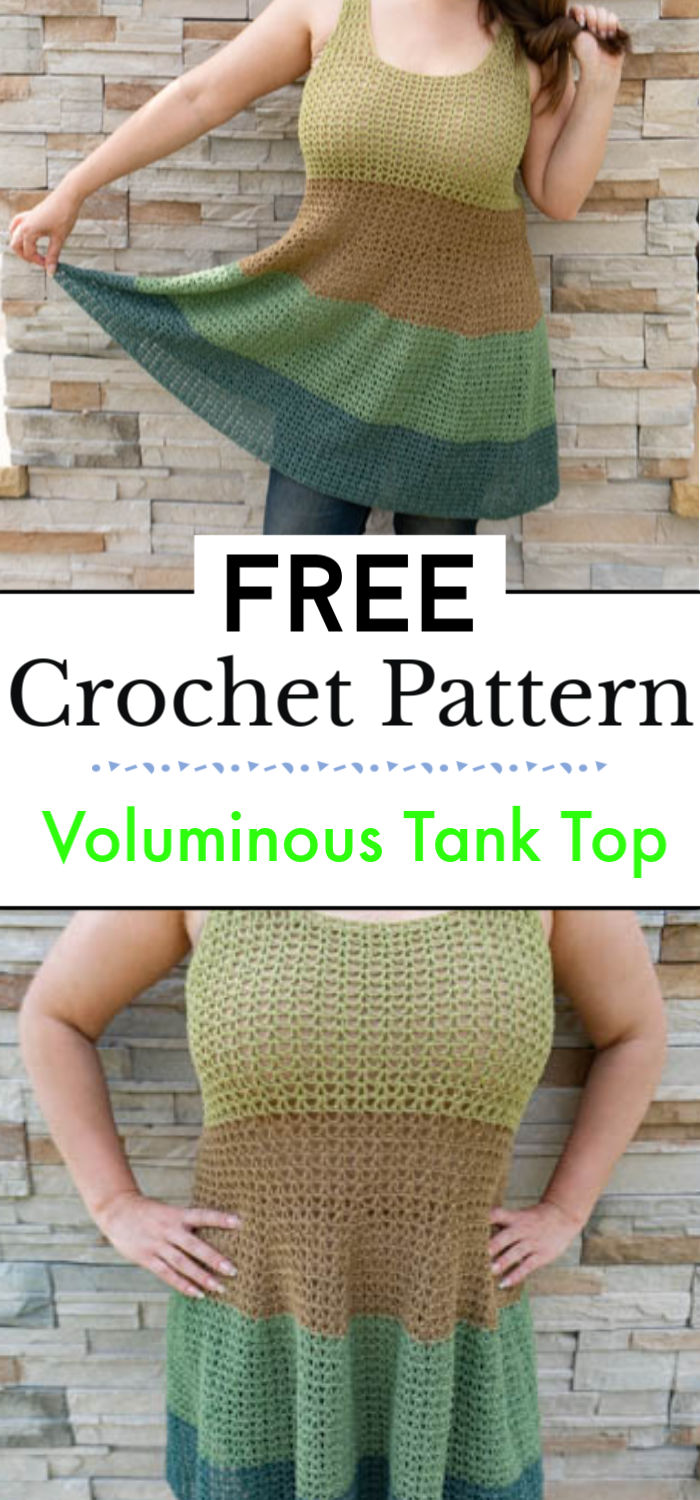 We want lightweight yet some catchy and cool kind of dresses for the summer and this voluminous tank top is the perfect kind. The lovely cotton yarn hues and the pretty flair of the tank top really make it a must-have for the summer wardrobe. You can adjust this tank top pattern to your size easily. Pattern here!
Free Pattern hearthookhome
3. Sunny Day Crochet Summer Top Free Pattern:
Meet a bright sunny day of the summer with this super cool and cute sunny day crochet summer top pattern. The lovely mango color yarn has been mixed with white to create this lovely crochet top tank for the summer with alternative yarn hue stripes. The size is adjustable too so get the free pattern here!
Free Pattern jennyandteddy
4. Bloom Top The Pattern:
This bloom top instantly grabs our attention for being so catchy in its color scheme. The use of contrasting yarn hues really makes this top look just so adorable and cute. Also, the pattern is quite lightweight and breezy to make it a perfect for the summers. Grab the free pattern here to make it right this weekend.
Free Pattern eng.vicarno
5. Peaks Crochet Tank Top:
This gorgeous crochet see-through tank top is the best thing to have in your summer closet. Not only you can carry this tank top for an outside adventure with your beloved ones but it also makes perfect beachwear too. The blue yarn hues make this tank top a perfect summer dress. Free pattern here!
Free Pattern hookedbyanna
6. Crochet Striped Top in Schachenmayr:
Your summer wardrobe is incomplete without a lovely crochet top being the part of your summer dress collection. Here is this totally simple yet the breezy pattern of the crochet striped top to look so fun on you for the summers. You can choose your favorite yarn hues to make the top look custom.
Free Pattern lovecrafts
7. Winding Road Crochet:
This crochet top works up with two yarn hues to look such gorgeous and enchanting. The upper body of the tank top is made out of the subtle hues of the off-white yarn and the rest of it is made out of the bright sunny yarn to look just so summery and fun. Follow the easy pattern with details here!
Free Pattern windingroadcrochet
8. Light Crochet Tank Top Pattern:
Unlike the bright and boho kind of tank tops, this one is really light in weight, design, and texture. Also, the light pink color really makes this tank top women favorite. The lacy net design on the chest adds more to the beauty of this tank top. You can check out the details right here to make one.
Free Pattern simplycollectiblecrochet
9. Aestas Top: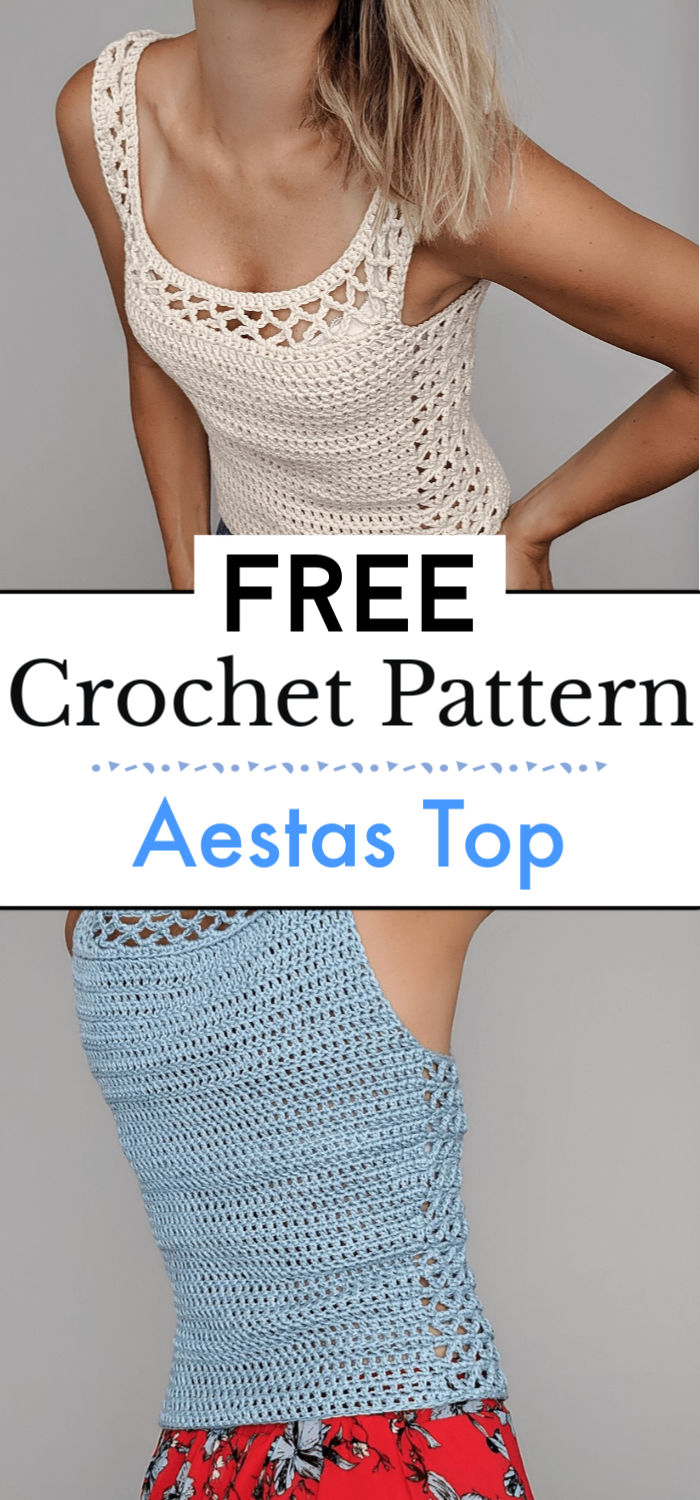 This gorgeous and stylish Aestas top is going to take your breath away for being so impressive. The tank top has a lovely decorative crocheted panel on the top and the on the sides to make this piece just so stunning. You can use any of your favorite cotton yarn hues to crochet up this Aestas top. Details here!
Free Pattern hookedbyanna
10. Catalina Crochet Tank Top Free Pattern:
This Catalina crochet tank top is very basic in its design and pattern and thus a must-have for the summer wardrobe. The thick crocheted tank top has the pretty decorative panel on the neck to look just so enchanting and cool at the same time. You can grab the free pattern of this Catalina tank top here!
Free Pattern stitchandhustle