If we look back to the time when the brim hats were most the hit fashion for the women, we reach into 1920. The lovely round hats with pretty flower adornments were the style booster in those days. So it's time to bring those lovely brimmed beanie hats back in fashion and these 11 super DIY crochet brimmed beanie hat designs are going to help you immensely. These adorable and cute hats are not only eye-catching but also super comfy and warm. From little girls to the elder ladies in the house, these DIY crochet brimmed beanie hats are going to rock the wardrobe of everyone this summer.
There are two types of brimmed beanie hats shared here and you would love them both. One is the pretty cute crochet hats with wide brim bands and the pom poms to look simply cute and comfy on you. Then there are the classic cloche hat patterns to get your crochet hooks dirty with. All the cloche hats feature a brim which can thin or just flowy like the ruffles. Then next you have to embellish these hats with a colorful bunch of the flowers which are also crocheted. These lovely brimmed hats are going to look so awesome on you and you can pair them up with your favorite comfy dresses.
1. Crochet Double Brim Beanie Free Pattern:
Here is a beanie hat that is going to be super comfy and cute on your head. The hat has a brim to make the beanie nicely and tightly fit the head. The white beanie with a brimming edge and the lovely brown furry ball on the top looks so nice and adorable. So grab the yarn and come along this lovely brimmed beanie hat pattern.
Free Pattern lifeandyarn
2. Crochet Snowfall Hat Size Baby to Adult Free Crochet Pattern:
If you want a tight fit beanie for your kids that cannot come off easily then making this crochet snowfall hat is the best pattern.  The gorgeous snowfall hats have nicely crocheted wide brim bands, lovely pom pom balls at the top, and the cute snowfall like a white sprinkle of the white crocheted hearts all over.
Free Pattern whistleandivy
3. Double Brim Ribbed Crochet Beanie:
Look super cool and cute during this winter season with these double brim crocheted beanie hat and the matching scarf. The cute pink beanie hat has a double brim to make it look and fit so perfectly. The ribbed patterns really bring a kind of charm and decency to the pattern. You can make this pretty beanie in any of the colors.
Free Pattern allaboutami
4. Toasted Hazelnut Brimmed Beanie:
This double hued toasted hazelnut brimmed beanie is the best thing to crochet for the fall. The brown hat has a lovely white pom pom and the white bobbly textured brim. This lovely hazelnut brimmed beanie is perfect for the holiday season. It can make a really great gift idea for the dear and near ones in the family.
Free Pattern caabcrochet
5. Basic Brimmed Beanie Hat Free Crochet Pattern:
Toast your head in style this summer when the air is chilly as you have this brimmed beanie hat pattern and that too rainbow colors. Not only the lovely brim and the bright and beautiful yarn hues but there are lovely ribbed lines on the overall hat pattern to make it look more pretty and enchanting. Details here!
Free Pattern yourcrochet
6. Cloche Hat Crochet Pattern:
One of the things that we love about 1920 is hat fashion. The round hats with brims and flowers were so much in fashion back then. So it's time to make those lovely hats again and this cloche hat crochet pattern is here for help. The enchanting cloche hat in red yarn and the flower looks so stunning.
Free Pattern hopefulhoney
7. Free Ruffled Brim Sunhat Pattern: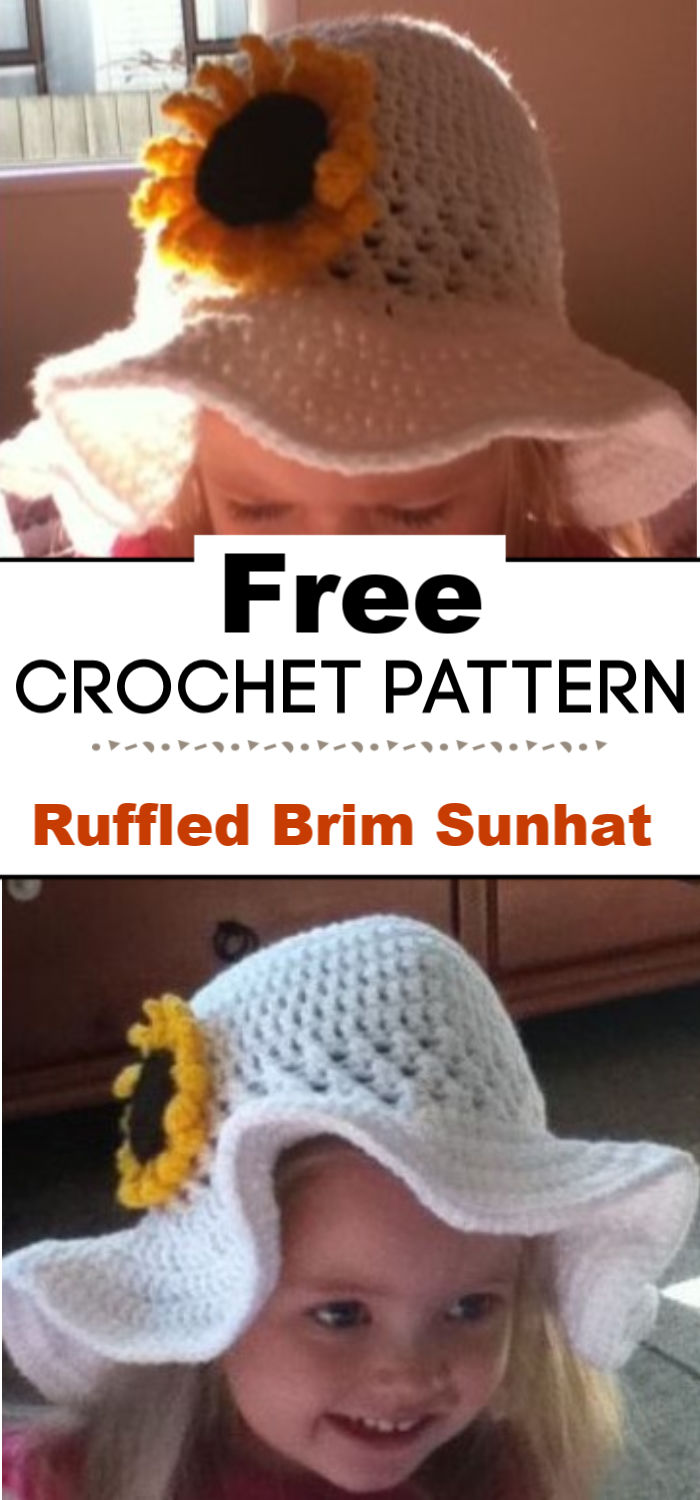 Make your girls the most cutest hats and this ruffled brim sun hat is the perfectly adorable pattern to get your hands on. The lovely white crochet hat has ruffled brim and a lovely sunflower attached at the side to jazz up its beauty and attraction in more. Your little girls are going to fall for this hat for sure.
Free Pattern hattingmadlycrochet.wordpress
8. Russian Little Girls Cloche Hat Pattern:
Cloche hats bring us back to the 1920's fashion for being so pretty and fun. This Russian little girl's cloche hat is the best thing you can crochet up for the summers. With the most quirky yarn colors of the summer, this blue hat is made with a pink brim and the colorful flower appliqués at the sides.
Free Pattern redhairedamazona.blogspot
9. Free Spring Crochet Hat Pattern:
It's time to style up your crochet beanies and that in a cool and colorful way. So here is the project of making this spring crochet hat pattern with a little wide brim and the pretty flower adorned at the left side. The hat is crocheted in blue and the brown yarn hues to look so quirky and you can customize the colors.
Free Pattern cre8tioncrochet
10. Little Girl's Cloche Hat Russian Pattern Update:
It feels like the cloche hats are back in fashion so here is the idea of making this little girl's cloche hat Russian pattern. The pretty blue hat has a little raised brims and a bunch of small and big colorful crochet flowers to look just too adventurous and fun. This hat would make a perfect gift for the little girls.
Free Pattern redhairedamazona.blogspot
11. DIY Crochet Brimmed Beanie Hat with Flower:
This gorgeous hat is not only fancy with its pretty cloche design but also quite comfortable. The brim of the hat comes down to the forehead and thus it can keep your ears and head warm and toasty. The subtle grey hat with bright green flower appliqué looks just so fantastic. This hat is a stylish gift for the adult girls around.
Free Pattern 101crochetpatterns