Crocheting is so much fun as a time pass activity as you get so many productive items from this skilful hobby. Crocheting hats using the art of crocheting is the most basic activity that the ladies perform at home. Every crochet person has surely crocheted a bunch of the crochet hat patterns to use in during the cold. But here we have brought to you these 12 amazing crochet hat patterns which are unique and stunning to get your crochet hooks on. Unlike the boring and common kind of hats that you have already crocheted, these crochet hat patterns are going to take on an adventurous ride.
Every hat pattern here has something new and fun to give your some quirky crochet muse. There are cute beanies with lovely pom poms to look so cute and adorable on girls. The simple crochet hats have been innovated with the ribbed and cable stitches to look new and chic. The kids are going to love the Monster sully hat with amazing color combination, monster features and the braids as well. Also there are slouchy hat patterns for the boho fashion lovers. The cute farmhouse hats with farmhouse appliqués are really going to be the favorite hat of your kids.
1. How to Crochet a Little Bug Ladybug Hat:
Make your little ones this lovely crochet little bug ladybug hat and they will be more than happy. So grab some red and black yarn to crochet up this lovely little bug ladybug hat. The hat is especially for the girls but even the boys would love to have it. Also it would make a really nice gift idea too.
Free Pattern redtedart
2. Easy Chunky Crochet Beanie:
Here is this lovely and chunky crochet beanie pattern to make these winters. As the hat is chunky and thick textured so you need to get your hands on some bulky grey yarn and the 19mm hooks to work up this lovely hat. Also, the hat has a lovely pom pom ball at the top to look just so pretty and fun .
Free Pattern persialou
3. Monsters Inc Sulley Inspired Baby Hat Crochet Pattern:
If your kids have watched the movie Monsters then they are surely in love with the main monster Sully. So make this sully inspired baby hat for them to have so much fun wearing it. As the sully have blue and purple colors so grab some yarn in these hues to shape up this lovely hat with braids, long ears and the eyes.
Free Pattern hopefulhoney
4. Crochet Winter Hat Pattern Free:
You are so undone with your hat collection for the winters if you do not have this crochet winter hat in your wardrobe. The gorgeous hat has a chunky pattern with a pom pom to look super cute. You can wear this hat with any of your dresses and look cute along being super warm and cozy.
Free Pattern knitted-patterns
5. Super Chunky Crochet Granny Hat Free Crochet Pattern:
You can crochet up this lovely and cute granny hat for your little ones. The gorgeous red and grey yarn and that too the bulky and the thick one have really blended in well together. You can make this hat for anyone in the family from your own self to the husband and the kids. So grab the yarn and work it up.
Free Pattern whistleandivy
6. Easy DIY Crochet Hat Pattern For Beginners: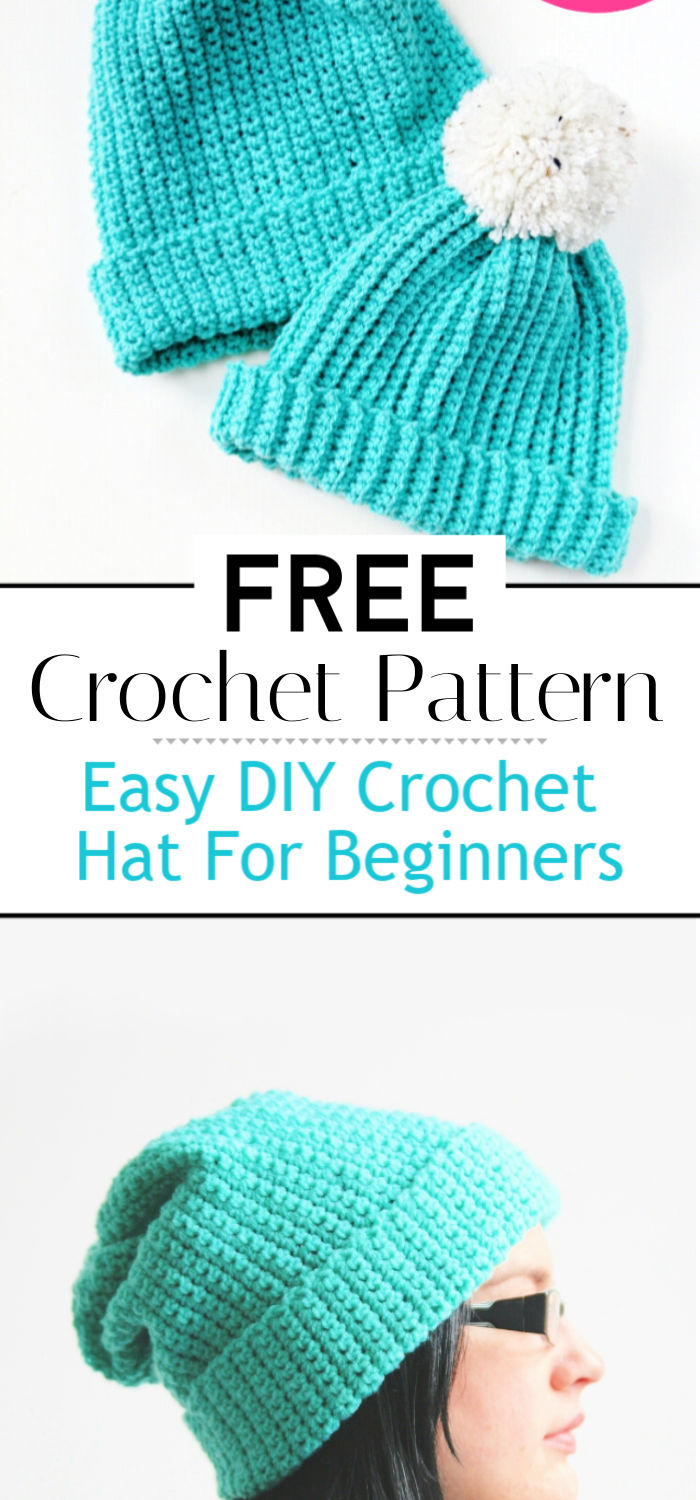 Here is this simple and cute crochet hat for the beginners to make and keep their heads warm with. You can need only one stitch to work up this whole hat and also one yarn color. The hat has a little slouchy pattern so you can even make it for your teen age boys and girl as they love such funky fashion.
Free Pattern gatheringbeauty
7. Crocheted Ribbed Hat Pattern:
When you want to work with double hues of the yarn then you should pick up the ribbed pattern as it works up so nice. Here is this lovely crocheted ribbed hat wine only one yarn color at the back and the double hued strips at the front. You can choose your favorite yarn hues to get the right combination.
Free Pattern myrecycledbags
8. Crochet Club The Simple Hat:
Do not get bothered by the cold as you can have a very nice and warm solution of it with this crochet club hat. Using the cable stitch the whole hat has been crocheted in the darn black yarn hues so that the hat matches to each of your dress. You can make this hat for your little and big boys and they would love it.
9. Free Crochet Pattern Crochet Cabled Messy Bun:
Now you can make yourself a lovely hat that would show off your messy bun. The pretty hues of the yarn in blue and white really adds to the beauty of this hat. The alternative strips of the hat in blue and white really add to the beauty of this chic and cute hat. You can make this hat for your mom and for your best friend too.
Free Pattern acrochetedsimplicity
10. Chunky Ribbed Slouch Hat Free Crochet Hat Pattern:
A simple twist to the design can really beautify your crochet possessions just like this chunky ribbed slouch hat. The black yarn of the hat and the ribbed lines really add to the beauty and style of this hat.  Also the yarn is chunky to look make your hat look so thick in texture and cool.
Free Pattern blog.darice
11. Emily Diagonal Beanie Crochet Hat Pattern:
Here is this lovely Emily Diagonal beanie crochet hat to make you look so nice and decent. The chunky hat pattern really adds to the beauty and style of this hat. Your modern fashion lovers are really going to fall in love with these adorable crochet hats. You can choose the yarn of your own choice to get custom results.
Free Pattern rescuedpawdesigns
12. Crochet Farm Hat With Picket Fence Border:
You can make the perfect crochet farm style hats during the Holidays to use as the pretty gifts for the family. The gorgeous hats have cute embellishing and plastic appliqués of the sheep, reindeer, cow and the farm house. These lovely crochet hats are really going to add oodles of charm and love to its cute little owners.
Free Pattern repeatcrafterme