Cardigans are the custom winter outer layers to keep the cold at arm's length. The branded cardigans can make you burn a hole in your pocket so the solution is to crochet up your own very favorite cardigans. There are loads of pretty and stylish patterns for the cardigans but the best and the most basic ones have been rounded up right here. So here are these 10 easy crochet cardigan patterns for women that every crochet person can try no matter on which skill level they are. Not only these handmade crochet cardigans would save you some money but also feel more warm and comfortable.
You are going to find a lot of easy cardigan patterns in this collection of the cardigans. There are easy open front cardigans to let you show off your inner dressing. There are cardigans with half rectangle folds, cardigans with cuffs and so much more. From breezy and lacey patterned cardigans for the summer to come thick and ribbed banned cardigans for the winter you are going to find a pattern for each right here. Also, you can choose your favorite yarn and the colors to get the most personalized cardigan ever. So get down to the collection of the free patterns and click on the links to try them…
1. Open Front Comfy Cardigan Free Crochet Cardigan:
Look chic and fun this summer with this lovely open front comfy cardigan. The pink color and the mesh pattern really make this cardigan the much favorite comfy layer for the ladies. The open front would let your dress or clothes be prominent so everything on you along with this cardigan is going to reveal all the style and beauty.
2. Easy Wear Crochet Cardigan Pattern:
This lovely crochet cardigan is the best thing to have for the winters. The lovely white crochet cardigan has the ribbed band on the front sides. You can wear this cardigan with almost all your casual jeanswear. The griddle stitch makes the cardigan quite thick in texture. Check out the details here!
Free Pattern crochet.craftgossip
3. A Celebration of Tanja's Crochet:
You can now hack a lovely crochet top with this celebration of Tanja's crochet pattern. The gorgeous and tight fit crochet top has so many intricate details to the pattern. You are going to look super elegant and attractive while wearing this gorgeous and decent crochet white top with your jeans or skirts.
Free Pattern bloglovin
4. The Everyday Crochet Cardigan: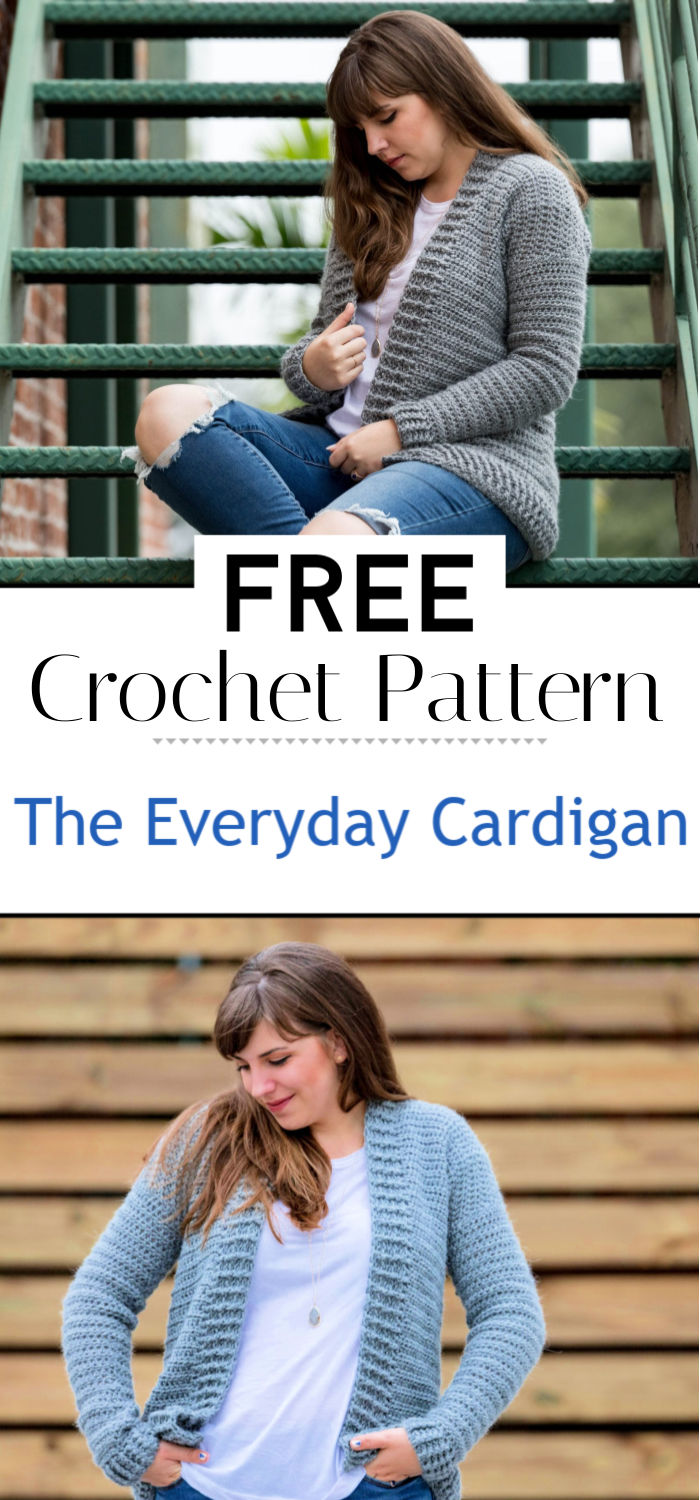 Now even the beginners can make some lovely and cute crochet big projects other than hats and gloves and this everyday crochet cardigan is that pattern. The easy pattern has simply a stitched pattern with only ribbed lines on the hemline and the neck. The olive color makes it a perfect pick up for all your go-to dresses.
Free Pattern sewrella
5. Easy Crochet Cardigan Free Pattern:
A cardigan is the stylish solution for the winter cold and everyone should have one or two. Here is this easy crochet cardigan with a free pattern to get your crochet hooks on. The lovely and boho looking cardigan is easy enough to be crocheted by the beginners by using just chains and single crochet.
Free Pattern gatheringbeauty
6. Baja Blanket Sweater Crochet Pattern:
You are undone with your summer fashion if you do not have a chic and boho looking cardigan in your wardrobe. Here is this Baja blanket sweater to crochet up easily at home. The gorgeous combination of the neutral yarn hues with the black and yellow really adds oodles of charm and beauty to the pattern.
Free Pattern mamainastitch
7. Free Crochet Pattern Snuggler Cardigan Sweater:
There is so much fun and functional about this easy and free crochet pattern snuggler cardigan sweat. The gorgeous ombre hues of the yarn in purple, the lovely and detailed lacey pattern, and the tight fit cuffs really make the cardigan sweater an enchanting possession. You can pick up your favorite ombre yarn to work up this lovely cardigan.
Free Pattern pattern-paradise
8. Heartland Cardy Cardigan Crochet Pattern:
Here is a cardigan with a little quirky design to boost up your summer fashion. The lovely cardigan has a mesh-like pattern at the back to look just so spruced up. The sleeves of the cardigan are super easy to crochet and that too with only double crochet stitches. The green shades really add to the beauty and charm of this cardigan.
Free Pattern mariasbluecrayon
9. The Beginner's Guide To Crocheting Your 1st Sweart:
It's time to take your crochet skills to another level with this lovely beginner's guide to crochet your very first sweater. The gorgeous thick texture sweater is going to make you look hot and cute at the same time. So grab some bulky worsted weight yarn in your favorite colors and pick up the 6.5 mm hooks to create your lovely first sweater.
Free Pattern sweeteverlyb
10. Easy Crochet Cardigan:
Now you can feel proud to make your very own easy crochet cardigan and that too easily and quickly at home. Here is this lovely and totally simple cardigan to save you from the cold blows. You need two hues of the grey yarns to work up this cardigan and that too using only half double crochet stitches.
Free Pattern wilmade