Either be cartoons or the movies, bunnies are the character that catches every kid's attention. And once the kids are in love with the bunnies they want everything of theirs to be transformed with the bunny theme. So as they love the bunnies so much you can transform them into the bunnies and these 10 crochet bunny headbands with free patterns can help. Yes, these gorgeous bunny headbands have long bunny ears in multiple shades of the yarn and your kids especially the girls are really going to fall in love with their new head accessories. So do check out these 10 crochet bunny headbands to fall in love with them.
These adorable bunny headbands are so easy and fun to make in the least of the time. Just grab a simple plastic headband and cover it with some crochet work. Then add a pair of the crochet bunny ears and add to this crocheted headband. Lastly, you can add a variety of colorful flowers to these bunny ears and get the most magical and the cutest bunny headbands. These cute bunny headbands are going to make the best gifts for your girls and they are going to fall in love with this adorable hair fashion for the summer. These would make the best gifts for the big girls too. So do make and enjoy these bunny headbands this Easter.
1. Berry Patch Bunny Boy Version A Free Amigurumi Pattern: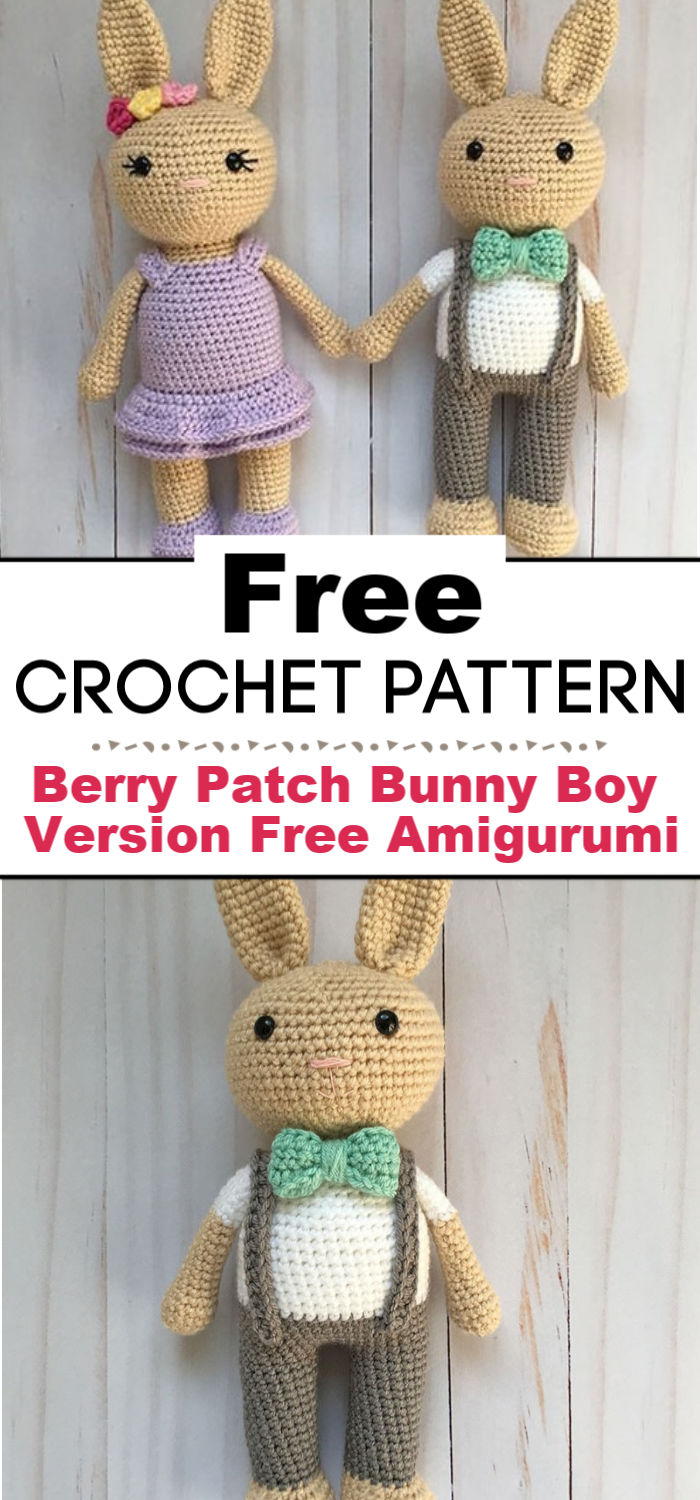 Your kids are going to be more than happy with these berry patch bunny boy amigurumi. There are a bunny girl and a bunny boy and they have their cute dresses on. The bunny girl has a lovely floral headband which really makes her look more beautiful. Check out the pattern here to try it out.
Free Pattern graceandyarn
2. Floral Bunny Headband:
Little girls are in love with the headbands and this floral bunny headband is going to be their favorite. The basic bunny hued headband has colorful flowers attached to make the headband look more exciting and girly. You can use this floral bunny headband as a pretty gift idea too. Details here!
Free Pattern semisweetcrafter.squarespace
3. Crochet Bunny Headband:
This crochet bunny headband can make every girl go made after it. The pretty white crocheted headband has the colorful ears and the flowers attached to look just super gorgeous and whimsy. The girls are going to get really excited when you make them this lovely crochet headband. Details here!
Free Pattern keepcalmandcrochetonuk
4. Easter Bunny Headband Crochet Ears That Won't Flop:
A simple headband can be turned into a super exciting crochet bunny headband to make your little girls go gaga over it. Just grab a plastic headband and attach to it a pair of separate crochet bunny ears. Charm up the headband more with some colorful and exciting pom pom balls and they are ready.
Free Pattern instructables
5. Crochet Bunny Headband Pattern:
Bunny is the favorite of the kids and here is the pattern for the crochet bunny headbands to make and let your little girls enjoy wearing them. Choose any of the custom bunny hues to work up the crochet headband with ears. These crochet headbands have a butterfly appliqué attached to look just so exquisite and fun. Details here!
Free Pattern 3generationsstudio
6. Baby Bunny Ears Headband Crochet Pattern: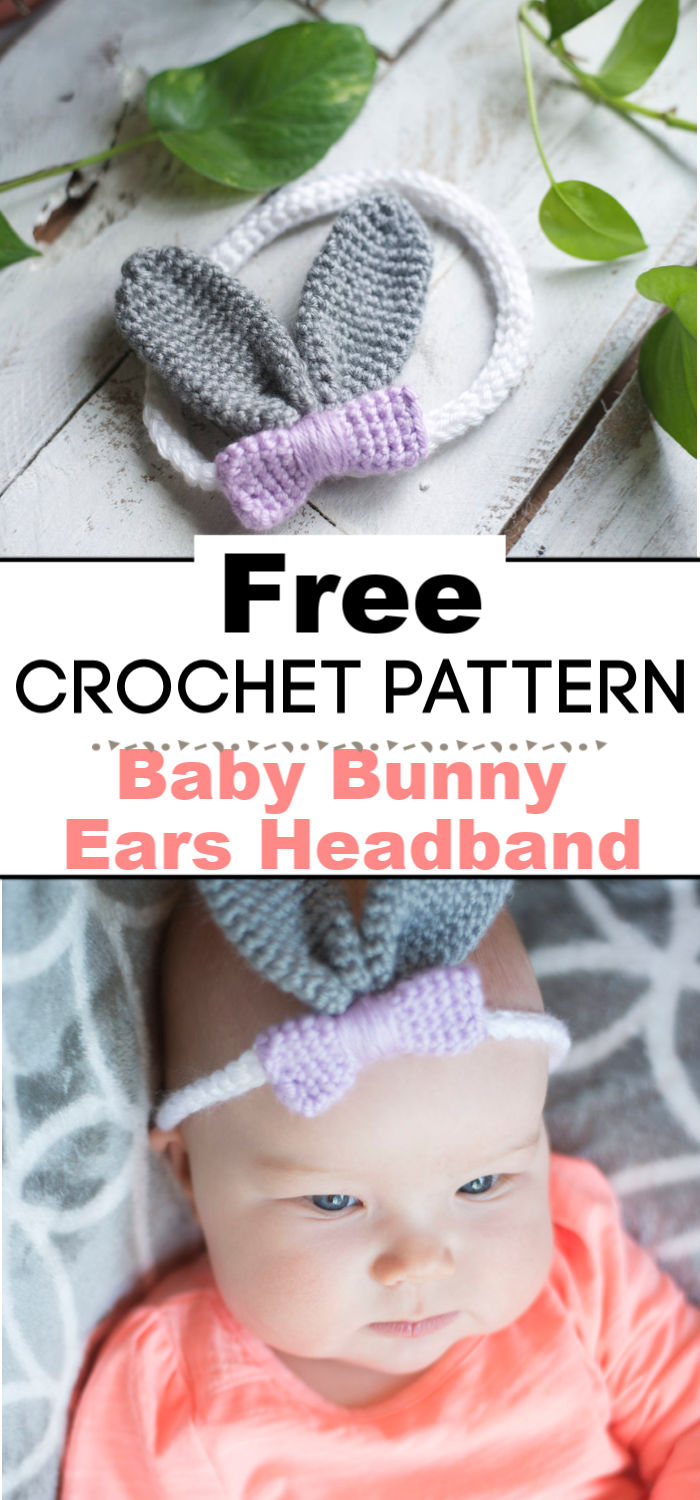 Headbands are perfect accessories to make your little ones look super gorgeous and cute. This time you can make them this adorable baby bunny ears headband and that too with a bow so that they look so pretty and cute. This bunny ear headband would make a really cute gift idea too. Details here!
Free Pattern megmadewithlove
7. Crochet Bunny Ears Headband with Flowers:
Make your toddlers look the coolest with these adorable crochet bunny ears headband which has flower attached to look just more exciting and cute. Just grab some grey hued yarn to crochet up the bunny headband and a lot of multi-colored yarn would be needed to crochet the flowers. Details here!
Free Pattern windingroadcrochet
8. Bunny Ear Headband Free Crochet Pattern:
Not only the little girls but the ladies can enjoy wearing the pretty bunny ear headbands too. Here is this chic white bunny ear headband to make and accessorize your head with. The headband is going to look quirky with a white dress for a party or for the Easter dress up too. Check out the details here!
Free Pattern jennyandteddy
9. Crochet Bunny Headband A Free Pattern:
If you are making a crochet bunny amigurumi for your kids then you can double up the fun by crocheting up this lovely crochet bunny headband. The headband has long cute bunny ears and the big colorful crochet flowers in the center. The kids can wear this headband or they can make the bunny amigurumi wear it too.
Free Pattern graceandyarn
10. Fuzzy Bunny Ears Headband:
Anything furry can make the kids more exciting so are these fuzzy bunny ears headbands which the girls are going to fall in love with. The fluffy yarn and the makes the headband with bunny ears and the colorful flower appliqués make the headband look super chic and adorable. Details here!
Free Pattern eandpcrochet