Why make plain and boring crochet hats for your kids while you can easily make them look interesting and fun with a little more effort. An animal theme for the hats would be so much fun to crochet up some really cute and cool hats for the babies. There are lots of animal hat patterns in this small round up to try and create the quirky and stylish baby hats to keep those small heads all warm and toasty. Not only for your own little bundle of cuteness, but these pretty crochet animal hats are also perfect to crochet as the gifts for the newborn babies around or even to give away on the baby showers.
It's on you to choose the animal that you want in the hat pattern for your kids and there is a complete variety with this animal hat pattern. From furry fellows like Panda, polar bear and Chihuahua to nonfurry animals like fox, frogs, and giraffes, you can portray any cute animal on these lovely baby hats. Also, there are a few baby hat ideas with the bird theme so you are going to find patterns for that too. Trying your hands on crochet hippo, penguin and the horse hat would be so much quirky, fun and unique as well. Follow the details of each animal hat pattern right below!
1. Crochet Hippo Hat Pattern:
Here is how you can make this lovely crochet Hippo hat for your little ones to make them look cuter. The lovely hat has pretty purple hues to look so fun and beautiful with the big hippo nose, two cute teeth, and the braids. Follow the pattern here!
Free Pattern repeatcrafterme
2. Free Crochet Hat Friendly Penguin:
If you have a boy and girl in the house then making these pretty crochet hat friendly penguins. The two hats have the female and male penguin features and thus they are perfect for the twins of a boy and girl. Also, you can make the adult version for the lovely couples around you too. Details here!
Free Pattern thefriendlyredfox
3. Crochet Hat Pattern Fishbowl Hat Pattern:
We love to fish and keeping them in the fishbowls near us. Now you can make the hat with the fishbowl theme. Use the lovely buttons to create the blue water with stones and make some lovely cute tiny fish on the white crochet hat to capture the perfect fishbowl pattern. Details here!
Free Pattern daisycottagedesigns
4. Preemie Newborn Baby Giraffe Hat Crochet Pattern:
Kids are going to love this lovely preemie newborn baby giraffe hat on them. The cute baby giraffe with its big white nose and the cute little horns look just super adorable. You can use any of your favorite yarn hues to create this lovely newborn baby giraffe hat for the little babies. Check out the details here!
Free Pattern creamofthecropcrochet
5. NewBorn Frog Hat Crochet Pattern:
Drop the idea of the simple hats for your babies when you can make these lovely and fun animal crochet hats for them. This lovely and fun newborn frog hat is going to look so cool and cute on the little babies. The big eyes of the frog and the lovely green hues really make the frog hat look so realistic. Details here!
Free Pattern hopefulhoney
6. Free Spring Crochet Patterns Yellow Bird Blue Bird:
You can turn a simple crochet hat into a pretty bird fellow with little details and features being added. Just add a cute little nose, eyes and the beak to the hat front and your plain hat is turned into the pretty bird hat in just minutes. Check out the details here1
Free Pattern cre8tioncrochet
7. Preemie Tiger Hat Pattern For Rosies Cozies:
Make this pretty preemie tiger hat for your little ones and they are going to look cuter in it. The orange and black hues of yarn really blend in well to create this pretty crochet hat with the big ears. The kids are really going to enjoy these pretty hats and here is the easy and fun pattern for free!
Free Pattern calleighsclips.blogspot
8. Baby Panda Outfit:
Pandas are hands down the cutest animals alive and here is this lovely baby panda outfit for you to make for your little ones. The gorgeous panda hat and the diaper is the perfect thing to make as the baby shower gift. So grab some black and white yarn and your crochet hooks to make this pretty and cute baby panda outfit.
Free Pattern allaboutami
9. The Original Not Another Owl Hat: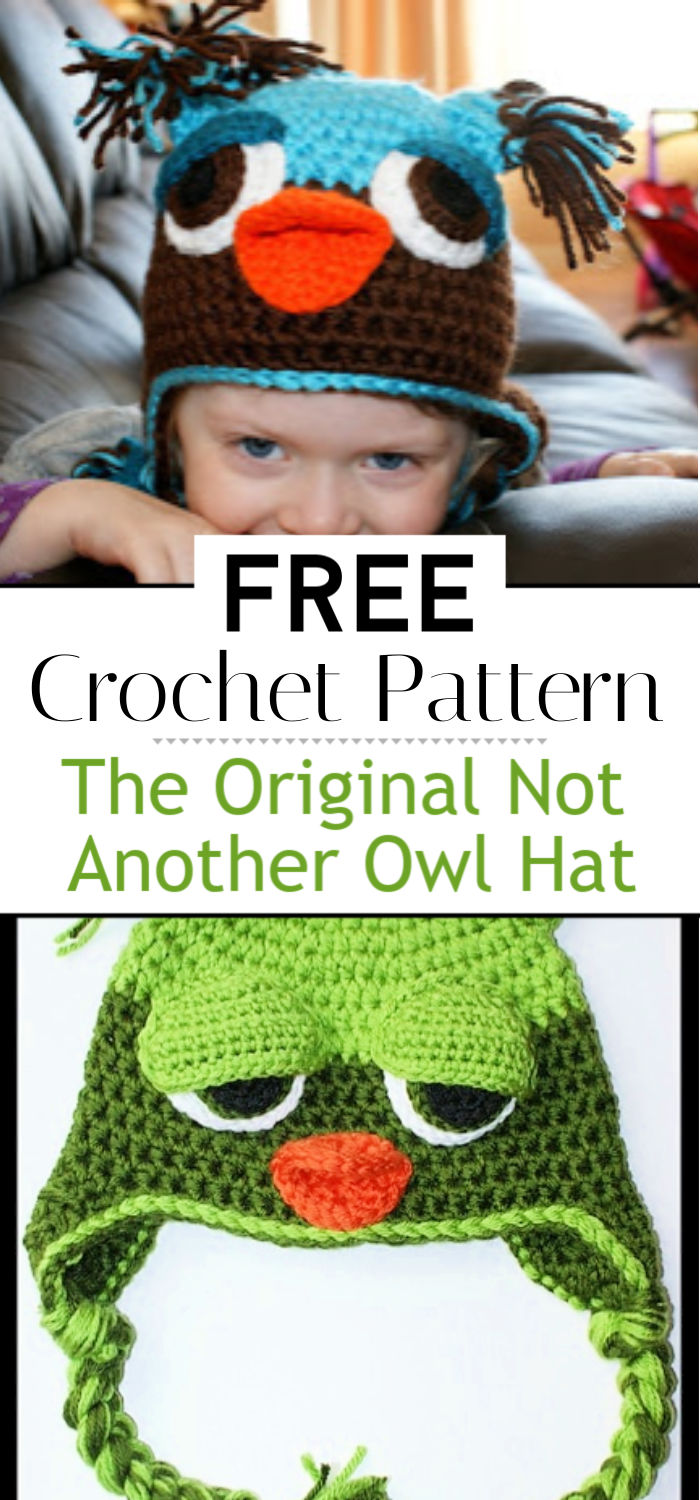 You can make some fun crochet hats by working on the animal or bird theme. So here is the lovely and super cute pattern for the owl hat which is original and not another owl hat. Also the use of dark brown hues with blue makes this owl look super quirky and cool. Pattern here!
Free Pattern oombawkadesigncrochet
10. Free Pattern Horse Hat:
Here is how you can make a totally unique and fun horse hat for your little ones to look cute and feel warm. The lovely horse hat is made out of a brown hat and looks so quirky and cool. You can make it both for the boys and girls and they would love it. Details here!
Free Pattern fireflyhook
11. Chihuahua Beanie Hat Crochet Pattern For Humans:
Kids love dogs and here are these pretty Chihuahua beanie hats for you to make for your kids. The gorgeous dog hats look super cute in the vibrant hues of the blue and pink and those big ears are so eye-catching. These lovely Chihuahua beanie hats would make a great gift idea too. Details here!
Free Pattern poshpoochdesignsdogclothes.blogspot
12. Crochet Fox Hat:
These cute fox hats are the perfect handmade gifts for the little girls in the house. The pretty fox features, braids and the ribbon on the head really make the crochet fox hat a complete win-win for the kids. So grab some orange and black yarn to create these adorable crochet hats to use as the perfect fall gifts.
Free Pattern thestitchinmommy
13. Polar Bear Hat:
Bears are cute and the polar bears are the cutest. So make these adorable white polar bear hats for your little ones and keep them warm during the cold snowy days. The cute small black buttoned eyes and the furry braids really add to the charm and beauty of this lovely polar bear hat. Follow the details of the idea here!
Free Pattern littlemonkeyscrochet