If you are a person who loves to experiment with their style and clothing then you are going to love our today's work. Yes, we have brought to you these 11 circular vest jacket free crochet patterns so that you can add an extra layer of the glam and fashion to your regular dresses. These gorgeous vest jackets are going to be a perfect pick up from the wardrobe when you are about to leave the house for a family picnic or for the nature adventure with your friends. The intricate designs of these crochet circular vests are going to roll the heads of people who look at you wearing these awesome wraps.
Most of these lovely crochet vests have the Mandala patterns with gorgeous intricate details to look so perfect. You can choose your favorite colors to create the best combination for the crochet vests at home. Also, you have the option to make them with or without arms depending on your style choice. Not only there are lovely vests for the ladies but cute vest is going to adorable on your little girls too. So grab some comfy yarn and your crochet hooks to work up these amazing and glamorous vests this week.
1. Lotus Mandala Circular Vest:
It's time to bring some more boho fashion to your summer wardrobe and this lotus mandala circular vest is the best thing to crochet up for the purpose. The gorgeous bright hues of the vest are inspired by the colorful summer blooms; the design is inspired by the lotus and the pattern by the Mandala.
Free Pattern moralefiber.blog
2. Crochet Red Circle Vest:
If you love to experiment with your summer fashion then make this crochet red circle vest. The pretty red circle vest is the best wrap for your party dresses to add some extra charm and style. It has scalloped edges and the gorgeous red color makes it quite intimidating for the girls and ladies. So do make it.
Free Pattern how-do-it.info
3. Red Heart Lunar Tunic Xs:
Need something to spice up your dress up? If yes then get your hands on this Red Heart Lunar Tunic. From pretty color combination to the mesh pattern, this lovely lunar tunic is just perfect for the style lunatics. So what are you waiting for just grab some yarn and come along the pattern to make this?
Free Pattern yarnspirations
4. Pegasus Mandala Crochet Vest Pattern: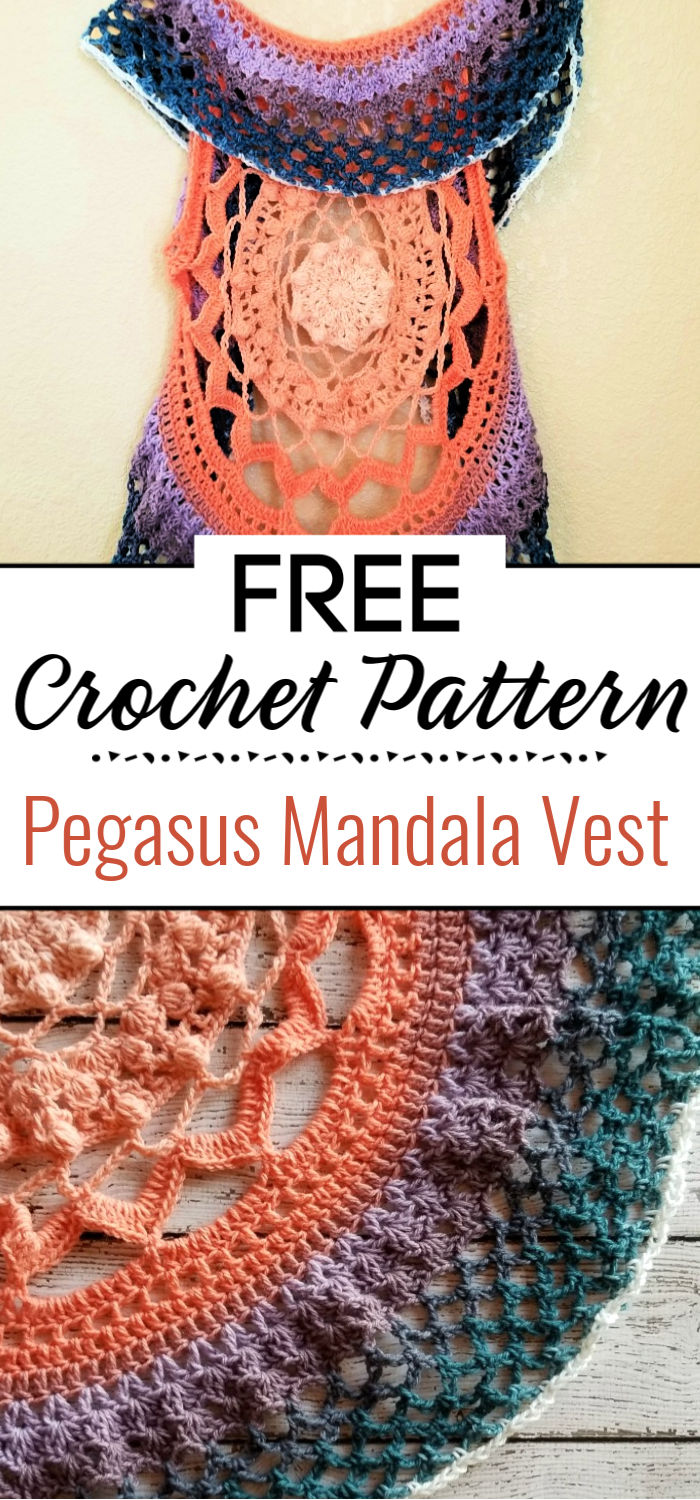 You can instantly make your boring and dull looking summer dress super gorgeous and stylish with this Pegasus mandala crochet vest pattern. The gorgeous yarn hues and the lovely breezy mandala pattern really make this crochet vest pattern so desirable and dreamy. So grab some colorful yarn to make it. You need one cake of yarn to make it.
Free Pattern hookedonhomemadehappiness
5. Ring Around the Rosie Vest Crochet Pattern:
Make this lovely ring around the Rosie vest and get a pretty wrap up for the summer dresses. This gorgeous purple and black vest have a circular pattern with a perfectly breezy design. Using simple crochet chains, single stitch, and half double stitch you can easily work up this pretty and cool Rosie vest.
Free Pattern thelavenderchair
6. Girl's Boho Crochet Vest:
Even your little girls can look all boho and chic during the summers with this lovely girl's boho crochet vest. The best part of this crochet vest is that it has been made out by combining some lovely crochet granny squares together. For more fun and chic look the best has been adorned with fringes too.
Free Pattern hookedonhomemadehappiness
7. A Simple Boho Vest For Cheap:
Even your toddlers can enjoy the perfect summer glam with this simple boho vest.  The little ones can wear those lovely vests over their picnic dresses with a cute floral headband and look just perfectly stylish for the summers. You can make and use this boho vest as the cutest and cheapest gift idea too.
Free Pattern sweeteverlyb
8. Crochet Shawl Circollar Vest:
This crochet shawl circollar vest is the perfect crochet beauty piece to be a part of your summer and winter wardrobe. The design of the shawl is the basic old one but the ribbed pattern really adds the trendy touch to this vest. The vest looks so cute and fun with the blue color but you can choose any of your favorite colors even the red.
Free Pattern beacrafter
9. Lotus Mandala Duster:
Now explore nature in style this summer with this gorgeous and stylish lotus mandala duster. The lovely round shaped mandala duster is going to be a perfect upper wrap for your dress while camping or visiting the lake. Using your favorite yarn color combination and the basic crochet stitches you can easily work up this lotus mandala duster.
Free Pattern moralefiber.blog
10. Pink Mix Circular Cardigan:
Now you can enjoy wrapping up the cardigans in the summers too. Yes, these pink mix circular cardigans are the best things to crochet up and style up yourself for the summers. The lovely circular cardigan pattern is adopted from the table runner mandala pattern and you can easily hack it too.
Free Pattern heidiwalsh.pbworks
11. Crativity Is Intelligence Having Fun:
If you love having long walks in your garden during the summers then you need this lovely crochet cardigan as summer mornings and evenings are super chilly. This cardigan is quite elegant and cute with long sleeves, hip length, and the pretty floral granny square pattern at the back. Follow the complete tutorial here!
Free Pattern bautawitch