Crochet doilies are one of the fondest and the oldest memories of ours about the crocheting as we have had seen them being used by our mothers and grandmothers. If you also want to decorate your places like your mothers do then you ought to make some pretty and vintage inspired doilies. Here we have brought to you these 10 free crochet doily patterns to get the hands and hooks on. The doilies might look intricate and entangled in their design but they are easy enough to be practiced by the crochet beginners too. So what are you waiting for, just take a tour to these crochet doily patterns and make some.
There is a wide range of the use that these doilies can perform in your home décor uplifting. Not only under your pots and dishes on the dinner tables, these doilies can be a great addition to your wall arts too. Yes, take a crochet doily and fit it inside the embroidery hoop and you got a gorgeous dream cather to put on the walls. Also you can make a lacey designed doily inspired rug to use in your rooms and jazz up the style there. They work as the gorgeous mats under your pots and the planters to look add icing on the cake of your home décor and beauty. Just click on the links below each picture to grab the free patterns of the doilies.
1. Small Star Doily Free Pattern: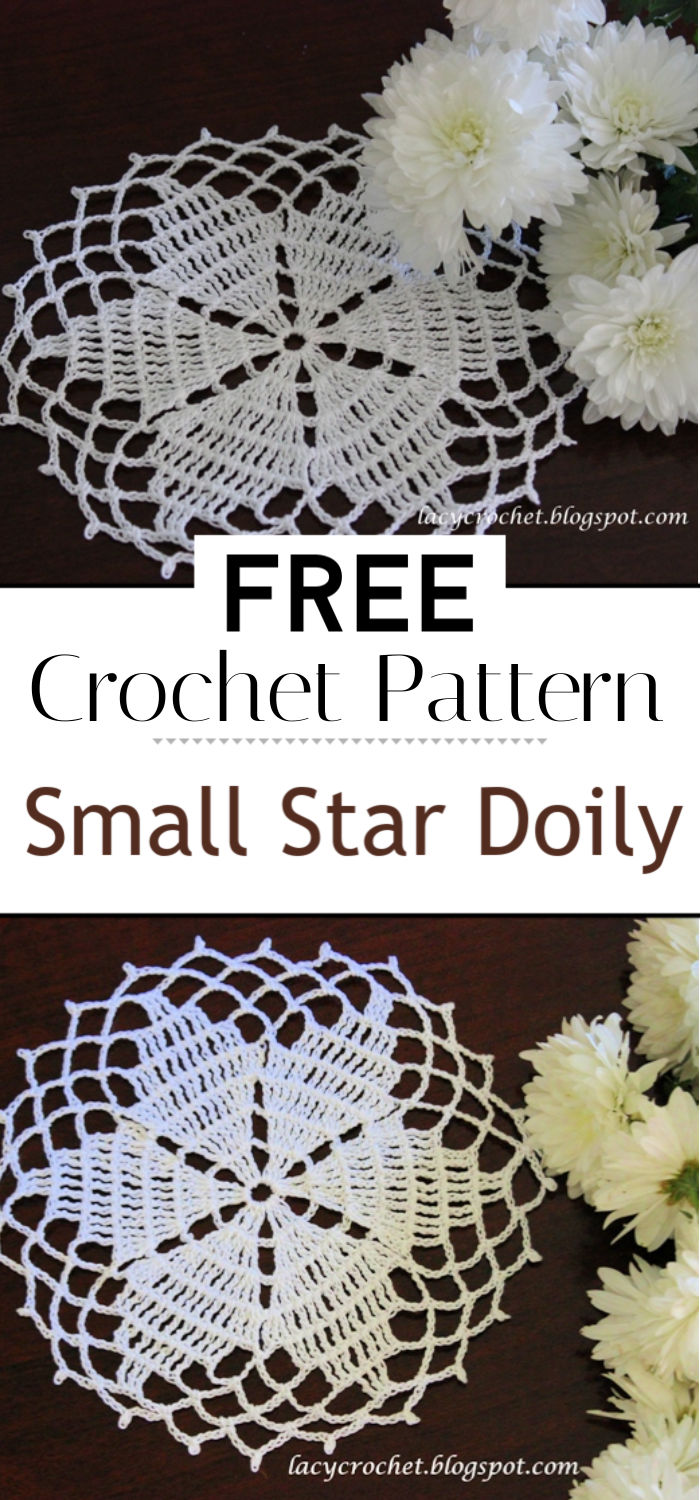 This gorgeous small star doily is the best thing to crochet up in your free time. The intricate pattern and the little details of the doily are really gorgeous to give it a try. You can use this super cute and small crochet doily in your dining room to decorate the dinner tables with. This would make a great gift idea too.
Free Pattern lacycrochet.blogspot
2. Free Crochet Pattern for a Doily Dream Catcher:
Crochet a lovely doily pattern and use it to create this gorgeous dream catcher for your summer home. The gorgeous doily has white yarn work in the center and the green yarn detailing on the edges. The doily is fixed into an embroidery hoop to look just so tempting and cool. You can also hang it over the walls.
Free Pattern yarnspirations
3. Pink Doily T-Shirt Rug Pienk Doily T-Shirt Mat:
Bring some colors to your dinner room décor with this gorgeous pink doily t-shirt rug that you can easily stitch at home. There are so much intricate details in a doily design and pattern so you are going to put it all in this lovely doily t shirt. You can make one in pink or red they both are going to come out so gorgeous.
Free Pattern crochetinpaternoster.wordpress
4. Heart Blossoms:
These gorgeous heart blossom doilies are going to win your heart and make you fall in love in love with them. The lovely doily has a lovely white yarn network in rounds and the gorgeous blue blossom hearts have been incorporated in between them. You can choose your favorite colors of the yarn to make those hearts.
Free Pattern draiguna
5. Small Star Free Crochet Pattern:
Here is this gorgeous and cute small star that is super easy and quick to crochet up and use for a lot of fun embellishing purposes. You can use it over your blankets to make them look cuter and fun for the babies. Or use them on some décor wall art that you have made at home.
Free Pattern maggiescrochet
6. Moonpetals:
This pretty crochet doily is as beautiful as its name the Moon petals. The pretty doily has a wide network of the detailed petals all over. It has a size of 11 inches in diameter and can be completed with 21 rounds of crocheting. This moon petals doily would look great on your dinner table center pieces.
Free Pattern draiguna
7. Crochet Stars Free Ornament Pattern:
Learn to crochet these lovely starts and get some pretty ornament to use around the Holidays. You can use them on the Christmas trees for the décor or you can turn them into a kind of fun appliqué to beautify so many things. Also you can simply hang them over the garden trees or walls to look so magical.
Free Pattern persialou
8. Seven Spiral Doily:
If you want to add some twist and fun to the traditional doilies then getting your hands on these seven spiral doilies is the best thing to try. The lovely doily has an inside netwerok of the spiral rounds and looks quite unique and quirky. Use these under your dinner table dishes and arouse the beauty of your dinner tables.
Free Pattern gridmammalcrafts.blogspot
9. Star Doily:
Here is t his lovely star doily to lighten up your home décor with. The gorgeous white doily has a really enchanting pattern and quite a detailed work. You can make a set of them to use on the dinner table décor when there is a special dinner night. A pack of these would make a really good gift idea too.
Free Pattern blueraindrops
10. Turkey Tracks Doily A Free Crochet Pattern for You:
Not only white doilies but you can now add some colors to your doilies too. Here is this lovely turkey tracks doily for you to get your hands on. The white doily has the inter mixing of the green, yellow and orange hues of the yarn to look perfectly stunning for the fall home décor. Grab the pattern here!
Free Pattern bellacrochet.blogspot