Make your summers more fun with some super stylish yet handmade crochet top ideas. There is a certain comfort and charm about the crocheted clothes so our favorite tops are really going to rock in the crochet versions and that too in our favorite yarn hues. Here we have brought to you these gorgeous 10 free crochet halter top patterns to enjoy some really sizzling tops for the summers and the initial of the fall as well. Not only halter tops, there are a few crop tops and the bikini cover tops too in the list to grab your fashionable attention for sure.
These halter tops are going to be your favorite pick up for the fun day outs and the night funs with the favorite people around. You can either pair them up with your favorite denim shorts, high waist skirts or the regular jeans too. The patterns are super breezy to be a comfy part of your summer crop top collection. Also they are fun to carry on the beach and look all cute and stylish with them. The patterns with the lacey designs are sure to win your heart with their mesmerizing beauty. You can crochet up these lovely halter tops for yourself and for the favorite ladies around you too. Free patterns with details below!
1. Geometric Crop Top Free Crochet Pattern:
Charm up your summer fashion this time with this gorgeous crochet geometric crop top. It is surely going to rock your look for fun parties and outdoor trips. The stylish and breezy pattern with the geometric design at the back is going to be a perfect fit for you. You can make it in any other dark yarn hue to get
Free Pattern themagicloop
2. Casual Crochet Top Free Pattern:
Make your fall wardrobe rocking with such a pretty and casual crochet crop top. You can pair up this simple yet gorgeous top with your favorite and comfy pair of shorts and even with a high waist skirt. It would be a great pick up for a beach trip or just a casual hang out with friends. Details here!
Free Pattern beautifulcrochetstuff
3. Rheema Halter Top:
Late summers give you a chance to enjoy some super cool and stylish crochet possession in the wardrobe and here is this one. Yes, this rheema halter top in pink is going to be your favorite thing to wear for the beach or for some night outs with the special one. Check out the pattern here!
Free Pattern girliescrochet
4. Sweet Summer Crochet Crop Top Free Pattern:
This gorgeous and completely breezy summer top is the best thing to crochet up this summer. The lovely crop top is really going to rock your look with a pair of short or high waist skirts. The pattern has the lacey design to look just mesmerizing. Cotton yarn is best to crochet it up. Details here!
Free Pattern themagicloop
5. Violet Crochet Halter Top Free Pattern:
Halter tops are the coolest and the sexiest and now you can crochet up this lovely and simple violet crochet halter top. This pretty top would take least of the time, efforts and yarn to get nicely crocheted up. You can wear it any time you want either at home or going out with friends as well. Details here!
Free Pattern jennyandteddy
6. Free Pattern Crop Top:
Crop tops are one of the favorite pickups from the wardrobe when the weather is not cold. So for your special days and dinner nights, you can pair this lovely white crochet crop top with a red skirt and rock your day. The pattern is super simple and easy to work on. Get it all here!
Free Pattern byhandlondon
7. How to Crochet a Halter Top:
You can easily crochet up a lovely halter top to make yourself look hotter in the hot weather. Here is this easy peasy pattern of the crochet halter top in white to be a fun part of your favorite clothes for the summer. Pair it up with your favorite denim shorts and sneakers and you are comfy enough to go out and party. Details here!
Free Pattern krystaleverdeen
8. Easy and Free Pattern:
Now you can soak the summer sun in style with this lovely and easy crochet crop top pattern. The halter top looks super desirable and sexy and the color mixtures of the blue, skin and green have really blended well together. You can also carry it to the beach or a night out for a bonfire. Details here!
Free Pattern medium
9. Bea Crop Top: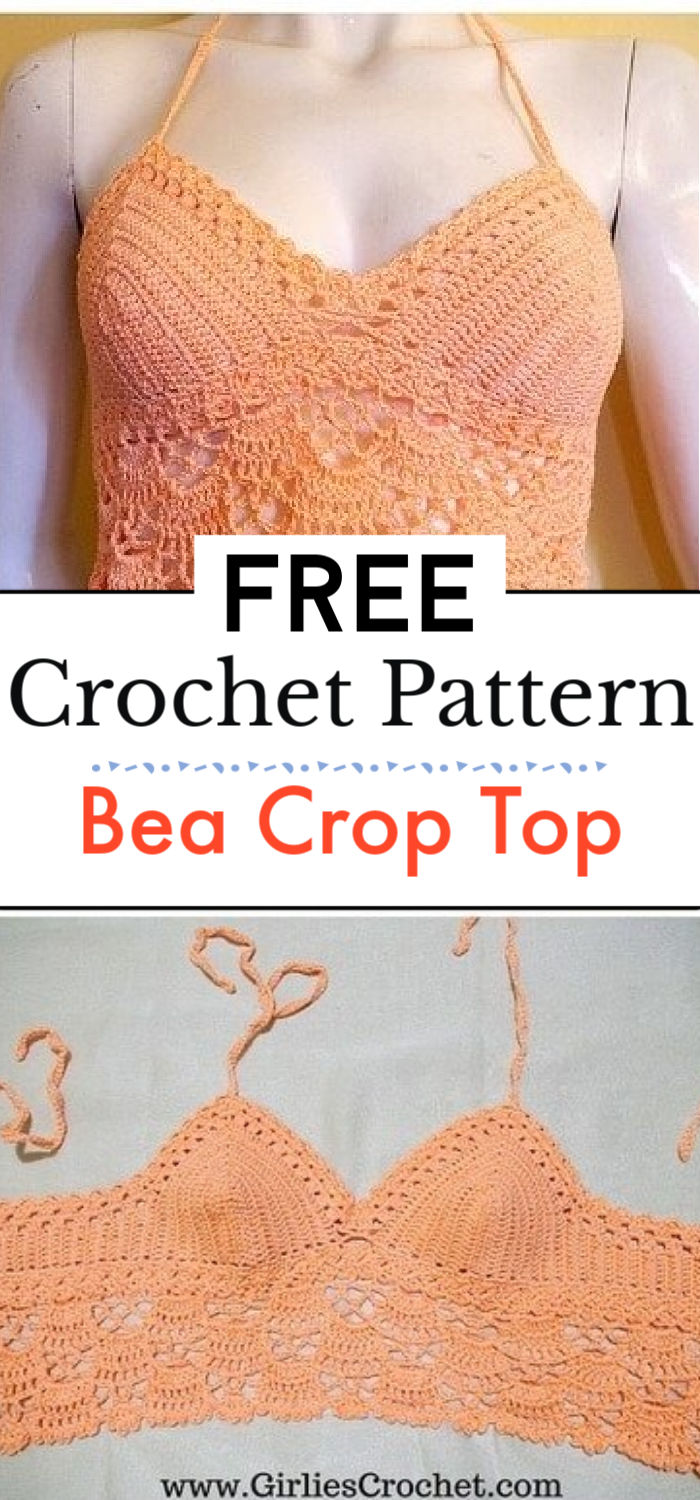 Rock your beach look at this summer's trip with this lovely beach crop top. The crop top has the bra style design on the top and wide band of the crochet lacey design under it. The pretty and bright orange color looks so pretty and cool and adds to your summer fun vibes as well. Follow the pattern here!
Free Pattern girliescrochet
10. How To Crochet A Simple Halter Top:
Here is this lovely crochet halter top with a big length that covers your hips and you are going to be super comfortable in it. The halter design at the top and the big length really adds to the features and enchanting factors of this lovely halter top. You can follow the design and pattern right here!
Free Pattern acraftyconcept